Like many young, hopeful New York transplants, Sarah Tracey moved to the city to pursue a music career. And as all of those young people learn—New York is expensive! She took a "survival job" as a cocktail waitress and as they say: "The rest is history!"
Once Sarah realized her love of learning and educating people about wine, she became a full-time sommelier. She worked for nearly six years at City Winery New York before going on to help Joe Bastianich and Mario Batali open La Sirena at the Maritime Hotel in New York. Now, she works as a consultant to help build successful wine programs at restaurants, such as Rouge Tomate Chelsea—an NYC restaurant that just received a Michelin star.
Outside of restaurants, Sarah realized there was a greater need for wine education. "I realized my friends felt so intimidated walking into a wine shop or choosing from a restaurant wine list–they loved drinking wine, but they didn't even know where to go to learn more about it," Sarah explains. (We can relate!)
"My group of friends was never going to go out and buy a copy of Wine Spectator because it didn't feel like it was speaking to our demographic," she says. "After learning so much through the restaurant industry and sommelier community, I felt the call to create a fun and relevant wine resource that people can really use every day to uplevel their lifestyle." So she created The Lush Life, an online community where she writes about wine, travel, and lifestyle. Through the site, she provides down-to-earth wine recommendations while also offering wine tasting classes and events.
Sarah's dedication to thoughtful wine education is why we knew she'd give us a great selection for Wine of the Week…
My wine of the week is Mionetto Sparkling Extra Dry Rose, in the mini bottle format, which is a single-serve.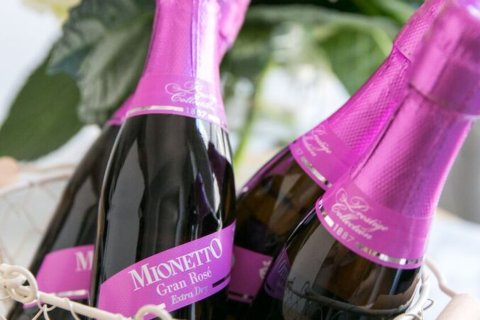 Why Sarah chose this wine: "I'm just so unbelievably happy that we're finally getting some warm and beautiful weather in NYC, and have been dreaming all winter of hanging outside with my girlfriends on a picnic or someone's rooftop or patio with some refreshing and fun pink bubbles."
Why she chose it right now: "I think this time of year is a good time to remember that wine doesn't have to be so serious all the time."
Why a mini bottle: "I love that the mini bottles are so cute and portable; you can easily toss a couple in your bag and take them wherever. I'll pour the wine into a glass–but a paper straw right in the bottles works, too!"
RELATED: Read about other eco-friendly straw options here.
How she'd pair it: "I would keep it easy and just pair it with a selection of cheeses and maybe some fruit. Even chips and guacamole would be delicious! The wine is ever-so-slightly sweet, so it could take on a little spice."
Other wines she's currently loving: "I'm definitely feeling some mineral driven Island white wines–especially Assyrtiko from Santorini in Greece, and Etna Bianco from Sicily."
Find Sarah at The Lush Life; and follow her on Instagram as she's about to embark on wine travel. You can purchase normal-size bottles of Mionetto Sparkling Extra Dry Rose on Drizly or mini-format bottles on The Best Wine Store.
For more wine recommendations, read our past sommeliers' selections here.