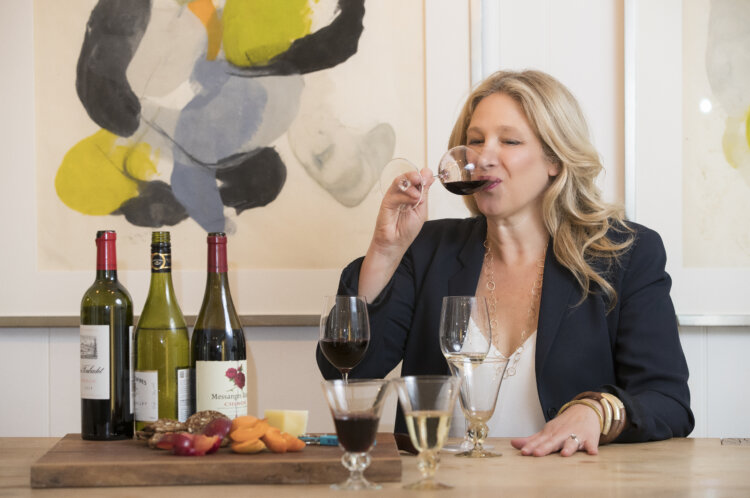 "Don't overthink it."
That's WineGame Chief Marketing Officer Sarah Munson's no. 1 piece of advice about drinking wine. And it's solid advice. Too often people feel overwhelmed when making selections at wine stores or when browsing a restaurant's wine list. That's exactly why we started this column—and why WineGame was created.
The phone app is simple: All you need is a bottle of wine, a phone, and a few friends. As you do a blind tasting (well, okay, one friend won't be tasting it blind), the app walks you through questions about the grape type, country and region and the vintage. I tried it myself with a couple friends, and I can confirm: It's a unique way to learn about wines and add a little fun to a wine tasting through competition. (You better believe I won!) And you don't have to be an expert—Sarah says, "People who know less about wine actually score better in the game."
With a business degree under her belt and a background in the beauty industry, Sarah didn't have a "traditional" route to wine (if there is such a thing). She fell in love with the world when she was living abroad. "I realized that every wine, every winery, every wine region has a story," she says. "There is so much to each story—love, passion, history, war." And that knowledge for understanding those stories led her to a more formal wine education. She's completed a WSET course and is studying for her Master of Wine exam.
At WineGame, she's helping people understand that you can learn about wine while also having fun. "When you really want to learn what a wine tastes like, blind tasting is the best way to go," Sarah explains. "When all of our senses are focused, we tend to remember the colors, tastes, and smells even better."
She goes on to say how much she appreciates that wine culture has finally opened up to the vast majority of Americans. "Wine is no longer made by older wealthy white men for older wealthy white men—and that in and of itself is making the industry more complex, diverse and so much more interesting."
For her Grok Nation recommendation, Sarah gave us a Wine of the Week selection that's a bit … "interesting."
"My wine of the week is Hildago's La Gitana Manzanilla Sherry."

Why she chose sherry: "No, don't cringe—it's truly fantastic and worth a try. Sherry is the unicorn of wine—it is aged and quite the bargain at about $17 a bottle. La Gitana is a very dry wine that is both satisfying and refreshing with saline and slightly nutty notes. And Manzanilla Sherry is totally unique—unlike any other wine in the world."
How she'd drink it: "Now, because I love a bit of a game, naturally, I might taste this Sherry alongside two other wines: maybe an Albariño and a Chenin Blanc to learn more about interesting white wines. Or go crazy and do a full-on Sherry WineGame, adding an Amontillado or Palo Cortado and Pedro Ximenez to learn about different styles of sherry that span from aperitif to dessert.
The "story" behind the wine: "Proper Sherry is made only in the Southern part of Spain. Manzanilla Sherry is made exclusively in Sanlúcar de Barrameda, which is closer to the sea than Jerez, where Fino is made and thus more influenced by the sea, which gives it that saline note. It is aged in a cask system called a Solera, which is a bit complicated to explain here but is unique to Sherry and fascinating in its own right. Manzanilla sherry is aged three to seven years, and Gitana is aged about five years. Hildago is one of the industry leaders, so it is a safe bet that most Manzanilla Sherry's will be quite good."
Why it's great right now: "It's fresh and zippy, with notes of saline from the sea. Perfect on a hot day closing out summer and having one last hoorah before heading into fall. A big hoorah, if you're not careful: This wine is 15 percent alcohol, which is pretty high for a white wine. But who knows, it may even inspire a trip to Spain!"
How she'd pair it: "It is perfect served cold as an aperitif, with hot summer-type noshes, like marcona almonds, olives (you can fancy up with a bit of orange zest if you like), fried fish or some Spanish Jamón. Manzanilla Sherry also works very well with seafood and even sushi. And I don't say that about a lot of wines."
A final note: "Despite its age, Manzanilla Sherry is meant to drink soon after bottling and opening in order to preserve freshness. There is always a date on the bottle—get the one that is closest to the date you are shopping, open it as soon you have an opportunity (OK, maybe not in the car on the way home!) and make sure you drink any leftovers in the next day or so."
Purchase Hildago La Gitana Manzanilla Sherry on AstorWines.com for $15.99. And download WineGame from the iTunes store.