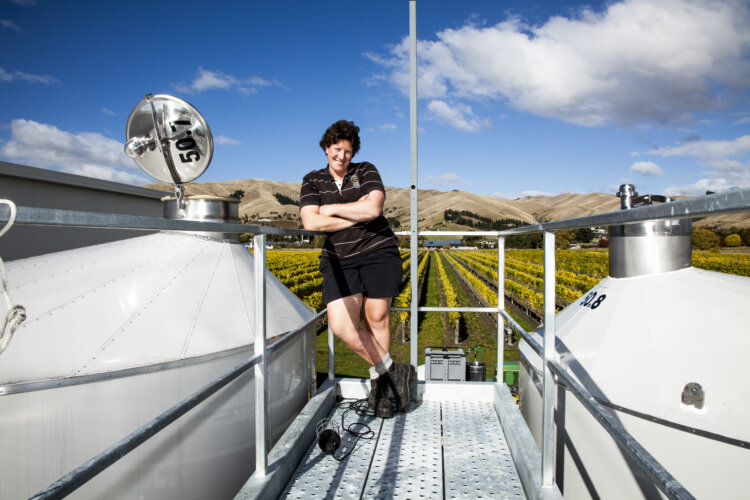 Although we've featured quite a few young sommeliers in Wine of the Week, none got their start quite as early as Rebecca Wiffin, a New Zealand winemaker.
"I guess you could say I've been involved in the New Zealand wine industry since I was 3 years old," she tells Grok Nation. "That's when our family planted our first grapes."
And even though the wine runs in the family, so to speak, it wasn't until she was 19, working at the Lincoln University in Canterbury, NZ (an agricultural school that teaches wine-making) that she decided to get into the business herself. Since that time she's worked on vines around the world (California, France, Australia) before completing a post-graduate degree in oenology and settling back home. Decades later, she's a winemaker for three New Zealand brands: Lawson's Dry Hills, Blind River and The Sisters.
We were drawn to The Sisters label because it's not only created by a female winemaker, but it's also owned by a woman. Belinda Jackson created The Sisters wines to celebrate women's achievements—which is an idea we can toast to!
We asked Rebecca to give us her weekly pick from the female-driven brand:
When I'm relaxing in the Marlborough Sounds, I love to reach for The Sisters Sauvignon Blanc!

The inspiration behind the wine: "The Sisters wine is all about encouraging women to celebrate their achievements—not just the big stuff like a new job or an engagement, but also the huge number of things we get done in a day! It's time to take a moment with our girlfriends to acknowledge everything we do."
Why it's good right now: "The fresh, uplifting flavors lend themselves to spring and summer with salads and light meals and good times!"
How she'd pair it: "The wine is fruit-forward, smooth and rewarding. It's great on its own or the with seafood and salads. This is the perfect match for our blue cod, snapper, scallops and crayfish – all of which we hunt and gather ourselves, before preparing very simply."
Wine trends she's seeing: "We're seeing everything through rosé-tinted spectacles! Sales of rosé used to drop off a lot in the cooler months but now we are seeing it sail on through winter as if the temperatures are still right up there! For spring and summer, you can't get a better wine for a refreshing, fruity yet dry glass of wine, with or without food."
Her favorite non-wine drink: "At the end of a long day, it's hard to beat a great gin and tonic!"
Purchase The Sisters Sauvignon Blanc from Laurenti Wines for $15.99.
For more wine of the week picks, read our past sommeliers' selects here.