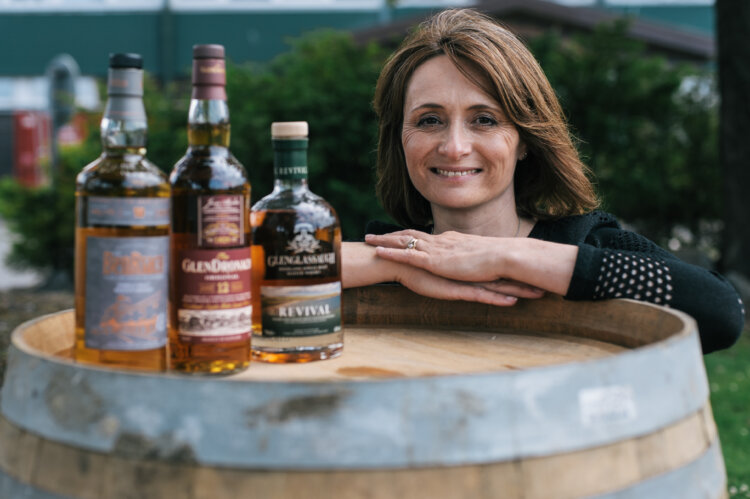 With our recurring Wine of the Week feature, we've promised to bring you kickass women in the industry—sommeliers, beverage directors, critics, or just generally awesome wine connoisseurs—and this week we have something a little different, but just as awesome.
A trailblazer in a different type of beverage industry, Rachel Barrie holds the title of the world's first female master whisky blender. And while it may seem unusual to have a whisky woman give wine recommendations, Rachel says there are many comparisons between the two. "Single malt Scotch is very much like fine wine," she explains. "It has varying degrees and types of fruit, tastes between sweet and dry, and textures from mouth-watering and crisp to mouth-coating and velvety."
Getting Scotch to taste like a 'fine wine' is part of Rachel's job as a Master Blender. She's long had a passion for malt whisky, but she first got her start on this path as a research scientist for the Scotch Whisky Research Institute. She then went on to work in production, whisky-making and quality management. In 2003 she became a Master Blender, where she works with the finest single malts in the world. She's sampled over 150,000 casks!
Currently, as a Master Blender for BenRiach, GlenDronach and Glenglassaugh malt whiskies, she selects casks for bottles, helps develop new recipes and new products and manages spirit quality. That may sound like a lot—because it is—and each label has its own taste.
"Much like wine, Scotch single malt is the product of its location or 'terroir'," Rachel says. "Local geography, natural microflora and climate bring a unique and distinctive character, such as the refreshingly sweet and orchard fruit-laden style of BenRiach in north Speyside; the robust and full-bodied richness of GlenDronach in the eastern Highlands; or the ripe sweetness of Glenglassaugh on the coast. Scotland has a diversity of landscape that results in highly individual single malt whiskies with an unsurpassed diversity of style."
Because Rachel is such an expert on Scotch, we asked her for a "Scotch of the Week"—but she's also a big fan of wine, so we asked for her wine of the week selection as well…
"My wine of the week is Sonoma-Cutrer Russian River Ranches 2016 Chardonnay."

Why Rachel picked this wine: "As spring is in the air, the fresh tastes of apple and pear with citrus blossom, nougat and oak spice bring vibrancy balanced by a creamy mid-palate. This character mirrors my recommended single malt recommendation…
Rachel's Scotch pick of the week: "As it's now springtime and the skies are blue, it would have to be BenRiach 10 Year Old."
How she'd pair it: "BenRiach 10 Year Old is wonderful in a julep cocktail! Use one part BenRiach, three parts Champagne with sugar syrup and fresh mint leaves—it's refreshing and a perfect balance between sweet and dry. With food, I'd recommend pairing it with chicken and spring vegetables with asparagus and mint."
Advice for people looking to try Scotch: "Think of the tastes you enjoy in wine, and seek out a Scotch single malt that reflects that style. Like fine wines, the finest single malts have tasting notes on the label, so you can get a good idea of taste before you buy."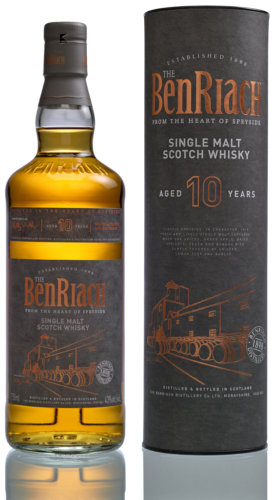 Suggestions for enjoying wine and Scotch together: "BenRiach goes well with Chardonnay, sparkling wine (such as prosecco) or Champagne. GlenDronach pairs well with fortified wines such as sherry (Pedro Ximenez and Oloroso) and port (ruby or tawny) wines. My favorite cocktail is a Blood and Sand with GlenDronach 12, cherry heering, red vermouth and freshly squeezed orange juice. This really brings out the cherry and bramble fruitiness of GlenDronach. Glenglassaugh works well with red wine (especially Pinot Noir). It's especially surprising and delicious in a Whisky sour with Glenglassaugh Revival, apricot liqueur, lemon and cinnamon syrup, and red wine layered on top."
You can purchase Sonoma-Cutrer Russian River Ranches Chardonnay on wine.com. You can purchase BenRiach 10 Year Old at drizly.com.
For more wine recommendations, read our past selections here.