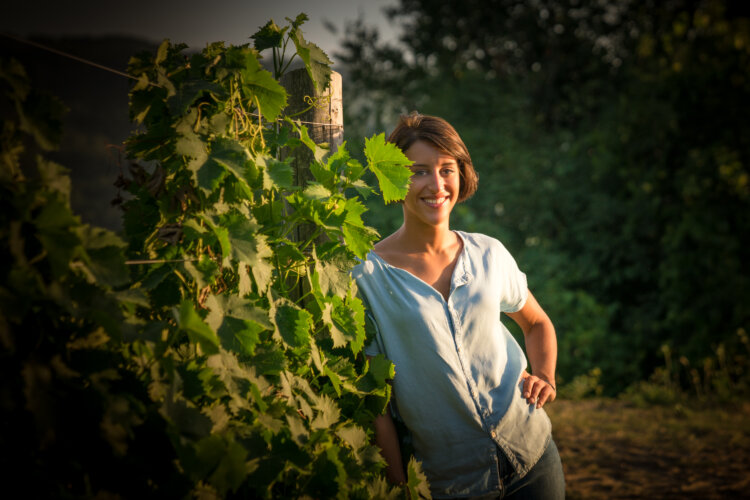 Being in a winemaking family four generations deep, Lucia Minoggio essentially always knew what she'd be doing with her life. "I didn't have much of a choice," Lucia jokingly says. But that didn't stop her from pursuing her first passion: ballet. She danced ballet for five years in Tuscany after receiving a scholarship at Balletto di Toscana. But in 2008, she decided to leave that life to fully pursue winemaking.
She traveled the world working in wineries from New Zealand, California, and the south of France to learn about work in both the cellar and in the lab. "My experience abroad was invaluable," she says, but she felt called to use her skills back home in Italy. She reached out to Frescobaldi, one of the oldest growing wineries in Italy, and quickly was hired.
Currently, she works as the winemaker for Castello Nipozzano, one of the seven Frescobaldi estates in Tuscany. And although the Frescobaldi family has been making wine in Tuscany for 30 generations—that's 700 years!—Lucia gets the chance to innovate at every turn. "Winemaking is a blend of art and science," she says. "It takes passion and a good number of hours spent studying, but also making attempts, finding new solutions, new ways of expression and harmony."
It helps that the Nipozzano estate is in the heart of the Chianti Rufina territory, on a mountain slope overlooking the Arno River Valley. The micro-climate there is "truly quite unique," Lucia says. Which is why it's no surprise that her wine of the week is … "without a doubt, the Nipozzano Chianti Rufina Riserva DOCG."

About the wine: "I love how this wine evokes the rich Castello Nipozzano terroir. The nose is complex and intense with prevalent red fruit scents of bitter cherry, plum, and raspberry followed by spiced and toasted notes of pepper, nutmeg and coffee. In the palate, the wine is warm, soft and significantly fresh. It is elegant with fine tannins that are well balanced in the wine's structure and a long and persistent fruity finish. It is a fantastic representation of the Chianti Rufina region and for the price, it's a steal!"
When it's good to drink: "It is such a versatile wine that can be enjoyed at any time of year. Its youthfulness, fruit character and soft, velvety tannins work harmoniously together to create a balanced, well-rounded wine, perfectly enjoyable at its ideal drinking temperature as well as slightly chilled."
How she'd pair it: "Barbecued and grilled meats, roast lamb and vegetables, beef stew, charcuterie and aged cheeses. You name it!"
Wine trends on her horizon: "I am very excited to see Italy's move toward more fresh, delicate and complex white and rosé wines. Tenuta Ammiraglia, another one of the Frescobaldi estates, makes a Provence-style rosé called Alìe and I am currently loving it!"
Purchase Nipozzano Chianti Rufina Riserva DOCG on Total Wine for $19.99.