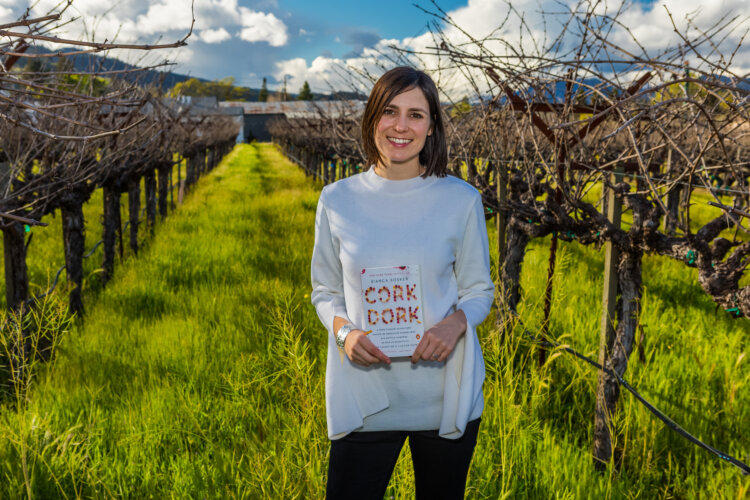 Each Friday a kickass woman in the industry picks us a wine of the week, and doing the honors today is Bianca Bosker, the author of New York Times best-seller Cork Dork: A Wine-Fueled Adventure Among the Obsessive Sommeliers, Big Bottle Hunters, and Rogue Scientists Who Taught Me to Live for Taste. Bianca was an online tech editor when she first learned about the deep devotion sommeliers have to the craft. Fascinated, she left her job and trained in the field.
Tell us about yourself! How did you get exposed to this world?
My first encounter with the world of cork dorks was out at dinner one evening, when a sommelier happened to mention he was preparing for something called the Best Sommelier in the World competition. I was skeptical—how could pouring wine possibly be high stakes? But then I started looking into this contest, which is essentially the Westminster Dog Show with booze. The deeper I got into this world, the more intrigued I was with the way these sommeliers turned wine—ostensibly a thing of pleasure—into something approaching sheer, god-awful pain. They licked rocks to train their palates, divorced spouses to spend more time studying, took dance classes to learn how to move more gracefully across the dining room, and generally rearranged their lives around flavor. I've always been obsessed with obsession, and their passion fascinated me. I wanted to know what drove them: Why wine? Was it B.S.? Or was I missing out on one of life's ultimate pleasures?
So you decided to dive into this world yourself?
I realized that these tasters have the sort of sensory skills I thought were exclusive to bomb-sniffing German Shepherds, and my curiosity evolved into a more personal concern: They lived a life of sensory cultivation, I lived a life of sensory deprivation, all screens and websites. I wanted to know if I could experience what they did, and what might change. So I quit my job as the executive tech editor at The Huffington Post and started training to become a sommelier. My first step: taking a job as a cellar rat—the lowest of the low.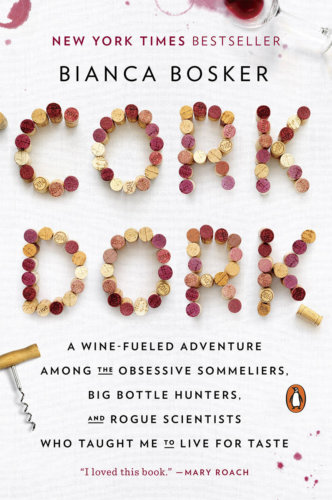 What are some things you learned when training to be a sommelier?
A lot of us assume that our senses stink: that you're either born a super-sensing bloodhound, or you'll never be one. In fact, each of us can train our sense of smell, and we're better sniffers than we realize. Recent studies show that, when it comes to certain aromas, we beat animals long considered the uber-noses of the animal kingdom. Also, we can enhance our sensitivity to smells. It's like learning a language: You have to put meaning on the aromas you encounter by naming them—something most of us never learn to do growing up. A Master Perfumer, who was one of my mentors, advised me to describe every smell I encounter during the day, from my shampoo in the morning to the vanilla ice cream I eat for dessert at night. I highly recommend it.
What other surprises did you stumble on in this world?
Training as a sommelier has completely transformed how I eat out. Be forewarned: Restaurants are judging you way more than you are judging them, something I learned while apprenticing at Michelin-starred restaurants. Top restaurants google guests before they arrive and assign codes to their customers, which are shared with the staff so everyone on duty knows how to treat a group. If you know the right people and like to live large, you could be a PX—personne extraordinaire—or even a PPX—personne particulièrement extraordinaire, short for "spends dough." An outburst will get you labeled "HWC"—"handle with care"—or "SOE"—"sense of entitlement."
I was highly skeptical—how could pouring wine possibly be high stakes? But then I started looking into this contest, which is essentially the Westminster Dog Show with booze.
It seems there aren't as many women sommeliers. Did you find that to be true?
Unfortunately, there's this lingering stereotype that sommeliers are these scowling men in pinstripes who exist to intimidate people into spending too much on wine—basically the judgy undertakers of the restaurant scene. But I discovered that a new generation of somms had upended these old stereotypes, and yet nothing I watched or read captured all the idiosyncrasies of a community that's younger, more female, and more devoted to their jobs than ever before. The accepted wisdom is that more women than ever are working as sommeliers, which is progress considering this has been a male-dominated field.
That's great to hear!
Yes, but we have a long way to go. Sexual harassment is still all too common in the hospitality industry—something I wrote about here, for Refinery29—and to make lasting progress, that has to be addressed. In restaurants, too often the same people who have the power to change the status quo are the ones creating the problems. And diners, both men and women, should be aware of the biases and expectations that they bring to the table—and I can say from experience that they do bring them.
Before getting to the wine, tell us about your book!
It's been described as the "Kitchen Confidential of wine." To me, Cork Dork is the book about wine and the senses I always wish had existed.
Now onto the wine! What's your pick of the week?
Teutonic Wine's 2016 Pinot Gris, Maresh Vineyard

What's the story behind this wine?
While back home in Portland, Oregon, this past summer I made a detour to Teutonic Wines, a rather unorthodox winery in a warehouse nestled between several strip clubs. What I thought would be half an hour with Barnaby and Olga Tuttle, the winery's owners, turned into nearly three hours of tasting some of the most incredible, mind-blowing Oregon wines I'd had. It also helped that Barnaby is a laugh riot who serenaded us with jazz records and is allergic to wine B.S. I was back home in Portland recently and picked up this Pinot Gris, which I hadn't tried before. And it was a delicious decision.
Why is this Pinot Gris good for this time of year?
It'd be good any time of year. Honestly, Pinot Gris isn't usually my first choice, which is partially why I decided to experiment. But this was an incredibly diplomatic wine: just the right bite of acid and savory-ness for people who tend closer to grassy wines, with a caress of flowers and fruit for people who like their whites a bit lusher. I served it to a very diverse set of tongues, and it was a big hit with all.
How did you pair it?
I paired it with homemade spaghetti alle vongole with roasted cherry tomatoes and tons of parsley, and I was not disappointed. We also had a great time with the Pinot Gris and the Olympic Provisions salami we snacked on while cooking.
Is there anything else you're loving right now?
So much! Wines from Slovenia, orange wines, wines from the Jura, and sparkling wines from unusual grapes and places—sparkling Riesling, crémant du Jura, you name it.
Purchase Teutonic Wine Company's 2016 Pinot Gris, Maresh Vineyard, from Vivino.com; purchase Cork Dork from Amazon; and follow Bianca on Instagram for more wine suggestions and pairings through her #pairdevil photo series.
And for even more wine, be sure to read our past Wines of the Week.