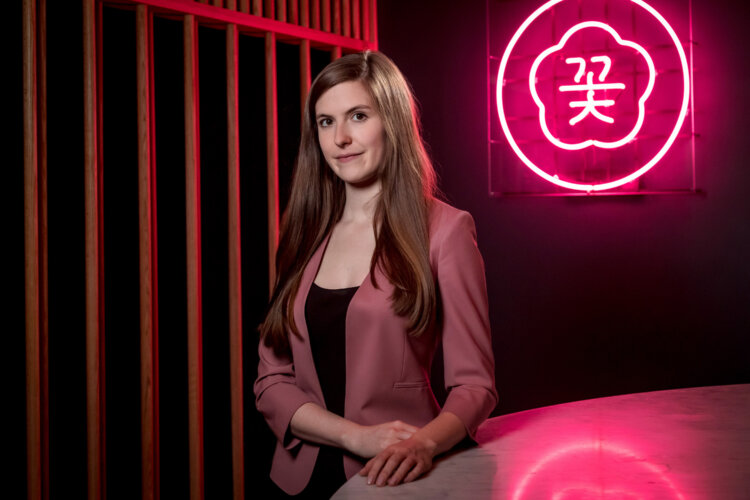 Wine for Dummies may not be an auspicious start for a beverage director, but when she became a bartender at 18, Victoria James picked up a "dusty old copy" of the book. She was lured by the history, stories, and tradition of the world. "This book led to another, which led to another, which led to a class," Victoria says. "That class became two and before I knew it, I was a cellar rat, then harvest intern and finally a sommelier. Curiosity is a dangerous and beautiful thing."
After becoming a sommelier at 21, she worked in various Michelin-starred restaurants in New York, including Aureole and Marea. She was on Zagat's "30 Under 30" list and one of Food & Wine's 2018 Sommeliers of the Year.
In 2015—at just 24—she became wine director at Simon Kim's Piora. Two years later, she helped Simon open his Korean steakhouse—Cote (which has won many awards of its own), where she is currently the beverage director.
She also wrote Drink Pink: A Celebration of Rosé last year and is working on a second beverage book.
At 27, Victoria is one of the youngest—if not the youngest—female beverage directors at a Michelin-starred restaurant. And though she hasn't been in the industry for long, she says she's already seeing more female sommeliers than when she first started. "For so long, the industry hasn't been especially welcoming to females, especially when it comes to career development," she says. "Harassment and obvious intolerance aside, restaurants haven't been a place where women can build families."
Currently, Victoria employs three female bartenders and two female sommeliers—one of whom is pregnant. "Although it can be tricky as a business to work around a variable schedule, I found that it was crucial I offer her flexibility and understanding," she explains. "I want our company to be one that allows women to start families and still build their careers. For too long, it was an either/or decision for women and this hinders overall growth for females in the industry."
Not only is supporting women important to Victoria, but she's also trying to "celebrate the little guys" with her wine program at Cote. She focuses on small, honest producers—and she's also keenly aware of cost to customers. "Everyone should be able to afford a good bottle of wine in their price-point," she says.
And a bottle of wine in a reasonable price point is exactly what we asked Victoria to recommend for this week's Wine of the Week, which is … Légende Bordeaux Blanc.

The story behind the wine: "I first tried this wine at an event for Cote, and with Chef David Shim we paired this Sauvignon Blanc and Sémillon blend with our Kumamoto oysters topped with Maine Uni. It was the most refreshing pairing I've had in quite a long time. The unctuousness of the Sémillon matched perfectly with the Uni while the Sauvignon Blanc refreshed the palate and mirrored the zing of the oysters and brine."
Why this wine is unique: "When people think about Bordeaux I think they too often forget about whites, which is a shame! They can be some of the best wines in the region."
Why it's great right now: "To me, Bordeaux Blanc just screams spring: floral, refreshing acidity, great citrus fruits! It is really the perfect wine with all of the foods that are coming into season. Think asparagus, nettles, ramps."
How she'd pair it: "See above for the oysters and uni! But if you want something easier to do that at home, try spring vegetables and light dishes like salads."
Thoughts on rosé: "I love to support rosés that speak of a place––the people and the history. At Cote, we only carry grower rosés, made from vigneron (those who tends to their vines vs. the new world concept of 'wine-making'). They follow centuries of tradition and don't necessarily follow trends. These are also the wines that I talk about in my book."
Favorite rosé to drink at the moment: "Domaine de Montmollin Oeil de Perdrix, a Pinot Noir rosé from Switzerland, which is so refreshing and versatile."
You can purchase Légende Bordeaux Blanc on wine.com for $18.
If you're in New York, you can find Victoria at Cote. If you're not, you can follow her on Instagram and Twitter. And you can purchase her book, Drink Pink: A Celebration of Rosé, on Amazon.
For more Wine of the Week, read our past sommeliers' picks here.