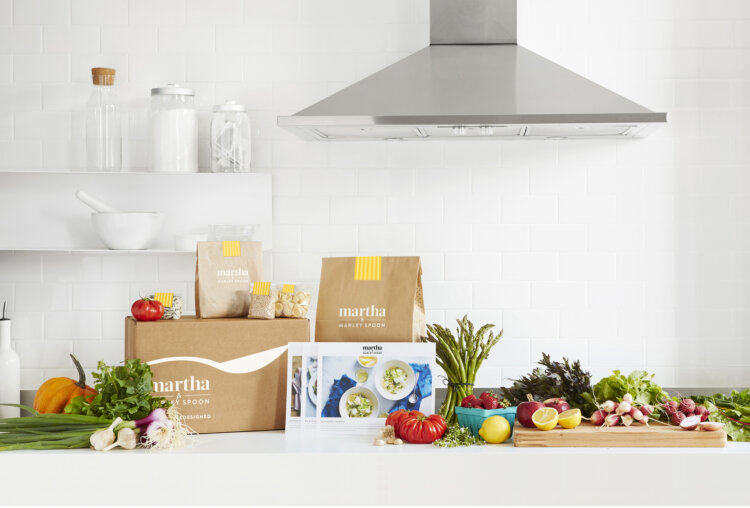 If you've ever dreamt of cooking like Martha Stewart, well, Marley Spoon is the food box service for you. The service is similar to those we've tried at Grok Nation in the past, with one catch: the recipes get the Martha Stewart seal of approval.
In all my meal service testing, the ones that require extensive prepping and time in the kitchen are usually the ones I like least. Knowing these were Martha Stewart's recipes, I was a little nervous going in that they wouldn't be particularly easy.
Similar to other services, you can enroll for meals two, three or four times a week for two or four people. You can request a vegetarian box and customize your meal selections, but there aren't quite as many dietary options as some others. The price per week varies by meal size, but for what I received—two meals a week for two people—it would cost $48 per week. (Martha & Marley Spoon sent me a box in exchange for an honest review.)
Next, you have 10 meals to choose from. The recipes indicate whether they are "Kid Friendly," a "Customer Favorite," dairy free, a 30-minute meal, etc. All the meals looked quite delicious; and while I was tempted by the 30-minute options, I wanted to get the full Martha experience. So I selected the Buttery Garlic Chicken with Orzo Pilaf & Roasted Broccoli and the Steak and Chimichurri with Couscous-Snap Pea Salad.
The box arrived on schedule and packed in an eco-friendly way. The two recipes' ingredients were bagged on the top, an ice pack below, and meats underneath, followed by another ice pack. This is how most kits assemble their boxes, so I almost didn't notice there were two pats of butter along with the meat, sandwiched between the two ice packs. I'm not quite sure why those weren't in the recipe bags above, but I almost tossed them with the box into the recycling. Martha would have certainly noticed missing butter pats, so I was already failing at being her…
Buttery Garlic Chicken with Orzo Pilaf & Roasted Broccoli
Every time I've ever cooked with parsley, I've only used the leaves. Well, in Martha's world, you're supposed to use the stems, too! The first step for the chicken recipe—prepping ingredients—told me to pull the leaves and chop stems and leaves separately.
I'm what you would call a "recipe skimmer," so I pulled and chopped the leaves and tossed the stems into my compost. When I got to step 4 and tossed the parsley leaves into the boiling orzo water, I realized something was wrong. I went back and read the full instructions and saw my error. Luckily the Tupperware I was using for my compost had just come out of the dishwasher and nothing else was in it, so I pulled those out and chopped them, fished as many parsley leaves out of the boiling water as I could and swapped in the stems.
You were also supposed to pound the chicken to make them thinner, but I skipped that step entirely—intentionally, because I'm lazy. (Sorry, Martha!)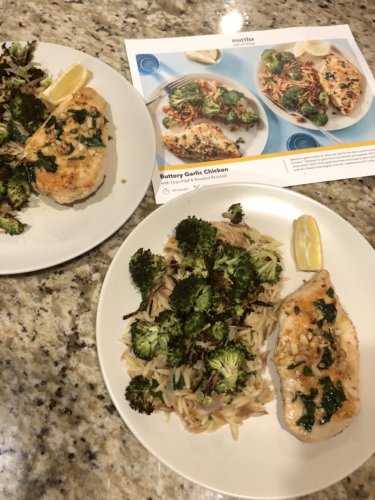 So I didn't make my chicken ½-inch thin and I'm pretty sure I cooked the orzo completely wrong because the water didn't fully absorb like the recipe said it should (to be honest, I thought I was cooking rice until I took a bite and remembered it was orzo). But despite all that, I think this recipe was really delicious! The chicken had a great buttery outside that made a nice bite with the orzo and broccoli. That being said, I didn't notice the parsley stems in the orzo at all.
Steak and Chimichurri with Couscous-Snap Pea Salad
I was supposed to use a meat tenderizer for this recipe as well. Truth time: I do not own a meat tenderizer, which is why I didn't use it for either recipe. I've always thought that was an unnecessary step in recipes, so it seemed silly to buy one. Martha would be so disappointed that I did not "pound to even thickness" before cooking these steaks—but it did not matter. They were delicious at their original thickness.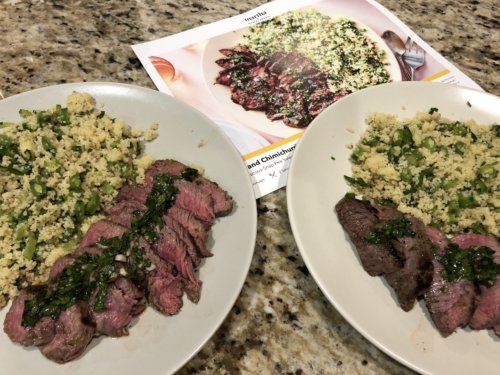 I learned from my mistakes the night before and FULLY read the instructions ahead of time. (I'm the type of person who starts a recipe 30 minutes before dinner and gets halfway through it before realizing it has to "simmer for two hours" or something equally time-consuming. You'd think I'd learn, but I've yet to.) I was fully prepared to chop both the parsley stems and leaves. Martha seriously loves her parsley stems.
I'm not sure if it was the recipe or the cut, but this was probably one of the best steaks I've made at home. It was perfectly cooked and seasoned, and the couscous and pea salad was a great compliment to it. I'm definitely going to save this recipe and make it again.
Overall, the recipes weren't as Martha-level difficult as I was expecting. The first night would have gone smoother if I followed directions better, but even with me mixing up a few things, it turned out to be a yummy dish. And neither took much longer than 30 minutes. Because the recipes are fun and a bit out of the norm, I could see this being a great subscription for someone wanting to beef up their cooking skills or recipe repertoire.
Have you tried Martha & Marley Spoon? What was your experience? If you haven't and would like to try it, use this link to get $30 off.
Read all our past meal service reviews here.