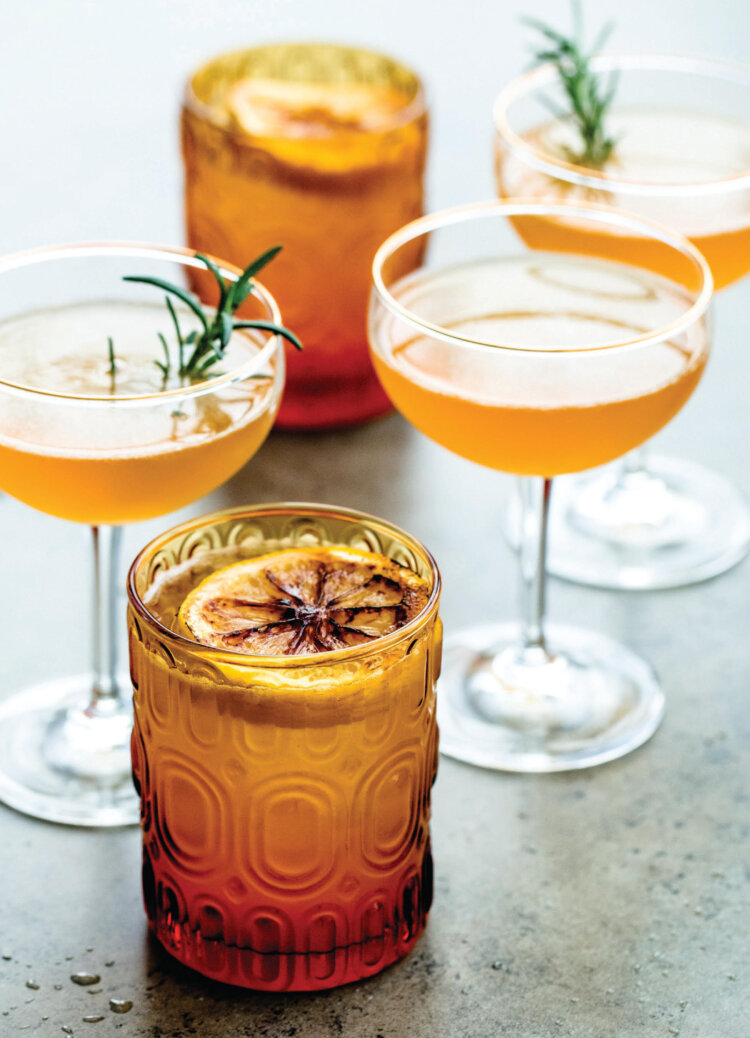 Ever find yourself looking through cocktail recipes with wistful longing because your tiny liquor cabinet is short on fancy spirits and bitters? Don't fret, you can do more with one bottle of alcohol than you think! With a good-quality shaker and a couple of strainers, you can use a single spirit and a few kitchen ingredients to mix fabulous drinks.
Author and food and drink writer Maggie Hoffman's new book, The One-Bottle Cocktail, tackles the common issues of limited bar space and lack of obscure ingredients on-hand when it comes to creating fresh drinks in the home.
"I think cocktails have become more of a part of everybody's week. Pretty much any good restaurant you go anywhere in the country will likely have great cocktails," she says. While writing the drinks section of "Serious Eats," a column she founded in 2011, Hoffman would hear angry complaints from her readers about needing too many ingredients.
But she came to realize that many of her readers, much like herself, lived in homes that simply didn't allow the space for large collections of exotic rums and sherry. Or they didn't want to invest in an obscure bottle of something that makes one drink.
"The basics are the basics. It's worth using the proper techniques. I believe anyone can make great drinks at home. You can start with an old-fashioned or any of the drinks in The One Bottle Cocktail, where you're starting with a single spirit. One of the things I think is really the most important and the best way to improve your drinks is to buy good alcohol."
Hoffman suggests resisting the urge to stock costly liqueurs like Chartreuse. "It's delicious, but maybe that's not where you start." A really good bottle of gin or mezcal can be used to make many great drinks. She likes to quote from one of her historical cocktail books that "a cocktail is only as good as its worst ingredient." To her, that means that if we buy tomatoes only in season because that's when they're most flavorful, then we should take the care to find a good, well-stocked liquor store. She has even included a list of recommended brands of each spirit in the back of her book. "Buy one great bottle and mix with it."
In addition to the more than 80 recipes, The One-Bottle Cocktail includes a bonus drinks section! If you're at the end of the gin chapter, you'll find page numbers for other recipes. Maybe find the one using tangerines, honey and turmeric, and experiment using your good gin in place of the vodka. Pretty much guarantees you'll use that one bottle of splurge-worthy Hendricks all spring long.
The idea for the bonus drinks came from the bartenders themselves. In sending their recipes for the book, many of them would tell her other spirits would work just as well. As Hoffman tested and regretted the decision of creating more work for herself, she discovered not everything performed the same. But enough of the exchanges did warrant the bonus drinks pages, which expanded the project from 80 recipes to hundreds. "I found when I was experimenting in my own kitchen, there are many flavor similarities between something like the richness of rum aged in barrels and bourbon aged in barrels. Sometimes it was the differences in flavors, like the smokiness in one spirit and the caramel in another, that worked equally well in the same recipe."
What's next for Hoffman? She's finishing up another book with The One-Bottle Cocktail photographer, Kelly Puleio. "It's on pitcher drinks. Perfect for entertaining because you can pre-make them."
We're already making up the guest-lists.
SASSY FLOWER
Alan Ruesga-Pelayo of Cosme in New York grew up in Mexico enjoying his mother's and grandmother's homemade aguas frescas. His favorite was always the hibiscus-flavored version, agua de jamaica, which inspired this drink. Tangy hibiscus tea is steeped with fresh rosemary, giving you a piney flavor that draws out the woodsy side of mezcal. If you prep the syrup early and stash it in your fridge, finishing the drink is a snap.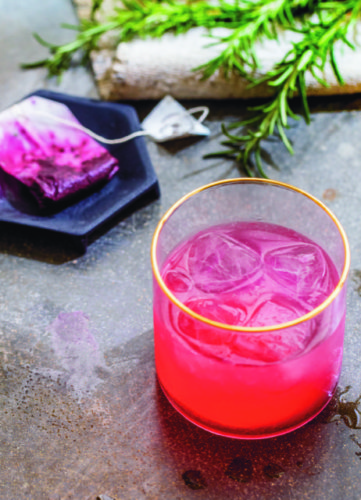 Ingredients:
2 ounces mezcal
1 ounce fresh lemon juice
¾ ounce hibiscus-rosemary syrup (see recipe below)
Rosemary sprig for garnish
Instructions:
Combine mezcal, lemon juice, and hibiscus-rosemary syrup in a cocktail shaker and fill with ice. Shake until well chilled, about 12 seconds. Strain into an ice-filled rocks glass and garnish with a rosemary sprig. Makes 1 drink.
Hibiscus-Rosemary Syrup Ingredients:
2 hibiscus tea bags (such as Traditional Medicinals)
1 rosemary sprig
1 cup boiling water
1 ½ cups sugar
Instructions:
Steep tea bags and rosemary in boiling water for 5 minutes. Strain into a resealable container with a tight-fitting lid, then add sugar and stir or shake until dissolved. Let cool, then refrigerate for up to two weeks. Makes about 14 ounces, enough for 18 Sassy Flower drinks.
SLIPPERY WHEN WET
I adore this fragrant and refreshing strawberry-gin drink, created by Shannon Tebay Sidle of New York's Slowly Shirley and Death & Co. The secret ingredient is a dollop of unsweetened Greek yogurt, which gives the cocktail a tangy flavor and subtly creamy texture. The final result isn't sweet or smoothie-like; this is definitely still a cocktail. A sprinkle of freshly ground black pepper highlights the gin's herbal character, but I also like this drink with grassy blanco tequila or a full-bodied aged rum.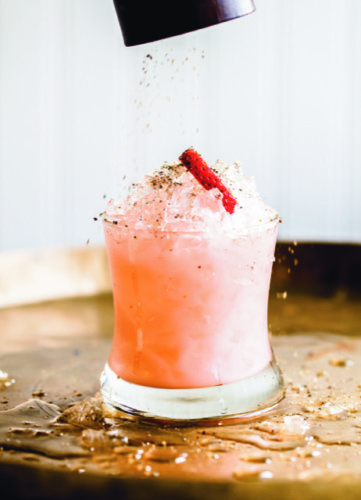 If your fridge doesn't dispense crushed ice, fill a freezer bag with cubes, wrap them in a dish towel, and go wild with a meat tenderizer or rolling pin.
Ingredients:
1 large or 2 small ripe strawberries, halved
¾ ounce fresh lemon juice
½ ounce undiluted honey
2 ounces gin
1 heaping teaspoon plain Greek yogurt
Freshly ground black pepper and a vertical slice of strawberry as garnish
Instructions:
Combine strawberries, lemon juice, and honey in a cocktail shaker and muddle until well broken up. Add gin and Greek yogurt and fill shaker with ice. Shake until well chilled, about 15 seconds. Fill a rocks glass with crushed ice, then double-strain cocktail into it. Grind black pepper on top and garnish with the strawberry slice.
Reprinted with permission from The One-Bottle Cocktail: More than 80 Recipes with Fresh Ingredients and a Single Spirit by Maggie Hoffman, copyright ©2018. Published by Ten Speed Press, an imprint of Penguin Random House.