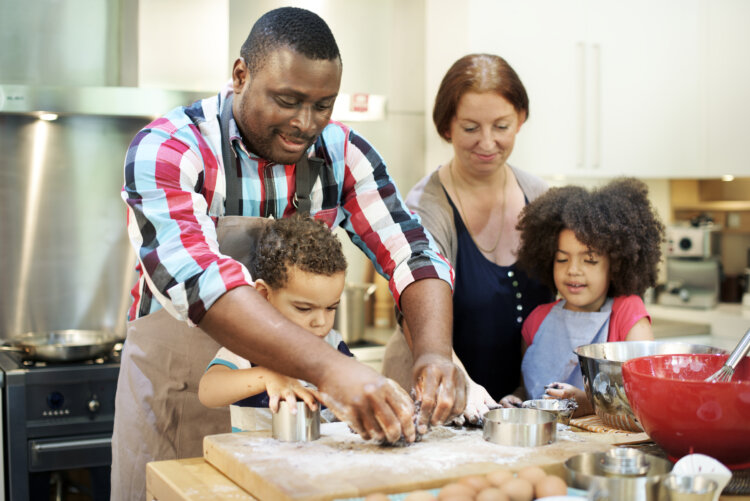 A "case of the Mondays" doesn't necessarily have to be a bad thing. Research conducted by Johns Hopkins found that people are more likely to use Mondays as the day to start fresh and kick off healthy eating plans or exercise regimes. And based on that research, The Monday Campaigns was founded. The non-profit public health initiative is associated with Johns Hopkins and both Columbia and Syracuse Universities. You may know their first campaign—Meatless Monday—but they've started a number of other programs.
We've partnered with The Monday Campaigns to bring Grok Nation readers new info each month to have healthier Mondays. Read the past Monday posts here.
Each year, the Academy of Nutrition and Dietetics promotes March as National Nutrition Month, to encourage individuals and families to make informed food choices and to promote the importance of healthy eating. One of the best ways to instill this in children is to get them in the kitchen, involve them in preparing family meals and to take time to enjoy these meals together. Including children in meal preparation has many benefits that can last a lifetime—from kids learning healthier eating behaviors to science and math skills.
We spoke with Pam Koch, a registered dietician, to gain her insights on how to get families cooking. As the executive director of Laurie M. Tisch Center for Food, Education & Policy and a Research Associate Professor of Nutrition Education at Teachers College at Columbia University, Pam uses her research about healthy eating to develop resources for teachers and recommendations for policy makers. She has written curriculum for schools and frequently speaks about nutrition education and sustainable food systems at meetings and conferences across the country. Pam ran a test pilot for Kids Cook Monday, a nonprofit initiative that encourages families to set aside the first night of every week for cooking and eating together. Read our interview below.
How can families use Monday as a day to get on a healthier track? How did your Kids Cook Monday pilot show that this program led to families eating healthier together?
Monday is a great day to get on track for a healthy week. When we make healthy choices on Monday, sticking to it for the rest of the week is just easy. In our Kids Cook Monday pilot, families came to our kitchen classroom for three Mondays in a row to cook and eat together. They were so excited to see their children dive right into cooking and enthusiastically eat everything they cooked.
Why is it important for families to cook and eat meals together?
Cooking and eating together is quality family time. My sons are now 20 and 17, and some of my most precious memories of their childhood is being at our kitchen counter chopping vegetables and then talking about our day as we ate the meal we just prepared together. All families with young children have to eat together, so why not make a routine?
What has your research shown in terms of kids being involved in meal prep and eating behaviors?
Back in the 1990s, we did a study to evaluate a program called Cookshop. Some students had classroom lessons where they cooked recipes with vegetable, bean and whole grain recipes that were the same recipes used by the school lunch staff. Others had classroom lessons where they learned the importance of eating lots of plant-based foods but did not cook. The students who cooked ate significantly more when those recipes were served in the lunch room. That study showed clear evidence of the power of cooking to help children eat healthier. To learn more see, Feeding Our Kids Right…and Inspiring them to Eat.
What are some ways you've found effective, both with your kids and through research, to get kids involved with cooking?
When students get to use all their senses, it is easy to get them excited to cook. Let them feel, smell, and taste ingredients, and you won't be able to stop them from cooking. I also have found that kids love learning that we eat all different parts of plants—roots, stems, leaves, flowers, fruits, and seeds. As they cook, they can count up how many different plant parts they will be eating.
Get started with Pam's recipe for Sweet Potato and Apple Delight, a delicious dish that kids and parents will both love.
Sweet Potato and Apple Delight
Ingredients
3 cups chopped sweet potatoes (3 medium, 4–5 small)
1 teaspoon butter
3 tablespoons honey
2 teaspoons cinnamon
1/2 teaspoon nutmeg
1/2 teaspoon salt
4 cups chopped apples (4 medium apples)
1/2 cup dried cranberries
Directions
1. Preheat oven to 375°F.
2. Mix sweet potatoes, butter, honey, cinnamon, nutmeg and salt in a casserole dish. Bake for about 40 minutes, until sweet potatoes are soft. Stir every 15–20 minutes.
3. Add apples and cranberries and bake for another 20 minutes, until apples are soft.