I am actually not a big sweets person, but I do love a chocolate chip cookie, especially warm out of the oven. Yum.
A lot of people don't know that it's actually not that hard to make vegan sweets taste good, especially if chocolate is involved. Whereas it can be hard to replicate a flaky buttery crust without dairy, every vegan baker knows it's not hard at all to make chocolate taste amazing without adding dairy! Chocolate itself is not dairy, but it becomes "dairy" and thus not vegan when you add butter or milk fat to it. But it can be delicious and sweet with sugar and oil added to it, too, or even with vegan margarine added to it.
Because of this, vegan chocolate chip cookies don't taste all that different from regular ones and there are high quality chocolate chips that are dairy free. (I like Ghirardelli personally.)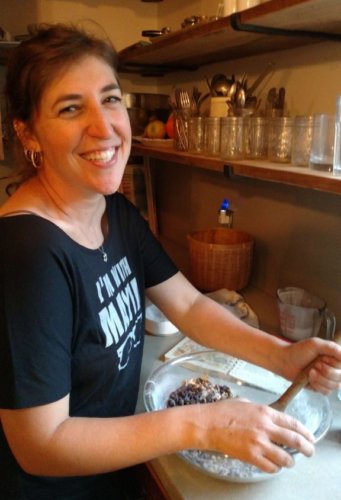 I wrote a family vegan cookbook a few years ago called Mayim's Vegan Table. I didn't include a plain old chocolate chip cookie recipe—but I did share a few "specialty" cookies. I'm going to share with you the recipe for Chocolate Chip Pumpkin Cookies, which are pretty amazing if you like that kind of thing! No one will ever guess they're vegan!
The key to making these cookies taste perfect is not to overcook them! So watch them closely and take them out of the oven when they seem just a bit soft and almost maybe possibly underdone. If they are for sure feeling underdone, they are; you want to find that sweet spot between underdone and sort of feeling underdone that will keep them soft once they cool!
Enjoy!
Chocolate Chip Pumpkin Cookies
Makes 24 cookies
Ingredients:
Nonstick cooking spray
8 Tablespoons (1 stick) unsalted vegan margarine, at room temperature
3/4 cup brown sugar
3/4 cup granulated sugar
1 cup canned pure pumpkin
Egg replacer equivalent of 1 egg
2 teaspoons vanilla extract
2 1/2 cups all-purpose flour
1 teaspoon ground cinnamon
1/2 teaspoon ground ginger
1/4 teaspoon ground cloves
Pinch of ground nutmeg
Pinch of mace (optional)
1 teaspoon baking powder
1 teaspoon baking soda
1/2 teaspoon salt
1 cup vegan semisweet chocolate chips
Instructions:
1. Preheat the oven to 350° F. Spray two baking sheets with the cooking spray.
2. In a large bowl, mix the margarine and sugars until creamy. Add the pumpkin and mix well. Then add the egg replacer and mix well. Finally, add the vanilla and stir to combine.
3. Stir together the dry ingredients in a separate bowl. Add the dry ingredients to the pumpkin mixture, and stir to combine. Fold in the chocolate chips with a spoon or spatula.
4. Spoon the batter in 1/4-cup measures onto the prepared baking sheets, leaving 1 inch between cookies. Bake for 15 minutes, or until lightly golden brown. Let the cookies rest on the pan for 1 minute after removing them from the oven, and then let cool on a wire rack.