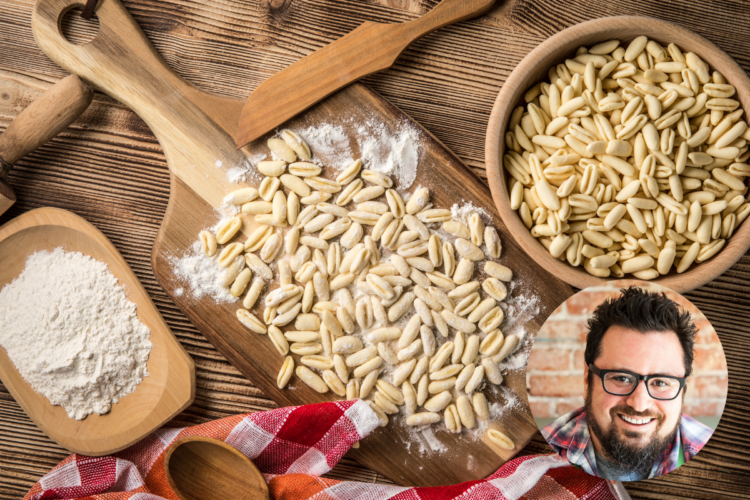 Have you ever watched Beat Bobby Flay and thought, "No one ever beats Bobby!" Well, Bruce Kalman has. In addition to his linguine recipe beating Bobby's version, Bruce has earned a Chopped championship title and won Esquire Network's Knife Fight.
When Bruce isn't battling other chefs on television, he's working at his soon-to-be-opened restaurant Square Peg Pizza in Connecticut. He embraces a Northern Italian cooking style and is committed to indigenous ingredients to help keep his carbon footprint low, support the local economy, and connect his diners to high-quality local goods.
Outside the kitchen, Bruce is in a cover band called Foie Grock, which he started with Duff Goldman (of Ace of Cake fame) about four years ago. He's also friends with Foo Fighter frontman Dave Grohl, who has set up a barbecue venture called Backbeat BBQ; Bruce and Dave cook BBQ together occasionally. It was out of these friendships and shared interests—paired with the idea of doing a holiday fundraiser for the Los Angeles Regional Food bank that Eat, Drink, and Support was born.
The one of a kind dining experience, on Saturday, Dec. 22 at the food bank, will merge Bruce's two loves: food and music. "It always makes sense to pair food and music," Bruce says. "There is so much crossover in the way food and music are appreciated, both sensory art forms. So much, in fact, that many chefs are musicians, and many musicians love to cook. I think that's how my friendship with Dave was forged."
While he hopes attendees have a great time, his ultimate goal is that the event raise a lot of money for the food bank. "It's important to help others who need it," Bruce explains. "I am a huge proponent of causes involving hunger, children, and homelessness."
(While tickets are sold out, you can join the waitlist if you're in the LA area or make donations—no matter where you live. More information can be found on the LA Food Bank's website.)
For Bruce, it always comes back to the food: "I love expressing my emotions through food, and the instant satisfaction you get when someone takes a bite, closes their eyes, and pictures themself walking through a piazza in Italy remembering the time they were there."
When we asked him what his favorite recipe is, Bruce said, "That's like asking, 'What's your favorite song?' or 'Which one is your favorite child?' But if I had to pick one recipe, it would be Ricotta Cavatelli with Mushroom Sugo, one of my favorite recipes to cook."
Here, Bruce shares the recipe with us so you can make it at home.
Ricotta Cavatelli, wild mushroom sugo, parmigiano-reggiano cheese
For the Cavatelli dough
Ingredients:
11 oz. all-purpose flour
1 large egg
8 oz. ricotta cheese
1 teaspoon kosher salt
Pinch butcher ground black pepper
Instructions:
1. In the mixer with the dough hook, place all ingredients and mix on medium speed.
2. Mix until a dough forms.
3. Remove from the bowl and place the dough on a clean work surface.
4. Knead for 2-3 minutes, until the dough is smooth.
5. Immediately wrap with plastic wrap to avoid drying.
6. Leave to rest for at least 3 hours, then roll into dumplings using a gnocchi/cavatelli board.
7. In a pot of boiling, salted water, cook the cavatelli for 2-3 minutes.
For the Wild Mushroom Sugo
Ingredients:
2 Tablespoons butter, unsalted
1/4 cup olive oil
1 Tablespoon rosemary leaves, fresh
1 Tablespoon sage leaves, fresh
2 cloves garlic, sliced thin
1/4 teaspoon red chili flakes
4 cups mixed wild mushrooms (maitake, oyster, chanterelle, cremini), cleaned and sliced
6 oz. vegetable broth
Sea salt and freshly ground black pepper, to season
Instructions:
1. In a large skillet or sauté pan over medium heat, combine the butter, oil and herbs and cook until the butter begins to brown slightly and the herbs are crispy.
2. Add the chili flakes and garlic and cook until the garlic is translucent.
3. Add the mushrooms and season with sea salt and freshly ground black pepper.
4. Mix together to coat all of the mushroom with the hot butter and increase the temperature to high heat. Cook until all of the mushrooms are caramelized and cooked through, about 3-4 minutes.
5. Add the vegetable broth and the cooked cavatelli.
6. Taste and adjust the seasoning.
7. Transfer to a serving dish and top with grated Parmigiano-Reggiano cheese and a drizzle of extra virgin olive oil.