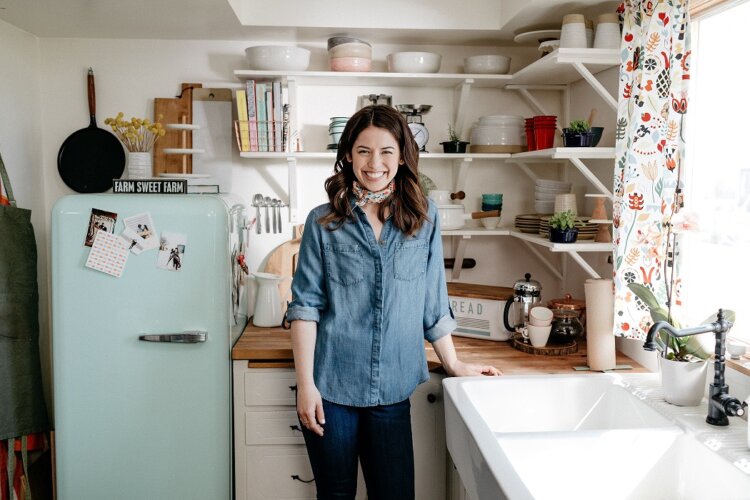 Carbs are very important to Molly Yeh, star of the new Food Network show, Girl Meets Farm. And because she is Chinese and Jewish, a lot of that carb love centers on comfort foods from those traditions: dumplings, challah, pot stickers, steamed buns, kreplach and matzah balls. "I'm drawn to very doughy things," says Molly.
A picky eater as a child, Molly was always drawn to baking cakes, cookies and other sweets. "Something my mom did if there was a celebration or a loss, her way of showing love was making a batch of rugelach," Molly explains. "If something fun or sad happens, I always bake for people, most specifically cakes. If I had a free day to do anything I wanted I would probably decorate a cake. It's ironic because I don't like eating it: I'd rather have cheese fries or potato chips. But using food to create a sculpture…that's so creatively satisfying for me."
She is also a big fan of yogurt: so much so that she wrote a book titled–you guessed it–Yogurt. She calls it "the duct tape of dairy products" because it fills in nicely for other dairy products in soups, pasta sauces, cakes, toast and "for every meal of the day sweet and savory."
Since moving to a farm in the upper midwest (first near Grand Fork, North Dakota, now in East Grand Forks, Minnesota) with her Norwegian husband, she's learned about new foods she'd never heard of, including a Norwegian flat, soft potato pancakes, and "doughy, potato dumplings that are round and cute and adorable." "I love them," Molly says. "A lot of it has to do with the fact that it's so cold here and all you want are root vegetables and doughy things that soak up soup." (You can read more of Molly's farm adventures and recipes in her cookbook, Molly on the Range: Recipes and Stories from an Unlikely Life on a Farm.)
Molly and her husband celebrate Jewish and Christian holidays, and this year, the High Holidays fall during the farm's busy harvest season. "It's a fun challenge to figure out how to celebrate," she says. "Maybe by eating brisket out on a tractor." The Chicago native, who used to live in New York, has also found herself missing life in large Jewish communities. "I thought there'd always be Jewish culture around me, and I grew up not having to plan for the holidays," she says. "Moving here, I had to take a lot more initiative to keep the traditions and keep the holidays alive."
A classically trained musician, Molly often listens to music while she bakes. There are similarities between playing music and baking, she says: "If you have an understanding of the basic principles, you can be creative and put your own spin on whatever it is you're making. Everything in food and music comes back to those core principles."
Here, Molly shares a ricotta challah recipe from her website, My Name Is Yeh. She recommends cooking it while listening to "cool weather music" like Sufjan Stevens and Iron and Wine, to create a cozy atmosphere. "That's what baking bread does as well: the oven is on, it's warm, dough is cozy," she says. "Any cozy sounds are perfect for baking challah."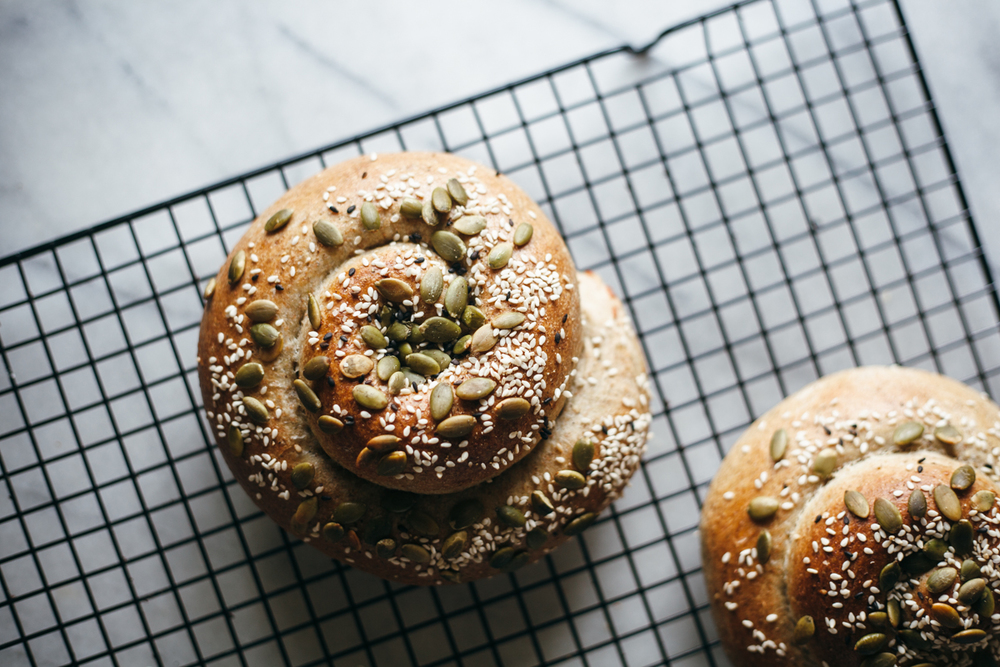 Molly Yeh's Ricotta-Stuffed Whole Wheat Za'atar Challah Mini-Loaves With Pumpkin Seeds and Sesame Seeds
(makes 8 personal rolls or 4 medium shareable loaves)
You can go a few different directions with these little loaves. I made a few personal-sized rolls and a few that are perfect for sharing with a friend (or perhaps… a date!). You could also make one large loaf, but that's not as fun. I tossed a bunch of za'atar into the dough to add extra flavor, and topped them with pumpkin seeds and sesame seeds for protein and prettiness. The seeds also add such crunchy textural fun to a fluffy challah and creamy ricotta party. These loaves are round because Rosh Hashanah is coming up (!!!), and yeah, with the whole wheat and seeds and everything they're definitely healthier than last year's marzipan challah and brown sugar challah, but you should go check those out, too, because the more challah the better in the new year!
Ingredients
Dough
2 1/4 tsp (1 packet) active dry yeast
3/4 cup warm water
1/4 cup + 1 teaspoon sugar
1 tsp kosher salt
2 cups all-purpose flour, plus more for dusting
1 1/4 cup whole wheat flour
1/4 cup za'atar, optional
2 large eggs
1/3 cup flavorless oil, like canola or vegetable
Filling
1 cup ricotta cheese
Kosher salt
Shredded cheese (optional… I like using a sprinkling of parmesan cheese)
Eggwash + topping
1 egg yolk beaten with 1 tablespoon water
Pumpkin seeds
Sesame seeds
Kosher salt + black pepper
Instructions
In a medium bowl, combine the yeast, warm water, and 1 teaspoon sugar and give it a little stir. Let it sit for about 5 minutes, until it becomes foamy on top.
Meanwhile, in a large bowl or the bowl of a stand mixer fitted with a dough hook, mix together the salt, flours, za'atar (if using) and remaining sugar. In a separate medium bowl, whisk together the eggs and oil.
When the yeast is foamy, add it to the dry mixture immediately followed by the egg mixture and stir to combine. Knead, either by hand on a floured surface or with a dough hook for 7-10 minutes, adding more white flour as necessary (but try not to add too much), until you have a smooth and slightly sticky dough.
Transfer the dough to an oiled bowl, cover it with plastic wrap and let it sit at room temperature until it has doubled in size, about 2-3 hours.
Divide the dough into 4 or 8 parts, depending on how big you'd like your loaves to be. Pat them out into long rectangles (about 2 1/2″ x 9″ for personal rolls, 2 1/2″ x 18″ for medium loaves) and then spread with a thin even layer of ricotta. Top with a sprinkling of additional cheese, if desired, and a sprinkling of salt. Roll up the rectangles the long way so you have long skinny snakes and and pinch the edges well to seal in the cheese. Roll the snakes into spirals to get round loaves and then let them rise for 30 more minutes.
Preheat the oven to 375ºF.
Brush the loaves with a thin even layer of egg wash and then sprinkle with pumpkin seeds, sesame seeds, salt, and pepper and bake until golden brown. Begin checking for doneness after 25 minutes. Let cool slightly and enjoy! Preferably with a fresh tomato. So the challah/fresh tomato double fist.