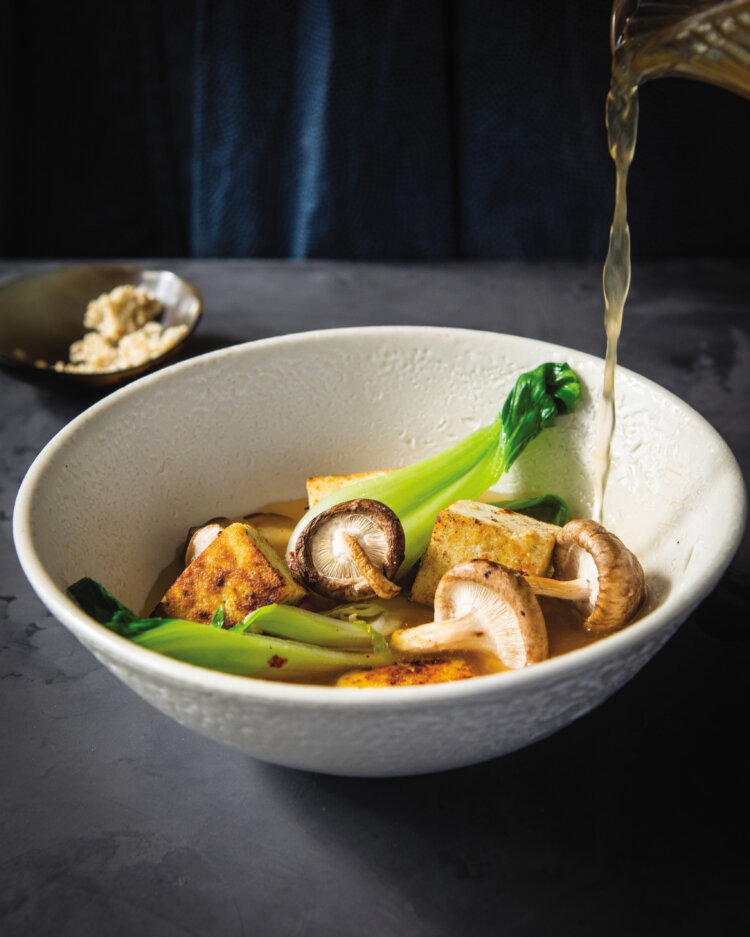 In my kitchen, I strive to bring delight into the real-life rhythms of life, and of course, one frequent reality of home cooking (and even takeout!) is leftovers. I hate to waste good food, but the truth is that I cook with leftovers largely for pleasure: They are just the kind of springboard I need to kick off my kitchen creativity.
My new cookbook, Secrets of Great Second Meals: Flexible Modern Recipes that Value Time and Limit Waste, is filled with recipes that can handle variations, depending on what you have on hand in the refrigerator. It's my hope too, that you learn a few key principles to improvise on your own, and make your own second meals as good, or better than the first. Here's a cluster of the key moves that I employ when I open my refrigerator and wonder what's for dinner.
Master a couple of egg dishes
Eggs truly are the most flexible companions to leftovers. For bigger crowds, you can mix up a simple custard using eggs and half and half for a strata (essentially a layered casserole). Pour it over a combination of delicious leftover tidbits and crusty bread and then refrigerate overnight. In the morning you pop the strata in the oven and take a snooze while it bakes. On the other hand; if you just have a couple of tablespoons of something to use up, there's nothing better than an omelet. You can go for the classic rolled omelet, or, if you want to treat yourself, whisk the egg whites separately and then fold them into the yolks before cooking to make a puffy souffled omelet.
Keep some flavor in the freezer
A jar of deep-green pesto or a lively curry base will keep in the freezer for a few months, just waiting to add complexity and flavor to your next leftover meal. Remember to freeze them in single-use portions so that defrosting is easy.
Add herbs
Nothing freshens up food like tender green herbs, whether grown in your garden, a windowsill or out of the clamshell package. Keep tender green herbs such as flat-leaf parsley, cilantro, basil, and tarragon on hand and mix them by big handfuls into salads, pastas and soups. If the herbs are getting a little wilty, you can always toss them into your next pot of braised greens or pesto.
Add acid
Refrigerated food loves a little bit of acidity to brighten it up. You don't need to go overboard, but if you have a homemade dressing that's been around for a couple of days, it likely needs an extra squeeze of lemon. Beef stew can use a little shot of red wine as it's heating up. And rewarmed vegetables are even more delicious topped with a spoonful of crème fraiche before heading to the table.
Add texture
Food often loses textural contrast after a night in the fridge. You can crisp potatoes or skin-on chicken in a pan, but it's often easy to add lively texture with a topping like a shower of toasted pumpkin seeds, a tangle of slivered pickled onions or a handful of thinly sliced radishes.
Add chilies
Make sure to have a favorite chili-fueled condiment or two on hand to add vibrancy to food that's been stored.  I look for chili sauces that deliver something other than just heat: two of my favorites are harissa, the north African hot paste scented with cumin, coriander and caraway, and bright red Sichuan chili oil, which is fragrant with warm tones of anise and Sichuan pepper. Both are fun to make but you can also purchase delicious versions online.
Make a soup
Adding broth to extra food is a classic move to shift it toward another meal. It might be as simple as floating leftover beans and greens in a tasty vegetable broth, or a little more elaborate, like pureeing roasted vegetables to create a creamy-smooth soup. Soups taste all the better if you've made the broth yourself with vegetable trimmings or the extras from a roast chicken. Here's a recipe from Secrets of Great Second Meals to get you started…
The Almost-Instant Miso Soup: Spicy Tofu Soup with Bok Choy
This is the kind of soup I make for myself for a quick deskside lunch during a busy day. It's a charismatic broth poured over some extra tofu and veggies for a very pure-feeling but savory meal. If you want to treat yourself a bit like a guest at a fancy restaurant, place the chunky bits in the bowl in an artful way and then pour the broth over them with a flourish. Even if you're dining alone, you deserve a little flair.
Extra ingredients used: roasted tofu, cooked bok choy or other greens
Time: 10 minutes (10 minutes active)
Makes 1 serving (about 2 cups)
Ingredients:
1 1/2 cups water or dashi
1 tablespoon white miso or chickpea miso
1 teaspoon gochujang paste (available at Korean and Asian groceries; I very much favor Wholly Gochujang, which is also available at Amazon.com)
3/4 cup roasted tofu
1/2 cup cooked baby bok choy or other greens
2 or 3 shiitake mushrooms, sliced thin if raw or in bigger chunks if already cooked
Toasted sesame seeds to garnish
Instructions:
Bring the water to a simmer in a small saucepan over medium-high heat. Reduce the heat to low, whisk in the miso and the gochujang, then add the tofu, bok choy, and mushrooms and let them warm through. Use tongs or a slotted spoon to pull them out of the broth and arrange them in a serving bowl.
Pour the broth over the tofu and vegetables and sprinkle with the sesame seeds.
Recipe from Secrets of Great Second Meals: Flexible Modern Recipes that Value Time and Limit Waste by Sara Dickerman. Copyright © 2019 by Sara Dickerman. Reprinted by permission of William Morrow Publishers.
For more recipes and tips, purchase Sara's book on Amazon.