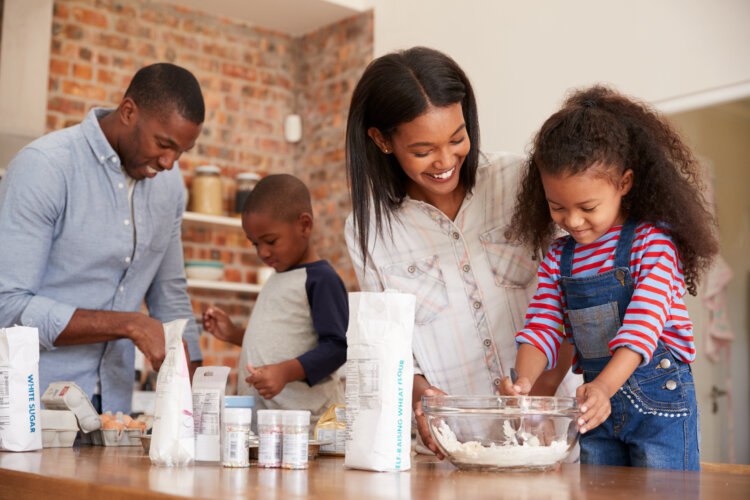 It may just be the beginning of August, but too soon the carefree summer days will be gone. Back to school means preparing children for new classes and teachers, homework and after-school activities. The return of routine often means it's harder to set aside time for cooking meals together, as well as packing healthy lunches for school each day.
As difficult as it may be to find time to cook and eat together each week, it's worth fitting these simple activities into your schedule. Research shows that families who cook and eat meals together experience lasting benefits, from learning to appreciate wholesome home-cooked meals to improving children's academic skills. Cooking reinforces what children are learning in school, such as reading, teamwork and STEM (science, technology, engineering and math).
Cooking together provides a simple way to understand nutrition, as well as the impact that food choices have on the environment. The more educated children are about food and the more they interact with healthy foods, the more likely they are to make good nutritious choices in the future. Preparing and enjoying meals together also gives families more opportunities to spend quality time together.
The Kids Cook Monday initiative encourages families to start each week by cooking and eating a meal together, and this initiative provides free resources and family-friendly recipes (with separate steps appropriate for children).
So why Monday? This day has a special significance in our culture as the start of the work and school week. Studies show that people are more likely to use Monday as a "fresh start" and opt for healthier options more often than any other day of the week. Engaging in healthy behaviors on Monday helps people sustain healthy behavior throughout the week. If you start a good habit on a Monday, you are more likely to stick to it.
At P.S. 32 in Carroll Gardens, Brooklyn, Camille Casaretti, a parent and the school's PTA Wellness Chair organizes quarterly Family Cooking Nights, where parents and students prepare and eat a healthy meal together. Camille shares Kids Cook Monday resources with participants so that they can continue the tradition of cooking and eating together each week at home.
For families experiencing the back to school time crunch, below are some tips from Camille:
Come up with a few go-to recipes. Make healthier versions of your family's favorite dishes: If your family loves pizza, add fresh veggies. Burritos with beans, veggies and guacamole are another great option.
Pick a day to shop together each week. One day each week (maybe over the weekend), go shopping  as a family. Show kids ingredients on the labels and talk about which items may be a more nutritious choice. Let your children choose an item each week, encouraging them to choose the healthier option.
Give your children jobs in the kitchen. Chopping, mixing and measuring ingredients, setting the table and cleaning up after (rinsing dishes, clearing the table, discarding trash)–your kids should be helping with this stuff. Involve them in the preparation and clean up.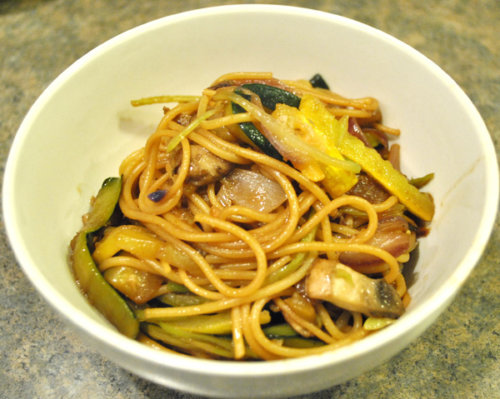 This recipe for Veggie Lo Mein—courtesy of Karen of Our Blessed Adventures—is quick, easy, delicious and healthier than take out! Give it a try for your next #KidsCookMonday!
Ingredients:
2 Tbsp. olive oil
1 small onion, sliced
2 cloves garlic, sliced
2 cups broccoli slaw
2 small squash (green and/or yellow), chopped
1 cup mushrooms, chopped
8 oz. whole wheat spaghetti
2 tsp. ground ginger
2 tbsp. low-sodium soy sauce
salt and pepper, to taste
Instructions:
Adult: Chop onions and garlic.
Kid: Chop squash and mushrooms. Measure broccoli slaw and spaghetti.
Adult: Cook noodles according to package directions.
Together: Heat olive oil in a large pan. Add veggies to the pan in order of what takes the longest to cook: onions, squash, garlic, slaw, mushrooms. Season according to taste and saute until cooked, about 10 minutes.
Together: Once the noodles are cooked, drain and toss in with vegetables.
Together: Add ginger and soy sauce and continue to cook several more minutes until the flavors come together.
Together: Enjoy!
For more family-friendly recipe, visit thekidscookmonday.org/recipes.