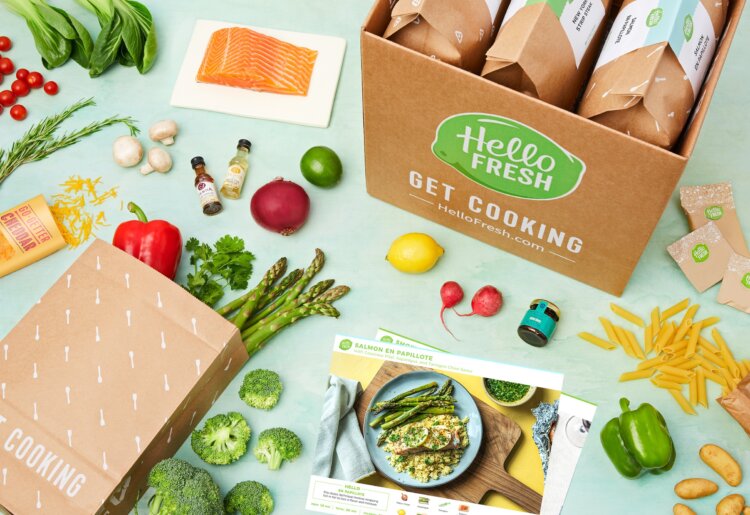 You've probably heard of HelloFresh from every single former Bachelorette. Of all the meal subscription boxes, it's one of the most present on social media. Every time I open Instagram, I see some bright smiling face in a HelloFresh apron telling me how easy it is for them to make dinner now. I was ready to put those #ad claims to the test…
When you sign up for HelloFresh, you can choose from either the Veggie, Classic, or Family plan. At $9.99 a serving, both Veggie and Classic plans can be selected for either two or four people; Veggie is three nights a week while Classic can be either two, three or four nights a week. And at $8.74 per serving, the Family plan is automatically set for four people and you can get it two to three nights a week.
I selected what's become my go-to for these meal kit reviews: the classic plan for two people, three nights a week. There were eight meals for me to choose from. One thing I've learned from trying all these services is that they love a "Juicy Lucy burger." At least three or four of the brands have had that as a recipe option, including HelloFresh. I have never even heard of this entree, but Wikipedia tells me it's popular in Minneapolis. There must be a lot of Minnesotans working in these subscription kitchens.
I did not choose a Juicy Lucy burger. But I did choose the Pork Carnitas Tacos, Pancetta White Pizzas and Shrimp and Zucchini Ribbons.
The day my box arrived, I saw it came with an apron! I am not an Instagram model, so I did not do a perfectly lit photoshoot while standing with my box of ingredients in my kitchen. Instead, I just tried to make my meals without setting off the smoke detectors. (Full disclosure: HelloFresh sent me this box in exchange for a review, so I cannot confirm if everyone gets an apron or not.)
Pancetta White Pizzas
The first thing this recipe told me to do was turn on my broiler. I've used my broiler a few times, but I never felt that it worked the way a broiler is supposed to. And since there would be photographic evidence of my cooking, I wanted to get this right. I went to Google to learn about my oven's broiler. Turns out it's in the drawer under my stove! The drawer that says "Do not store things here" and where I definitely store my cookie sheets and brownie pans—that's where I should have put broiling things, not in the oven. So after cleaning it out and watching a YouTube video on how to install the shelf (I always wondered what that wire thing was for!), my broiler was raring to go.
I've stated before that I hate dealing with dough, so I was incredibly happy that this meal came with precooked flatbreads. That also meant this recipe was incredibly easy! After cooking the pancetta and broccoli, I just had to mix up a ricotta spread, put it all on the pizza, and plop it into my newly discovered broiler.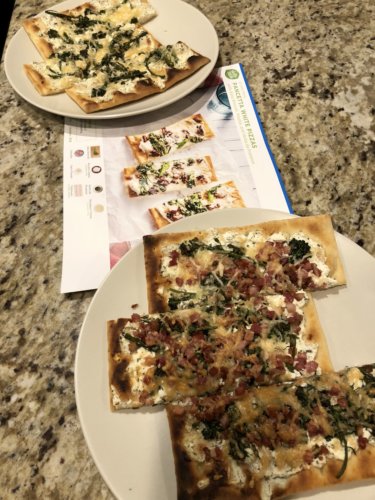 My sister, the guinea pig for all my recipes, recently gave up beef and pork, so her version was broccoli only, but we both enjoyed our pizzas. It was a fun, flavorful meal and it took me less than 20 minutes to make. Plus, with the leftover pancetta, I made a breakfast hash the next morning. I'm basically a food blogger now.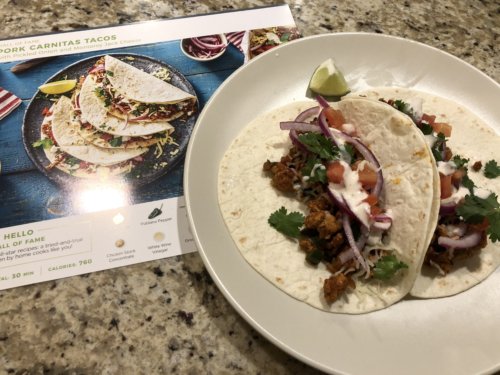 Pork Carnitas Tacos
I'm not particularly fond of ground pork, so this was an odd meal choice for me, but the photo of the tacos looked enticing to me. Ground beef tacos was one of my mom's go-to meals when I was growing up, and this was essentially a fancier version of that. It wasn't hard to pull everything together, but it did include pickled onions and a chipotle crema—something my mom definitely never did. Overall I liked the tacos, and I saved the recipe card to make again, but I'd probably make it with ground beef, or even ground chicken.
Shrimp and Zucchini Ribbons
The best thing about these recipes so far is that they were quick and easy. I'm not a fan of spending a long time in the kitchen, so the fact that these helped me cook something tasty in a half hour or less made me happy.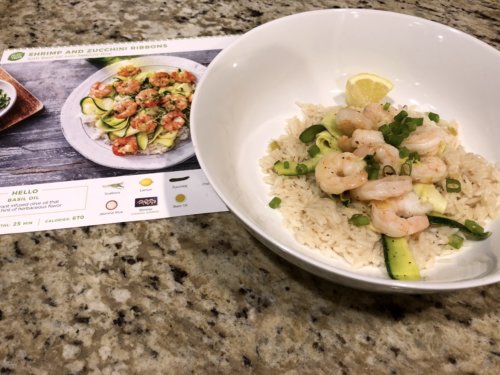 The Shrimp and Zucchini Ribbons were no different. I was a little fearful that the "ribboning" part of the zucchini would be a hassle, but it was literally just taking a potato peeler to it. The only problem with this recipe is the zucchini that came in my box was about as big as the lemon for this recipe. It was the world's tiniest zucchini! Seriously look…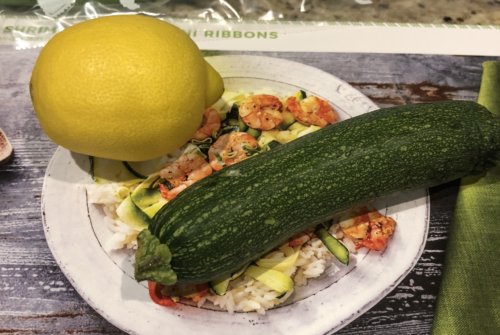 Because of that, the ratio of zucchini to shrimp seemed off, but the recipe was delicious nonetheless. I don't think I've ever had basil oil before, but I want to go out and buy a giant bottle of it and put it on everything. It was so good! Plus, the recipe had me soften scallions in butter and include in the water to cook the rice—it gave such a nice flavor to otherwise plain white rice. That's a technique I'd definitely try in future recipes.
So overall I'm a fan of HelloFresh. While they didn't have as large of a variety of meals to select from, I was pleased with the recipes I chose. It's a box I'd be interested in continuing. Plus, I just learned that they started a new program called Dinner 2 Lunch where they give you extra ingredients to make leftovers that transform into a second meal for the next day. One of my problems with these boxes is that it doesn't often leave leftovers, so I think this is a smart concept that I'd be interested to try.
What about you? Have you tried HelloFresh? What was your experience like? If you haven't tried it but want to, Grok Nation readers can use this link to get $40 off your first two boxes.
Be sure to read our previous reviews before you go. And if you've heard of other meal services you'd like us to review, let us know in the comments!