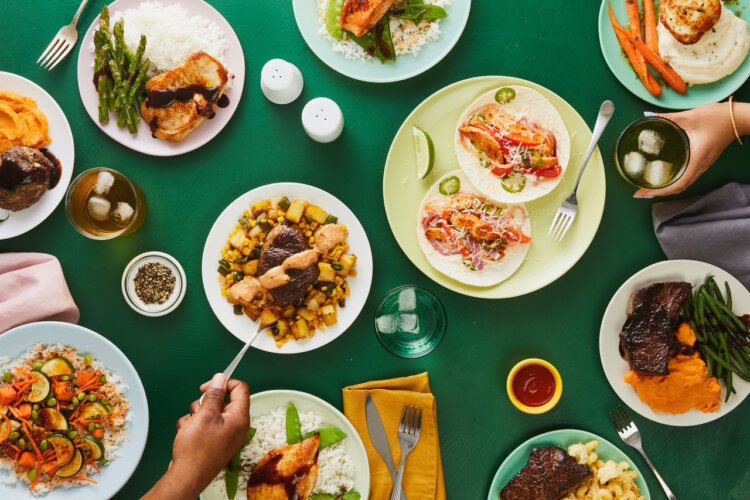 I've tried a variety of meal kits that had me working over a hot stove. It's been in the 90s in NYC every day this past week; the last thing I want to do is spend extra time in the kitchen. That's why I was incredibly excited to try GoReadyMade. I thought these meals could just pop into the oven or microwave (depending on preference) and would be ready to go. I learned the service is a bit more complicated than that—but still easier than shopping and cooking from scratch.
Signing up for GoReadyMade is fairly simple: You enter your email and zip code to find the availability and delivery days in your area. Next you have to select how many meals you want. You can choose four meals a week for $12.50 per meal, six meals for $10.99, eight meals for $9.99 or 10 meals for $8.99. All options include free shipping. Now, it's important to note that each meal is single serving. So theoretically you could get 10 totally separate meals, but if you're smart (like I wasn't) you'd get a couple of each so dinnertime requires prepping one meal, not two or more.
I chose 10 meals because I wanted to sample a variety of GoReadyMade's offerings. (GoReadyMade provided me with these meals for an honest review.) After you select a delivery date, they inform you that everything is prepared right before shipping, so it's good for seven days. Then it just comes down to selecting the meals.
Like I said, I wanted to try as many as possible. There are more than 25 options available, but from what I can tell—those don't change as often week-to-week like other services do. I got a single serving of the following: Teriyaki Chicken Noodles, Chicken and Cherry Balsamic Sauce, Butter-Basted Chicken, Soy Glazed Steak, Creamy Tortellini Gratin and Smoky Chicken Fajitas. And two each of the Cauliflower Mac and Cheese and the Korean Style Crispy Beef Bowl.
When you select your meals, a stove and microwave icon indicates prep time, but I didn't look too closely into that (and I should have).
The box came on the day expected—it looked just like many meal service boxes with recyclable padding. The ice packs didn't have recycling instructions like many services have had, so I wasn't sure what to do with them. You could definitely reuse these, but my small NYC apartment doesn't have much freezer storage and I ended up trashing them. The meals each come in plastic containers that are recyclable and wrapped with a thin cardboard box with instructions on them. The image of the meal is printed on the front of some of the boxes, but most just have a generic image—which makes it a little hard to find the right meal when you have a stack of 10 boxes in your fridge.
Cauliflower Mac and Cheese with Pancetta
My first venture with GoReadyMade started out great! The instructions said to remove the film and either place in the oven or the microwave (the plastic containers can go straight into both). Because we had bought two, my sister and I decided to have these on the same night. When I opened the containers, all the pasta had slid to one end of the box. Even though it was quite saucy, there were spots of dry noodles. I stirred up both dishes and made sure the pasta was evenly spread through the box before placing in the oven.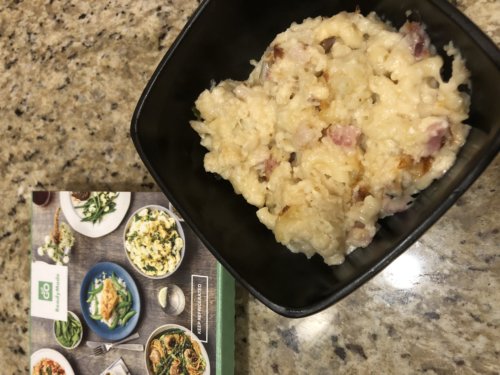 We were pretty hungry, but we still decided to take the time to cook in the oven. (Things always taste better in the oven!) And I think it was worth the wait. It was rich and creamy and perfectly baked. If you were thinking "Cauliflower Mac and Cheese sounds healthy," well you would be wrong. This was a cheesy pasta with the addition of cauliflower and pancetta. It certainly wasn't a light dinner, but it was very yummy. And the fact that all it required was popping it into the oven made it all the better.
Creamy Tortellini Gratin with Parmesan, Cream and Kale
Our cousin was visiting the night we made the Cauliflower Mac; since we didn't have a third, we had her try the tortellini. It also needed a stir before being popped into the oven.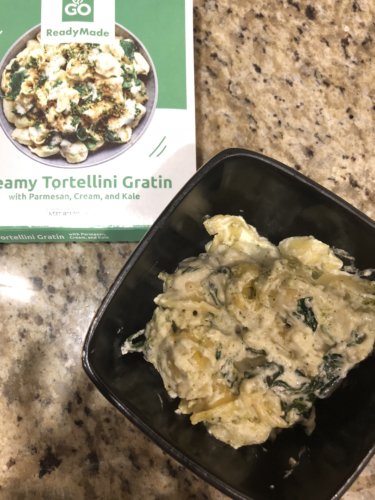 Like the mac and cheese, this was incredibly tasty—but it was a very heavy dish. Don't get me wrong… it was good, but if you are sensitive to dairy, this probably wouldn't be for you (or you'd need to take a Lactaid first!). I just had one bite and was overwhelmed by the creaminess, and my cousin wasn't quite able to finish it. But it does have decent chunks of kale in it, so you could sort of trick yourself into thinking it's healthy!?
Korean Style Crispy Beef Bowl with Shredded Carrots, Zucchini and Rice
This is where things started to take a turn and the instructions for these "easy" meals became much less so. The directions said to heat up the beef—which was partitioned off in the plastic container—in the microwave, mix with rice and veggies and pour sriracha sauce over the top.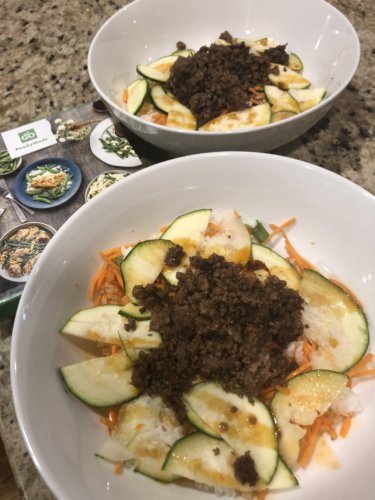 Were you supposed to mix hot beef with cold rice and veggies? Or were the instructions missing a step? Who can say! But I went ahead and took some initiative and nuked the rice and veggies a bit as well and mixed it all together. My only regret is that I didn't place a wet paper towel over the rice, because it was a little dry. (Maybe it wouldn't have been if I hadn't heated it?) The sriracha sauce helped, but there wasn't a lot of it, so it didn't fully saturate the dish. I would have preferred a gojuchang sauce since this was a riff on bibimbap, but overall it had good flavor and was an easy, enjoyable dish.
Soy Glazed Steak With Wasabi Mashed Potatoes and Spinach
One day, while working from home, I needed a lunch. I don't typically fix myself a steak for lunch, but we were getting close to the expiration dates on these meals. So I decided to attempt the Soy Glazed Steak recipe. The first thing I noticed was the steak was raw. It had instructions for pan frying it, which seemed easy enough, but it said approximately 5-6 minutes per side with no indication of what level of cook that would give it. I like steak medium rare, so I did about 4 minutes per side and then used my meat thermometer to see if it was okay. It actually ended up perfect (which never happens when I try to make steak at home).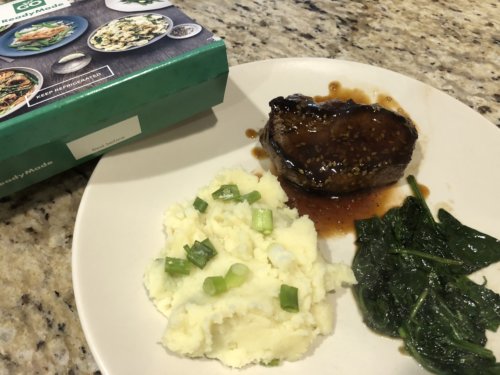 But that's not where the strangeness ended with this recipe. It said to serve the spinach as is. By the time I opened this container, it wasn't the freshest; plus, it had mixed a little bit with the mashed potatoes. I decided to saute it with a little olive oil, salt and pepper. This was not in the instructions, but overall this turned out well. It was a very nice cut of steak, and I was a big fan of the wasabi mashed potatoes. But unlike the first dishes, this was definitely not as cut-and-dried out of the box and required some ingenuity on my part.
Smoky Chicken Fajitas With Lime Crema, Peppers and Onion
Shortly after I made my steak lunch, my sister came home early from work and was looking for a meal. She pulled out the fajitas. The chicken, peppers, and onion were already cooked, so all she had to do was heat those up, warm the tortillas and then top with cheddar cheese and the sour cream.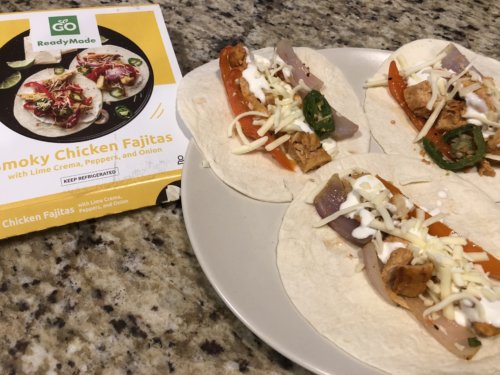 Whereas many of these meals were on the smaller portion size, this one was very filling. My sister didn't even finish all three fajitas, but she said the flavor was good—definitely better than what you'd expect when you hear "microwave fajitas." (Although, according to the instructions, this meal could have been warmed in the oven as well.)
Chicken and Cherry Balsamic Sauce With Potatoes and Broccoli
This was another meal that required some creativity. There was a raw piece of chicken (all the raw meat is sealed separately within the boxes) and raw potatoes and broccoli. There was a pat of butter I was meant to put on the chicken to cook, but it said to put the entire thing in the oven. Raw, dry broccoli and potatoes didn't sound so great to me, so I popped those out of the container and coated them in a little olive oil and salt and pepper. I'm very glad I did that.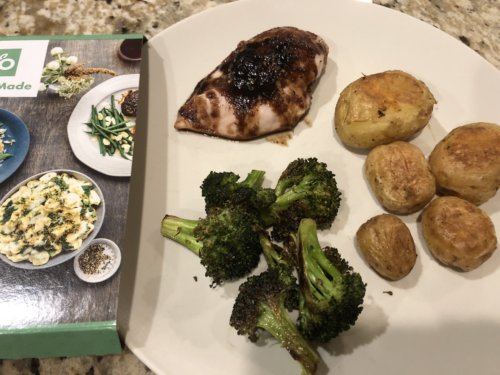 Once it all comes out of the oven, you pour the cherry balsamic sauce over the chicken. Although it was a small piece of chicken—as you can tell in the photo, I chose way too big of a plate—this was a nicely balanced meal. The potatoes and broccoli definitely benefited from having oil and seasoning on them, but the cherry balsamic sauce on the chicken was killer.
Butter-Basted Chicken With Thyme Carrots and Parmesan Mash
My sister and I ate these chicken meals at the same time; luckily the oven temp and cook times were the same, so it wasn't too much of a hassle eating different meals this time. Her chicken was cooked similarly, with a pat of butter on top, but it also cooked in a broth. I was very concerned that the mashed potatoes would overcook in the oven because her entire container went in as is—but she was insistent on cooking this as the instructions said to see if it worked.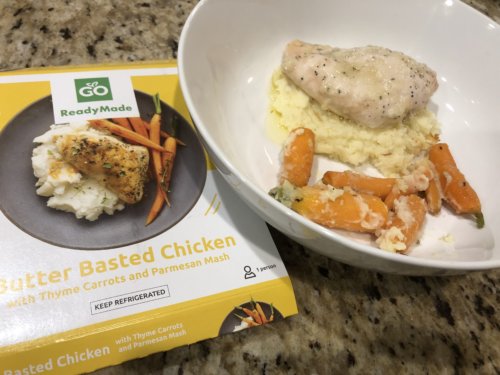 The mashed potatoes did not overcook! It was a GoReadyMade miracle! However, the carrots were pretty hard and raw. She wished she had done my broccoli-potato method and drizzled a little olive oil on them and placed them on a separate baking sheet.
Teriyaki Chicken Noodles
These expired before we had the chance to eat them. Lesson learned: Get at least two (or however many people you are serving) of every dish so you're not prepping multiple meals at a time.
Overall thoughts: I'm a bit perplexed on how to sum this meal service up. All the meals were good, and the ones that were microwave only were super easy. Even the ones where it required you to cook the meat weren't difficult, but I think GoReadyMade needs to give more detailed instructions. I guess if you like puzzles this could be a good challenge!
All that being said, I definitely would try GoReadyMade again, I would just pay closer attention to the prepping methods (microwave vs. cooking raw meat), choose the less intense options, and not try to get 10 different meals in a week.
Have you tried GoReadyMade? What was your experience like? If you'd like to give it a try, you can sign up here. Plus, Grok Nation readers can use the code Y2TS7 to get $25 off!
Read our past meal kit reviews here, and let us know what you'd like to see us review in the future. (Psst: Next up is Sun Basket!)