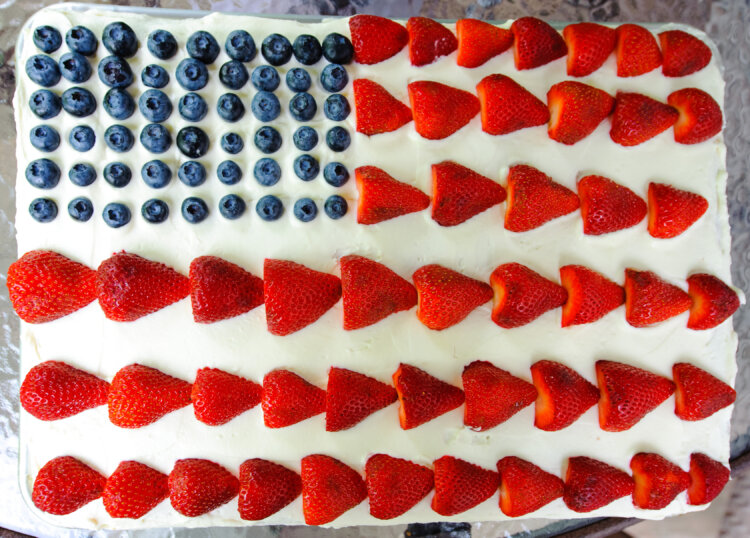 Fourth of July means many things to many people: A day to celebrate freedom. An opportunity to watch (or set off your own) fireworks. A chance to get together with friends and family over delicious summer foods. And at Grok Nation, many of us relate to the latter. We enjoy celebrating any occasion that allows us to enjoy tasty food.
And in that spirit, we're each sharing our favorite potluck recipe. Read through them, add them to your Pinterest to try later, and let us know in the comments below what your favorite party dishes are (bonus points if you share photos!).
Mayim Bialik
Founder
One of my favorite dishes is a French Onion Dip, which is a recipe I got from my mom and is featured in my book Mayim's Vegan Table. Using Lipton onion soup mix, it's quick and easy. (And if you don't want to use that, you can swap in 2 teaspoons of Beau Monde seasoning.) Serve it with fresh vegetables and/or crackers to provide a traditional party favorite.
French Onion Dip
Ingredients:
1/2 cup vegan sour cream
1/2 cup vegan mayonnaise
3 Tbsps Lipton onion soup mix
1 tsp dried dill
1 tsp onion, minced (optional)
Instructions:
Combine all ingredients in a medium bowl. Chill until ready to serve.
Christina Kelly
Editor-in-Chief
When I was growing up, my mom was a giant fan of Cool Whip. Many years ago, I found my favorite patriotic "recipe" on a Cool Whip package. It is for a festive Fourth of July cake in which you use strawberries and blueberries to form the flag on two Entenmann's pound cakes, which are placed together to create a vaguely flag-like shape. Then you put a bunch of whipped cream product on top (I now use Reddiwip real whipped cream because I am too classy for Cool Whip). After that you use the berries to represent the stars and stripes! I am quite the pastry chef with this delicious creation.
I feel downright gleeful when I serve this. I am not too sure if the other guests feel the same way, but that's too damn bad. I am very patriotic, and I love the flag! I am afraid that people think I am Republican if I put out my flag on the 4th of July, but I do it anyway.
One warning: Put this together right before dessert is going to be served or Old Glory starts to melt and look unappetizing, and I think that might count as flag desecration.
Dalene Rovenstine
Managing Editor
Being from Oklahoma, I grew up eating a lot of "salads" that included fruit, Cool Whip, and even candy bars. It wasn't until I went to a party in grad school and brought my Strawberry-Pretzel Salad that I realized how weird it is that we call these dishes salads. But whatever you call them, they're delicious! I make a version of this dish from Natasha's Kitchen, which she's graciously allowed for us to reprint here. (Also, unlike Christina, I am definitely not too classy for Cool Whip.)
Strawberry Pretzel Salad
Ingredients:
6 oz package strawberry Jell-O
2 cups boiling water
2 cups crushed, salted pretzels
3/4 cup granulated sugar
1 stick unsalted butter
8 oz package cream cheese, softened
8 oz tub of Cool Whip, thawed
1 lb. fresh strawberries
Instructions:
Preheat oven to 350°F. Combine strawberry Jell-O with 2 cups boiling water and stir until completely dissolved. Set aside to cool to room temperature.
In a medium saucepan, melt stick of butter then add 1/4 cup of the sugar and stir. Mix in crushed pretzels. Transfer to a 13×9 glass casserole dish, pressing the pretzel mix evenly over the bottom of the dish and bake for 10 minutes at 350°F, then cool to room temperature.
While pretzel mix is cooling, use a hand mixer to beat 8 oz cream cheese and the remaining sugar (1/2 cup) on medium-high speed until fluffy and white. Fold in 8 oz Cool Whip until no streaks of cream cheese remain. Spread mixture over cooled pretzels and go all the way to the edges of the dish to create a seal (you don't want Jell-O to leak into the pretzels). Refrigerate for 30 minutes.
Hull and slice 1 lb strawberries then stir them into your room temperature Jell-O. Pour and spread strawberry Jell-O mixture evenly over your cooled cream cheese layer and refrigerate until Jell-O is set (2-4 hours).
Esther Kustanowitz
Co-Founding Editor and Contributor
My go-to potluck dish is quinoa. Almost everyone can eat it—even if they choose not to—because it is vegan and typically good for people with allergies (although I always ask guests what their sensitivities are…). It's nice because it can be served as a side or a main dish, and there always seems to be enough. Plus, this recipe has the benefits of having no measurements (other than the water for the quinoa). It's barely a recipe, in fact, and probably your version will taste even better than mine. (Self-deprecating humor is part of the DNA of the Jewish cook—"What? This? It was barely any effort compared to your strawberry-pretzel salad…")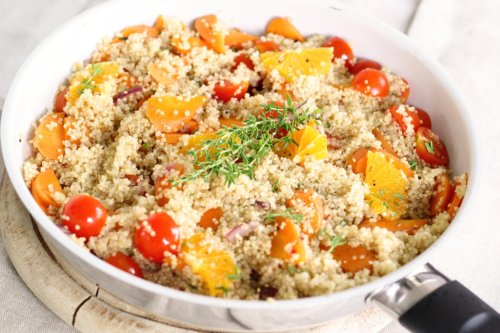 A Non-Recipe Quinoa Dish
Quinoa: Measure it out and boil in water—at the ration of 1 part quinoa to 2 parts water—according to the instructions on the package). Hot tip: Use vegetarian bouillon or soup mix (I use Osem) to flavor the water. It gives a nice mild, chicken soupy flavor to the quinoa.
Roasted vegetables: My musts are sweet potato or butternut squash and red onions, but feel free to add whatever's in season. The more vegetables you use, the more people the dish feeds.
Spices: I tend to go light on spicing the quinoa itself and instead spice the veggies (chili powder and a bit of cayenne) or add an Indian flavor (curry, cumin, etc).
You can either mix it all together so that the vegetables are evenly distributed, or put the quinoa in a large bowl and make a crater in the center and fill with the roasted vegetables. Serve steaming hot.
Avital Norman Nathman
Contributing Editor and Writer
As the daughter of two immigrants, our summertime BBQs were always exemplary of what a melting pot this country is. Sure we'd have hamburgers, hot dogs, potato chips and soda. But where others would stick to coleslaw and dishes that included Jell-O, we'd also have a side of sweet carrot salad—a staple on many an Israeli kibbutz. And perhaps there would be a cup of cold borscht to start, or some creamed pickled herring. You just never knew. But, I could always count on my mom's Israeli potato salad. It's an easy recipe that packs in so much flavor. Don't be put off by the random assortment of veggies, just try it for yourself to see what you've been missing.
Israeli Potato Salad
Ingredients:
1 1/2 lbs russet potatoes, peeled
1/2 cup mayonnaise
1 cup frozen peas and carrots, thawed
4 hard-boiled eggs
6 Israeli-style pickles
1/4 cup spicy mustard
2 tsp smoked paprika
salt and pepper, to taste
Instructions:
Place the potatoes into a large pot and cover with salted water. Bring to a boil over high heat, then reduce heat to medium-low, cover, and simmer until tender, about 20 minutes. Then drain.
Finely chop the hard-cooked eggs and pickles.
Once potatoes are cooled, cube and transfer to a bowl. Stir in the chopped eggs, pickles, mayonnaise, mustard, paprika, peas and carrots and mix gently to combine. Season to taste with salt and pepper.
Natalie Koch
Social Media Manager
I have a few go-to recipes for potlucks depending on how much time and effort I want to spend on the event. Department picnic for my husband's coworkers? They get a nice, fresh, Mediterranean salad. BBQ a friend-of-a-friend threw together last minute? They get tortilla chips and apologies. But if I really like you I might make my grandma's White Spaghetti recipe.
My grandmother is a first-generation Italian from Maryland whose mother ran a deli from their covered porch, and (like most Italians) is a fantastic cook. She loves to feed people, especially before we sit down for any meal, and a dish the grandkids all love is something she calls White Spaghetti. My theory is that she originally made it for the fussier eaters in the family because there's really not a lot to it other than pasta and cheese. But it's nice to look at and does taste quite good. It's also easy to throw together, and can be eaten hot or cold. But (also like most Italians) I don't really have a solid recipe—basically I move around my kitchen with my eyes closed and suddenly it's done. The recipe below is vague, but something you can follow.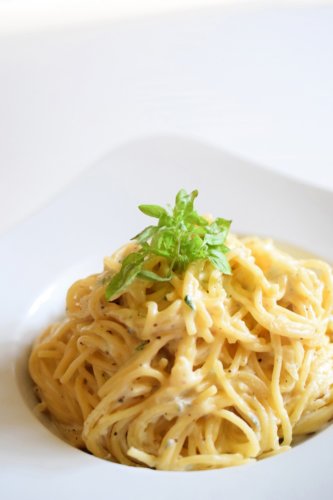 Grandma's White Spaghetti
Heat a large skillet with some butter.
Boil spaghetti, then transfer to a large skillet over medium-low heat. Toss with a fair amount of olive oil. Maybe 3 tablespoons.
Add generous amounts of onion powder and garlic powder. Toss in a few pinches of salt and pepper. Also throw in some oregano (maybe a lot) and parsley (not a lot).
Once that's all combined, throw in quite a bit of parmesan: the fresh stuff, the kind that comes in a shaker, both… it doesn't matter. Mix it all together until it melts a little.
Add some more onion powder and oregano—because you probably didn't add enough the first time.
And you're done!