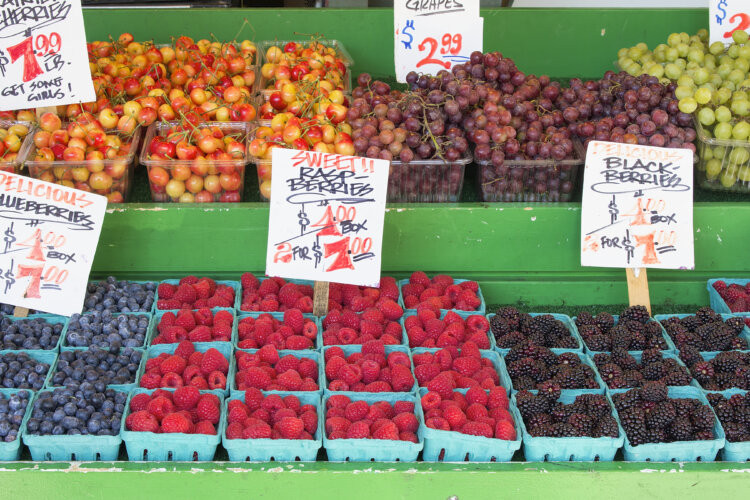 There's nothing quite as great as bringing home a bag full of colorful, ripe farmers market produce. But that being said—picking out the right produce for the season, knowing which vendor to purchase from or even how to know what is ripe can sometimes be tough for the uninitiated.
Luckily for us, Floridian Adrienne Grenier has provided us with six tips for picking the best produce from your neighborly vendors. Grenier—the executive chef at 3030 Ocean in Fort Lauderdale and a Chopped champion—is a self-professed "farm girl" plus she attended the Art Institute of Fort Lauderdale, where she honed an in-depth knowledge of ingredients. So you can trust she knows what she's talking about. Here's what she says to keep in mind for your next farmers market trip.
Buy the item that everyone at the market is selling–that means it's peak season.
During the summer you will usually find blackberries, blueberries, cherries, figs, melons, peaches, raspberries and strawberries at farmers markets. If you're looking for summer veggies, opt for cucumbers, green beans, okra, sweet peppers, tomatoes, zucchini and eggplant. For eggplants, you want to grab the ones that feel heavy for their size. Look for smooth, tight, shiny skin; avoid any eggplants with soft spots or wrinkled bits.
Learn what grows in your area during each season and talk to the growers about what will be coming to market in upcoming weeks.
What's in season in Florida–where I'm from–is very different from everywhere else. In Florida, our growing season is pretty much over in the summer but there are still great products available. However, when I lived in California, almost everything was amazing all summer. It can really vary depending on your location.
Make sure to sample everything!  
Sometimes everything looks so gorgeous and tempting, but certain products can surprise you. The more you taste as you shop, the better produce you will buy.
Talk to the farmers and get to know them.
They are a wealth of knowledge and are always so passionate about what they are growing; they have the best insider tips on all the produce! Once you are in their good graces, they will hold product that they know you like because you are loyal to them and you give them good feedback.  
Go to the market often.
You will learn your favorites, notice trends and even become an expert!  
Don't forget to bring your reusable bags!
It's better for the environment! (Check out Grok Nation's gallery below for options of reusable bags and other earth-friendly products you can buy for your kitchen and your home.)
Find Adrienne Grenier in Florida at 3030 Ocean or follow their Instagram.