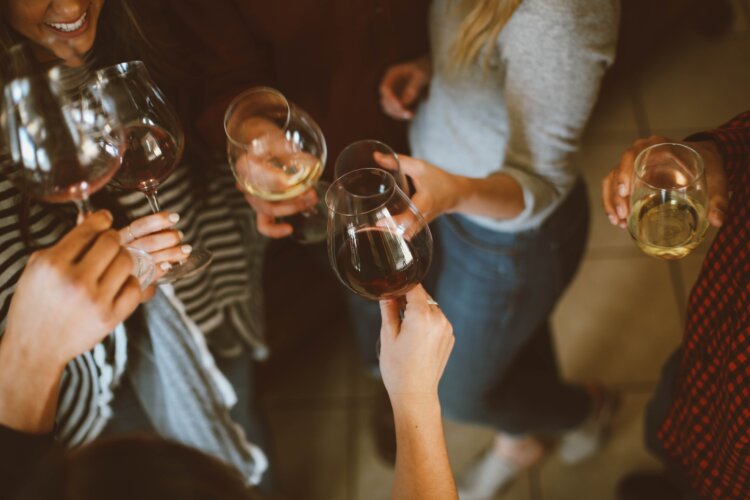 I don't believe in the "no white after Labor Day rule," but I do (loosely) subscribe to the no rosé after Labor Day rule. In summer I drink a few whites and lots of rosés. Every once in a while, I'll get crazy and drink a chilled red, maybe a Lambrusco, during warmer weather. But for the most part, I think reds should be reserved for winter, when I love a robust Malbec or full-bodied Syrah.
All this to say, in fall, when the leaves are turning colors and the temperatures are cooling, I find myself at a loss on which bottle to open. I need what I'd call "transitional wines" to get me through the season, so I turned to a few experts to see if I was alone in this quest.
Victoria James, beverage director of Cote Korean Steakhouse in NYC, agrees that autumnal feelings require a special kind of wine: "In between the warm summer months and cold winter months, one needs a wine that can transition your palate effortlessly," she says.
So once she confirmed that I wasn't crazy, I wanted to know why I gravitate toward certain wines in certain seasons. I asked Mary Ewing-Mulligan, the first American woman to become a Master of Wine and the president of the International Wine Center, about it. She says that the temperature itself has much to do with what we favor seasonally: "Lighter wines have a high refreshment factor that serves us well when the weather is hot and humid. They can take a good chill without sacrificing too much of their taste. The same is true for many rosés."
Claire Paparazzo, the sommelier of Dirty French in New York City, says it makes sense that we crave "lighter" wines during warmer weather. "In the summer, people want to feel less full," she explains. "Reds for instance with heavier skins have more tannin and aren't as easy to drink as a rosé or a light red … with a chill on it."
As for why we want "heavier" wines in the winter, well, Mary says that since we crave warmth during that time, we also crave "wines that are fuller-bodied and higher in alcohol because they are inherently more warming."
So that leaves us in the fall months searching like Goldilocks for something with just the right balance. But Mary says finding a transitional wine is as easy as drawing upon what you enjoy in the previous season. "If you favor white wines and were drinking crisp, fairly light white wines during the summer—such as Muscadet, dry Riesling or Assyrtiko—a full-bodied Chardonnay could become appealing in cooler weather," she recommends. "Rosé drinkers might turn to fairly low-tannin reds such as Pinot Noir. Chardonnay drinkers might find a red wine such as Merlot or Cotes du Rhone more appropriate to the season."
To help us find that perfect fall wine, Mary suggests a few vinos to try, followed by specific bottle recommendations, from others:
Cabernet Franc wines, including Chinon from France's Loire Valley, tend to be a bit lighter than many Cabernet Sauvignon wines.
Chianti and Chianti Classico wines are likewise less intense than Brunello di Montalcino.
Alsace Pinot Gris is a big step up in richness from the Pinot Grigio you might drink in the summer.
The better Pinot Noir wines from California offer the fruitiness of summer wines in a serious, substantial style.
Chardonnay is enjoyable when it is chilled only slightly, and therefore can be suitable as a transitional wine.