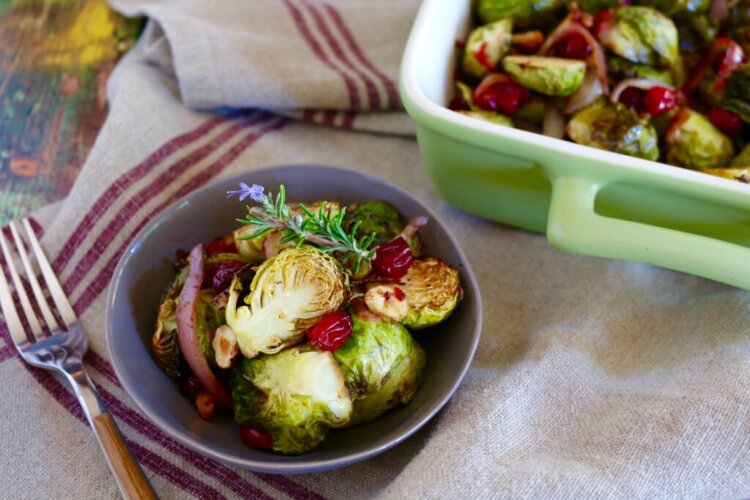 A "case of the Mondays" doesn't necessarily have to be a bad thing. Research conducted by Johns Hopkins found that people are more likely to use Mondays as the day to start fresh and kick off health goals, such as eating plans or exercise regimes. And based on that research, The Monday Campaigns was founded. The non-profit public health initiative is associated with Johns Hopkins and both Columbia and Syracuse Universities. You may know their first campaign—Meatless Monday—but they've started a number of other programs.
We've partnered with The Monday Campaigns to bring Grok Nation readers new info each month to have healthier Mondays. Read the past Monday posts here.
Registered Dietician Nutritionist Sharon Palmer, author of the books The Plant-Powered Diet and Plant-Powered for Life, is helping transform the American/Western Diet by advocating for putting vegetables, instead of meat, at the center of the plate!
She says: "Most experts and health organizations heartily agree that a diet which focuses primarily on plants—pulses, whole grains, vegetables, fruits, nuts and seeds—is the way to go, for our own individual health, as well as the health of the planet. Some research shows that the more plant-based your diet, the greater the benefit for longevity and environmental footprint."
Learn more about how to incorporate more vegetables into your life by featuring them as the star of your plate with her easy tips…
Start increasing your vegetable intake by making small changes.
Small changes include turning the table on how you plan your meals. There's this outdated concept that when you think "What's for dinner," you think of the options: chicken, beef, or fish. But what if your mind goes to plants instead? You can change the way you think about meal planning in this way. The newer, more healthful idea of meal planning is to focus on what plant you might highlight on your plate.
A lot of people don't even eat their first vegetable until dinnertime. How are you going to fit a day's worth of vegetables into dinner alone? Look for creative ways to add vegetables to your daily routine. I love edamame or snow peas as a snack, and a lot of cultures even eat vegetables for breakfast!
I'm a huge advocate of Meatless Monday! It's an easy, weekly way to fall in love with vegetables. My philosophy is that everyone can eat a more plant-based diet. Veganism may not appeal to everyone, but going plant-based one day a week is something everyone can do.
You can get plenty of protein from plant-based sources!
When you eat a healthy plant-based diet, you are actually getting protein from all kinds of food sources! It's not just in those specific protein-rich foods—you get protein from lots of whole plant foods, such as vegetables and whole grains.
People tend to think they need more protein than they really do. In fact, the average American gets more protein than their body needs! We do need protein, but not in the proportions we typically get from the American/Western Diet. Legumes (really protein-rich beans lentils, and soy foods), almonds, peanuts and pistachios are some of the plants that provide the most protein.
If you include a protein source at each snack and meal, you'll be fine. You can go Meatless Monday and be getting plenty of protein.
Focus on what you're gaining, not what you're losing.
It's much more effective to focus on a positive message than a negative one, particularly when it comes to nutrition. Instead of saying "don't eat cookies," a message like "eat a piece of fruit" can be more helpful and encouraging to people trying to change what they eat. Sometimes a positive approach like this can have the healthy side effect of replacing a negative habit—you might not even want that cookie after eating a piece of fruit!
The health benefits of changing your diet don't necessarily come from what you DON'T eat, but from what you DO eat. When you eat plant-based, it's not just that you aren't eating meat, it's that you ARE eating a lot of good things. Meals are now packed with nutrition from whole plant foods. A healthy diet has to be something sustainable, something you can feel happy about and enjoy!
—
Here, try a favorite recipe from Sharon Palmer, which includes Brussels sprouts, a favorite fall vegetable, and maple syrup, another fall ingredient. "It will be one of your favorite dishes for a comforting home-cooked meal, potluck recipe, or holiday side-dish," she says. "I promise!"
Maple and Balsamic Roasted Brussels Sprouts (Vegan, Gluten-Free)
Ingredients:
2 pounds Brussels sprouts
1 red onion, sliced
1/2 cup hazelnuts, halved
1 cup whole fresh or frozen cranberries (or 1/2 cup dried)
2 Tablespoons olive oil
1 Tablespoon pure maple syrup
1 Tablespoon balsamic vinegar
1 garlic clove, minced
1 teaspoon smoked paprika
Salt and pepper (if desired, optional)
3 twigs fresh rosemary, chopped coarsely (or 1 teaspoon dried)
Instructions:
Preheat oven to 375° F.
Trim ends of Brussels sprouts and slice them in half. Arrange evenly on a baking sheet.
Arrange onion slices, hazelnuts, and cranberries over Brussel sprouts and toss together gently.
In a small dish, mix together olive oil, maple syrup, vinegar, garlic, smoke paprika and salt and pepper (if desired).
Drizzle vinaigrette over vegetables, sprinkle with rosemary, and toss with tongs to distribute.
Place in top rack of oven and roast until gold brown, about 35-40 minutes. Makes 8 servings.
For even more recipes, visit www.meatlessmonday.com.