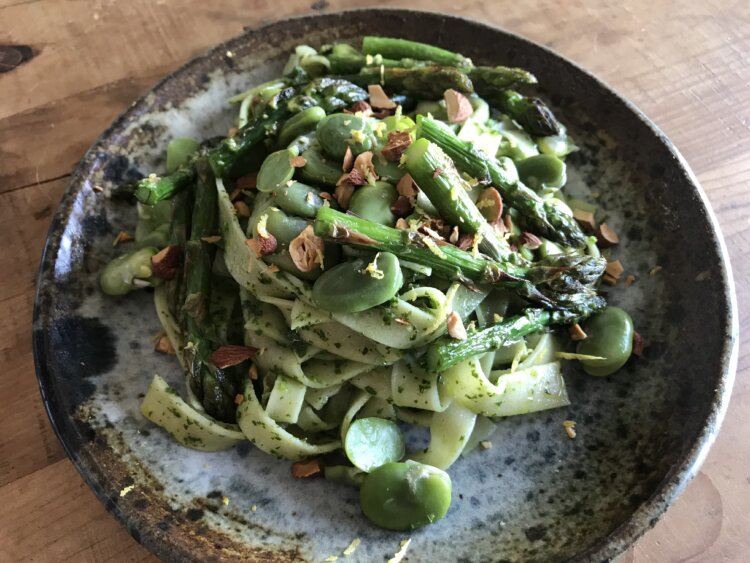 Earth Day always falls right smack in the middle of the spring season where fresh green herbs and spring veggies abound. Ahead of the worldwide event on Sunday, I wanted to honor this day with a recipe that celebrates the bright vibrance that Mother Earth provides each spring and I really wanted to use fava beans.
Fava beans are very seasonal and are not always easy to find in the regular grocery store, but around this time of year they start to pop up at the farmers market.  The combination of their seasonality, the fact that they can be hard to find, and their delicious flavor, gets me so excited to cook with them each spring. If they were always available everywhere then I think they would lose some of their mystique. Since they are only available for this short window they are all the more exciting. What can I say, I like things that are hard to get (see also, my love life).
Fresh fava beans look a little like green lima beans, but have a very different flavor.  They have an earthy, nutty aroma and a rich creamy texture. They are a little tricky to prepare in that if you buy them in the whole pods you have to remove them from the pods and then remove the shell from each bean to expose the delicious tender green bean. But trust me, it's worth it.
For this recipe I decided to grill or broil the pods because I wanted the additional flavor that charring the outside pod would provide. They only need a few minutes under the broiler or on the grill so this is a fast dish! I also included another springtime favorite: asparagus. I know these are often available year round, but when they are local and in season at the farmer's market, they are the best.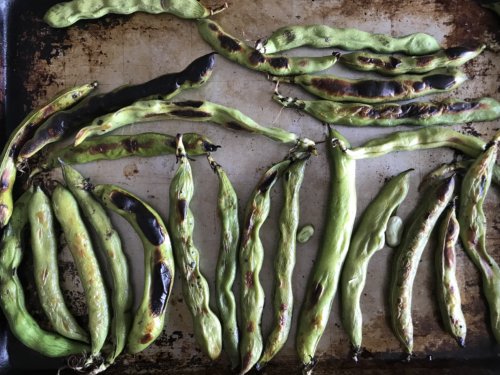 The sauce for this pasta dish is a pistou, which is similar to pesto, but without the nuts or cheese.  It's a super simple blend of green herbs, oil, lemon juice, salt and garlic. I did add toasted almonds to the end as a garnish and a little lemon zest, but having the almonds separate from the pistou or pesto adds a little texture and color that you wouldn't get if you blended them up with the green herbs.
I could have just tossed the veggies in the pistou, topped them with the almonds and lemon zest and called it a day, but I thought some pasta would make it hearty enough to be a stand-alone dish. I made my own eggless pasta (and I can show you how to make it too), but you can totally use store bought pasta, whatever brand you love and it will be just as delicious. This pasta is bright, green and full of life, which is the best way I can think of to honor the Earth, which provides us with all of this and more.
Spring Veggie Pasta with Herb Pistou
Ingredients:
1/2 package of linguine or fettuccini pasta
1 oz. fresh basil
1/4 oz. fresh mint
1/4 oz. fresh cilantro
1 small garlic clove
1 Tbsp. lemon juice
1/2 cup + 2 Tbsp. olive oil
1 lb. fresh fava beans in pods
1 bunch asparagus
3 Tbsp. whole raw almonds
1 tsp. lemon zest
salt
Instructions:
Turn the oven broiler on high and place a rack about 6 inches below the heat source. Let it get nice and hot.
In a food processor, combine the basil, mint, cilantro, 1/2 cup of olive oil, lemon juice and garlic clove. Blend until smooth. Add salt to taste.
Place the fava bean pods on a baking sheet, drizzle with 1 Tablespoon of olive oil and broil for about 5 minutes or until the outsides of the pods are charred. Then do the same with the asparagus. The asparagus might cook quicker depending on how thin they are so keep an eye on them. When the asparagus are done, cut them into 2-inch pieces.
Reduce the heat of the oven to 350° and place the almonds on a clean baking sheet in the middle rack of the oven and toast them for about 5 minutes or until they are golden.
Boil some salted water in a pot and cook the pasta according to package instructions.
While the pasta is cooking, remove the beans from the pods and then remove the outer shell from the beans. The bean inside is tender and green and should be warm and soft from broiling.
Strain the pasta. Add it to a large bowl and toss it in the pistou. Then add the fava beans, asparagus, almonds and the lemon zest. Toss all together so that everything is coated in the pistou.
Enjoy!
Scheherezade Daftary is Delightful Table's lead cooking instructor who offers unique, delicious, vegan, organic cooking classes that focus on zero waste and ecological and sustainable farming practices! You can find more of her vegan recipes and info on classes on her website.