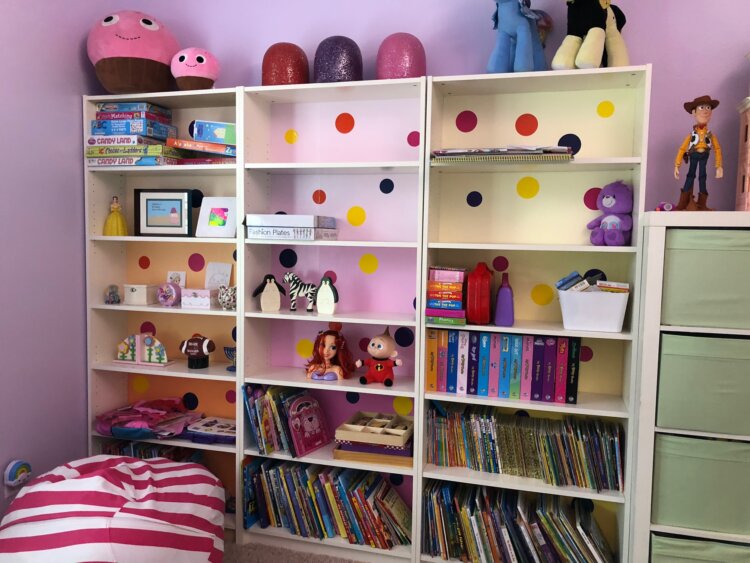 After having two beautiful boys, my husband and I contemplated having a third baby. We really wanted a girl. OK, I really wanted a girl. Among the top things I imagined doing with that girl were going to Broadway shows, buying clothes, and decorating her room. Well, five years ago we had that precious girl. The journey has been everything I ever could have imagined. I took her to New York to see Frozen on Broadway—which she LOVED. Her clothes are nicer than mine. And she's had two beautifully decorated rooms: an owl-themed nursery, and a VERY pink, Peppa Pig/Minnie Mouse toddler room.
As my daughter approached her 5th birthday, I decided it was time for a change and looked forward to collaborating with her on a big girl room. Finally, she could tell me what she wanted her room to look like, and we could work together to make it happen! Dream. Come. True.
She had ideas, all right. Lots of ideas. Ridiculous ideas. Those ideas changed by the day, sometimes by the hour. One day she wanted pink and purple striped walls. The next day she wanted bedding specifically with unicorns UNDER rainbows. Another day she wanted Elsa on the wall. After a few joint Google searches with my precious princess, it became clear that she wasn't quite ready for the big collab I had hoped for. It was up to me to decide what I wanted, I mean, what SHE would want in a bedroom and make that dream a reality.
I consulted with my uber talented sister-in-law. Together we picked out beautiful rainbow bedding, a wall color, and a few Pinterest ideas that we thought we could successfully pull off. I have a vinyl-cutting machine, and we planned on making good use of that. Once we had collected all of the materials and purchased the paint, I sent my daughter off to my parents' house for an overnight stay. My sister-in-law and I planned on redoing the room while she was gone, Trading Spaces style, and surprising her the following day for her birthday.
We painted (lavender was the color of choice) well into the night until the walls and ceiling were complete. We enlisted help from the other Grandma and a very handy uncle. Within 24 hours, the transformation was mostly complete.
We made a wall for her art to be displayed, painted her bookshelves in an ombre pattern, put gold heart vinyl cut-outs on one wall, placed colorful hearts on her ceiling fan, and made the bed with the turquoise rainbow bedding just before she walked into the door.
I was a little nervous about how she'd react. She's 5—and she has opinions. Also, my sister-in-law had worked SO hard and given us her entire weekend. I didn't want to disappoint her after all of that work. The final design wasn't what my daughter and I had discussed previously. The reaction could go either way, so I was a little nervous. Right before my daughter made her entrance I placed her unicorn stuffed animal on the bed, hoping that would check the "unicorn on the bedding" box that we had discussed.
She walked into the room. "Oh I love purple walls," she said. "Look at the fan, there's hearts on it!" she exclaimed. We showed her the bookshelves, the art corner, and a few other details. Then she made her way over to the bed. "I like the rainbows!" she said. Then she took her unicorn and put it under one of the rainbows. "Now it's perfect!"
It's been a few weeks now, and she loves her big girl room. Everyone who comes over is taken by the hand and led into her room to see it. In a few years, when she's outgrown the hearts on the wall and the rainbow bedding, I look forward to looking on Pinterest, picking out paint colors, and staying up all night painting with her.
In the meantime, I'll continue to ask my 11- and 14-year-old boys if they want to work with me to redecorate their rooms. They'll continue to look at me like I have three heads. It's all fine. I have the '80s-inspired, brightly colored, heart/rainbow room of my dreams to enjoy, and I have my creative and indecisive 5-year-old to thank for it.