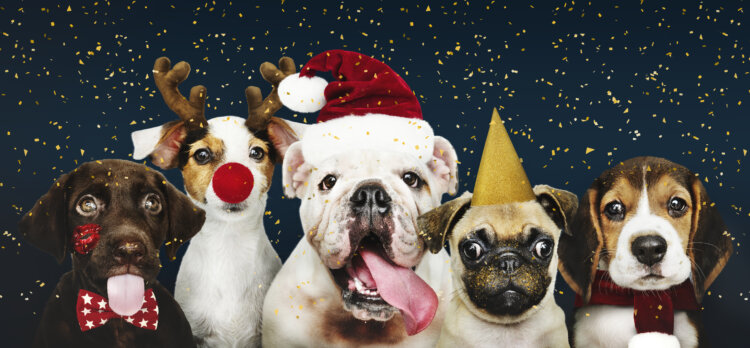 This is my favorite time of year: The weather has gotten cold, and twinkling lights decorate trees and rooftops. Winter holidays can be a really enjoyable time to share with your pets, but also dangerous for them. Changes in routines around the holidays can be stressful for our animal companions, and the festive decorations we love can pose significant safety risks. Prioritizing your pets might mean altering some traditions, but keeping fur babies safe will make the holidays even brighter.
Celebrating With Your Pets This Holiday
Our pets do so much to improve our quality of life that putting their needs at the center of holiday celebration seems like the least we can do!
Festive Holiday Attire. Enjoy getting dressed up for holiday parties? Don't leave your pet out! From Hanukkah collars to ugly Christmas sweaters, there are festive outfits for every pet. If your fur baby will be wearing a festive collar, don't forget to move ID tags. Collars, as well as bandannas, are generally a low stress option for dogs and cats, just be sure to supervise while they are dressed.
Make Dog-Safe Holiday Treats. No sugar added, preservative-free applesauce is safe to share with dogs, so give them a dollop when you add some to your latkes! You can also bake holiday cookies that are safe for your best friend, using dog-friendly ingredients. My dog's holiday favorites are homemade pumpkin cookies with a peanut butter "frosting."
Create New Traditions. This year I've added a doggie advent calendar that my dogs will get to open each day of December leading up until Christmas! I purchased ours at Trader Joes, but I've been seeing amazing handmade dog advent calendars online—next year I might have to make our own! Challenge yourself to find new ways to include your pets in your family's holiday plans.
Presents. The holiday season isn't just about gift giving, but gifts can be fun for the holidays. Whether you're giving your cat eight gifts, one for each night of Hanukkah, or stuffing stockings, don't forget your pets! Maybe they'd like their very own stocking hung with care, or a new water bubbler.
Outings. Find holiday-themed outings for your dog. I'm planning to take my oldest to Lights & Leashes, a dog-friendly Christmas light display because he loves bustling events. Make sure that any holiday outings are appropriate for your dog. Make sure that your dog is comfortable in crowds, loud noises, and of course, bright lights (for example my anxious middle dog is happiest staying home, and my youngest who is recovering from surgery also won't be joining us at the light display).
Protect. As the temperatures drop into freezing, there are specific dangers to pets. Antifreeze is extremely toxic if ingested (and its sweet scent attracts dogs). Commercial de-icers and salt can burn your dog's feet (and can be dangerous if your dog licks their feet after the walk). If you are walking your dog in icy conditions, invest in waterproof boots for them. Start slow and incorporate lots of treats to desensitize your dog to the sensation of having something on their feet. Also, make sure to use pet friendly ice-melting products.
Support. This winter holiday season as we spoil our fur babies, it's a good idea to think about less fortunate animals. Consider donating to your local shelter or rescue program to help animals who don't have a home, or to organizations in your local community providing support to people with pets who are experiencing homelessness. And you can always donate your time to these various organizations.
Winter Holiday Safety Tips
Hanukkah and Kwanzaa candles. Open flames are beautiful, important parts of holidays, but can also be dangerous for cats (as well as dogs and other pets). Cats can be intrigued by the candles, and may not only cause burns and other injuries to themselves, but can also knock over the candles and start a fire. Make sure not to leave candles unattended with your pets in the same room.
Food. The winter holiday season is often filled with tasty (frequently rich) foods. From savory meats to baked goods, these treats often contain ingredients that are toxic to pets such as chocolate, raisins, and Xylitol (artificial sweetener). If you think that one of your pets has ingested something they shouldn't have, reach out to your local emergency vet right away or the ASPCA Poison Control Center.
Fireworks. New Year's Eve can be a fun evening of celebration. However, it's one that can be terrifying and dangerous for pets. Many dogs (and cats!) are frightened by fireworks, so you'll want to be sure that all your pets are wearing updated identification, and that you keep them away from doors and windows. If you know that one of your pets struggles with fireworks, consider spending the evening at home keeping him or her calm.
Decorations. Holiday decorations are beautiful but many of them can be dangerous to pets. Snow globes can contain toxic chemicals, eaten tinsel and ribbon can result in a serious medical situation that could be fatal, and candles (as previously discussed) can cause injury to your pets, or even burn down your house. Choose decorations with care, and position family heirlooms or other precious, fragile, or dangerous piece in spaces where pets can't accidentally swat it with a happily wagging tale or knock it off a mantle with little care.
Christmas Trees. Cats and dogs alike can be quite excitable if you're bringing a Christmas tree into the house. Be sure to closely monitor your pets around the tree. Drinking tree water can be toxic to pets. Some cats also attempt to climb the tree, which can cause it to fall, with broken ornaments and a potentially injured kitty. If you have a cat that likes to climb, you may want to anchor down your Christmas tree.
Guests. Winter holidays are often a time when homes are filled with friends and/or family visiting. While fun for most of us (at least the extroverts), visitors can be sources of stress for pets.  If you are planning to have holiday visitors, make sure to provide plenty of down time for your pets
No matter what holidays you and your pets are celebrating this winter, we're sending sending warm wishes and cold noses to you and yours!