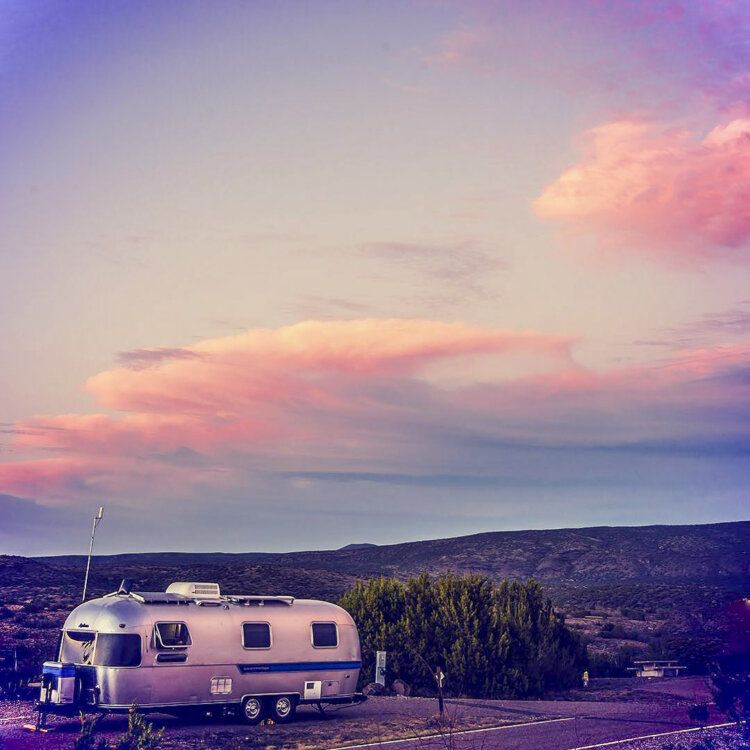 Each morning, I sip my hot tea and peer out of my home office window to see what's going on in the neighborhood.
This morning near Winters, CA, the squawks of a few strutting, feral peacocks sounded like they were calling a lost dog's name. Up at Black Butte Lake last week, a brown vulture eyed me (not too hungrily, I think) from its perch high up in the branches of a dead valley oak tree. A couple of months ago in New Mexico, a group of Gambel's quail scooted across the sand from one mesquite bush refuge to another.
That's just how the neighborhood changes when you and your husband travel the country living in a 25-foot classic Airstream travel trailer.
I've never been a daring person, but a few years ago my husband, John, and I started seriously thinking about downsizing. Chucking it all to live a simpler life was not a new idea for me. My favorite childhood fantasy was that when I grew up I would move to a cabin in the woods, where I would have a cozy bed all to myself. I'd have a garden and grow my own food. I'd make all my own clothing and, heck, I'd even build my own house. Oh, and I'd read books all day long. Not very realistic, but I was maybe 7 or 8 and hadn't yet discovered the true cost of the American dream.
When I did grow up, that old dream was long faded. In 2006, my husband and I bought a beautiful 3,000-square-foot Victorian house built in 1898, just outside Philadelphia. John's kids and their families stayed with us a few times for vacations, but traveling across the country was too hard for them. So, we started visiting them instead.
In 2010, our concept of the American Dream began morphing when we took a road trip for a family reunion in Montana and Yellowstone National Park. Along the 2,000 miles there and back again, we kept passing RVs of every shape, size and color. Now, those people had the right idea, we thought. Why stay in hotels and B&Bs when you could just take your home with you?
"Do you think we could do that someday?" I asked my husband. His answer was immediate:
"Yes."
It took a few years to turn this new dream into reality. John renovated a 1985 Airstream travel trailer, one of those curved silver beauties that grace so many Pinterest posts. He gutted the front for my office desk (Yay! No more Herculon plaid sofa!) and built a bench-style sofa where he could work on his fabulous photos of nature and people. He reconfigured the back of the trailer into a cozy bedroom with a queen-sized mattress. The sofa in the front could convert to a bed and the bed in the back could convert to a sofa. Brilliant!
Our first long trip—which lasted five months—was in 2015. It went remarkably well. When we returned and walked back into our house, my first thought was, "Oh, we have way too much stuff." That was it. It took us a year to downsize: We gave away or sold the things we didn't want (including the house—shocking, I know!), stored what we wanted to keep, and headed out on the road to travel full-time. Our first round-trip journey took nine months. When we returned to our hometown, dear friends let us stay in one of their spare bedrooms until we took to the road again in August 2018 for another epic journey. The only limit is where we feel like going. Oh, and the weather. (Our travel trailer doesn't do sub-freezing temps…and neither do we!)
You might call our new lifestyle Airstream Dreaming.
First, it's nomadic. We have no specific long-term plan other than reaching relatives or friends by a promised date. We can stay somewhere for a few days or for weeks. We stay at county, state, or national parks, at national forests and wilderness areas, or at private campgrounds. We can also put the Airstream in storage while we stay with family or friends.
Second, our lifestyle has pretty low environmental impact. We can stay at a campground that has water and electric hookups or we can "boondock" by relying on our own solar panels for electricity and use an onboard fresh water tank. On average, we probably use less than 60 gallons of water a week. Our solar panels recharge our batteries as long as there's sun every few days. If not, we top off our computers and phones while we drive. Our stove, fridge and heater run on propane gas tanks that we fill about once a month.
As for gas, we only drove 13,797 miles on our last nine-month trip. How many miles does the U.S. Department of Transportation say the average American travels in a year? About 13,476. Add a couple thousand miles on for the three months where we weren't on the road that year and we clocked in just slightly above average in our gas use.
Third, while trials and tribulations come along with traveling, we always manage. Gas leak detectors can sometimes go off in the middle of the night in an old trailer, and the brakes need to be replaced every few years. The SUV broke down on a freezing Sunday afternoon in Oklahoma in front of a closed auto repair shop. Smoke from devastating California wildfires clouded the road a short distance ahead of us on Route 99 North to Sacramento. But, somehow, each time, the problem ended up solved. John shut off the propane valves and later replaced the gas-leaking water heater. Mobile RV techs came to our campground to work on the brakes. The auto repair guy luckily stopped by his shop to pick up tools on a Sunday and replaced the SUV's water pump. Firefighters finally subdued the flames and gentle fresh Pacific breezes drove the smoke out of the air. It's the same yin and yang that everyone lives with; we just do it from the road.
Tomorrow, we'll leave the county park where we have shared a tree-shaded campsite with the peacocks. Our next stop may introduce us to new animals or let us see old friends, like the clever acorn woodpeckers who know how to prepare for the winter by drilling holes in stately tree trunks for storing their stockpile of nuts. Later, we'll start our meandering trek back east.
The neighborhood may change as we travel, but our home always stays with us. To quote Buckaroo Banzai–or maybe it was Confucius–"Remember, no matter where you go, there you are."
So far, we have no plans to stop traveling. We enjoy the changing view too much.