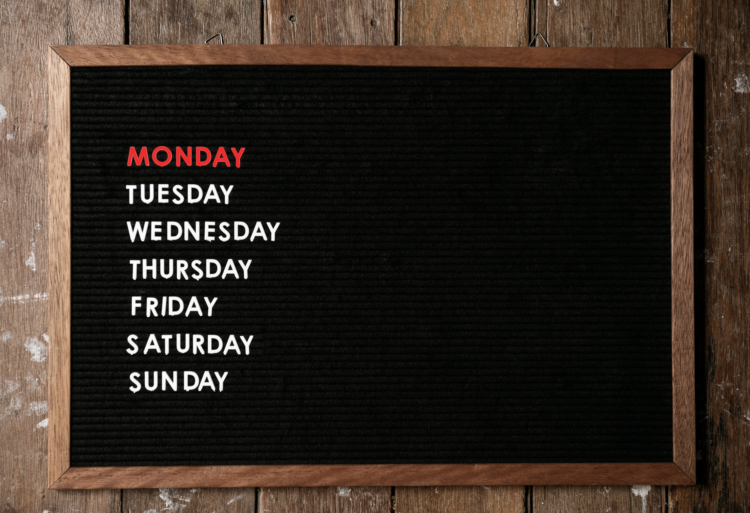 A "case of the Mondays" doesn't necessarily have to be a bad thing. Research conducted by Johns Hopkins found that people are more likely to use Mondays as the day to start fresh and kick off health goals, such as eating plans or exercise regimes. And based on that research, The Monday Campaigns was founded. The non-profit public health initiative is associated with Johns Hopkins and both Columbia and Syracuse Universities. You may know their first campaign—Meatless Monday—but they've started a number of other programs.
We've partnered with The Monday Campaigns to bring Grok Nation readers new info each month to have healthier Mondays. Read the past Monday posts here.
New Year's resolutions are hard to maintain. About 40 percent of us succeed with our New Year's resolutions for six months or longer. However, the majority of us resolvers aren't able to stick with our resolutions, and often we wait until the next New Year's to recommit to our resolutions. No matter what your resolution is—whether it's eating healthier, getting fit, quitting smoking, or managing your stress—you have better luck achieving your goals if you restart on a Monday rather than waiting for an entire year.
The impact of Mondays in our lives, or the "Monday effect" was the topic of a study published in the American Journal of Preventive Medicine. The study revealed that Google searches for health-related terms spiked on a Monday. This pattern was also observed in tobacco-related searches in six different languages. Additionally, according to nationwide survey by Data Decisions Group in 2017, many people see Monday as a fresh start (35 percent of respondents) and a day to "get my act together" (20 percent). Those who described Monday as a fresh start reported trying to eat healthier and exercise more than respondents who described Monday as a day to dread or those who see Monday as the same as any other day.
Furthermore, over half of the respondents reported if they start healthy behaviors on Monday, they would be more likely to continue behaviors throughout the week. (Eating healthy was at 67 percent; managing stress at 63 percent; and exercising at 65 percent.)
Monday has a special significance in our culture as the beginning of the week, which influences our mood and health outcomes. Many people, for example, indulge in unhealthy foods over the weekend, but research shows that people who get back on track with their health goals at the beginning of the week are better able to maintain progress over time. They'll have greater long-term success if they use Monday as a "reset" day to get back on track.
Overall, the power of Mondays is a force to be reckoned with. This year, instead of setting yourself up for failure by having just one opportunity to make a resolution, make a Monday resolution—with 52 "mini New Year's" to start over if you slip up.