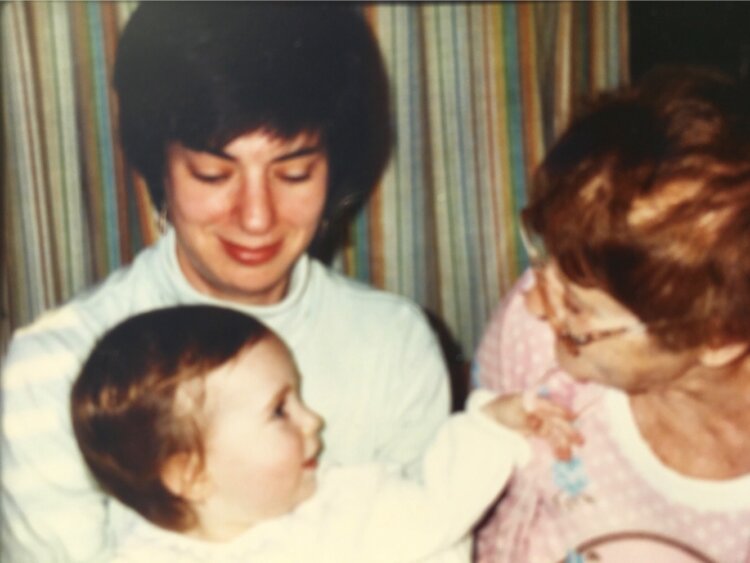 A "case of the Mondays" doesn't necessarily have to be a bad thing. Research conducted by Johns Hopkins found that people are more likely to use Mondays as the day to start fresh and kick off health goals, such as eating plans or exercise regimes. And based on that research, The Monday Campaigns was founded. The non-profit public health initiative is associated with Johns Hopkins and both Columbia and Syracuse Universities. You may know their first campaign—Meatless Monday—but they've started a number of other programs.
We've partnered with The Monday Campaigns to bring Grok Nation readers new info to have healthier Mondays. Here, Nara Sandberg, the partnership coordinator at the organization, shares her personal association with the Kids Cook Monday campaign.
As a millennial, I know all too well the typical complaints many other generations make about us. We are immature and consume too much avocado toast. We are a generation that eats out more than our predecessors, and as a result, may be more prone to not only depleting our savings, but also, in many cases, sacrificing a healthy diet as well as losing some of the rich family history and traditions that come with home cooking.
My great-grandmother, Sarah Schecht, was an avid home baker and cook. In 1976, Craig Claiborne visited her home and featured her and her challah recipe in his New York Times article Sorcery From an Oven in Bensonhurst: Challah at Its Best. This love of home cooking and family meals eaten together was passed down to my grandmother and later, to me. I learned how to cook at a young age with my grandmother, and grew up eating meals together as a family as often as possible.
However, like many millennials, I am often on the go. I love trying new foods and following food trends, and I often eat out. As much as I love trying the newest Instagram food trend, I love cooking and eating at home–both for the health benefits and to preserve tradition and create new ones.
Preservation of this custom has proven advantages as well. For families, cooking and eating together has countless benefits, from eating healthier to improving math skills. Cooking together also provides individuals and families with an opportunity to connect with family tradition and culture, and to create modern spins on tradition.
For families, starting their own tradition can allow them to incorporate family recipes and spend more time together, and The Kids Cook Monday provides the perfect opportunity. This initiative encourages families to set aside the first night of every week for cooking and eating together as a family and provides free resources and recipes. When kids pitch in making meals, they're empowered to consider the portions, the vitamins and the nutrients in what they're eating. Cooking also provides kids with real-world applications for much of what they are learning in school, including science, technology, engineering and math (STEM).
Millennials or others without kids can also participate by cooking meals with friends or roommates each Monday. Why Monday? Choosing a specific day is not only helpful in establishing a tradition; Monday also has a special significance in our culture as the beginning of the week, which influences our mood and health outcomes. In simpler terms, if you plan to start something on a Monday, you're more likely to do it and to stick with it.
This Monday, round up some friends or your family and resolve to cook a family recipe together–for a new take on older traditions, for a way to connect with your culture and for your health. Try my great grandmother's recipe below or countless Kids Cook Monday recipes here.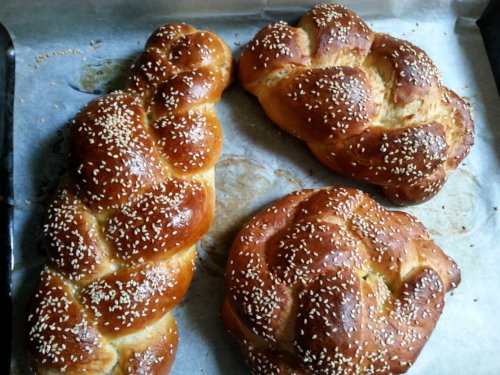 Grandma Sarah's Challah
Adapted from my great grandmother's original recipe. Makes 1 loaf.
Ingredients:
9 cups sifted, unbleached flour, plus additional flour for kneading
2 (1/4-ounce) packages dry active yeast
1/2 teaspoon baking powder
1 1/2 Tablespoons salt
4 large eggs
3/4 cup canola or vegetable oil, plus more for greasing baking sheet
3/4 cup sugar
1 tablespoon everything bagel seasoning (mixture of sesame seeds, poppy seeds, onion flakes, garlic flakes, and sea salt)
Instructions:
Place 6 cups of the flour in a large bowl and make a well in the center. In a small bowl, mix the yeast into 1 cup of lukewarm water until it dissolves then pour into well. Stir around the well with a fork, gradually mixing a fourth of the flour into the yeast mixture. Let the bowl sit in a warm space.
After 45-50 minutes, sprinkle the baking powder and salt over the flour mixture. Add 3 (of the 4) eggs, the oil and sugar. Add 1 1/2 cups lukewarm water and blend again, first with the fork and then your hands. Add 2 cups of flour and knead for about 10 minutes. If the mixture is still too sticky, add more flour (up to a cup). Shape into a ball, cover, and let sit 20 minutes before placing a lightly floured surface. Knead for about 5 minutes, adding a little flour to the board to prevent it from sticking. Place the dough in a floured bowl and coat lightly with flour. Cover and let stand for 30 minutes.
Place the dough on a flat surface and knead. Remove 1/8 of the dough, knead, shape into a ball, add a bit of flour and let it sit briefly. Repeat with remaining 7 pieces. Using your hands, roll each piece into a long rope.
Line the ropes up side by side. Pinch the tops together, one at a time. Separate the ropes down the center, 4 to a side. Braid them by bringing the outer right rope over toward the center next to the inside rope on the left. Bring the outer left rope over toward the center next to the inside rope on the right. Repeat this process until the loaf is fully braided. When the last ropes are brought over, pull and stretch them a bit as needed. Once braided, gather the bottom ends of the ropes together to attach them.
Generously oil the bottom and sides of a large baking sheet. Lift the braided loaf and place on baking sheet. Cover the loaf with a towel and place in a warm spot until the loaf is doubled in size, about 45 minutes.
Beat the remaining egg, and brush the loaf with the egg wash and then sprinkle with everything bagel seasoning. Bake in 325° oven for about an hour—until the loaf appears puffed and golden.