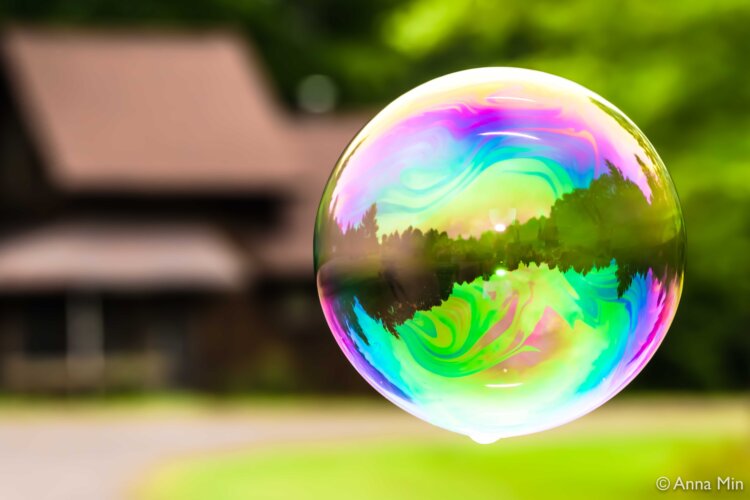 A year ago, photographer Anna Min decided she needed to take a step back. She had survived a grueling health scare and was feeling a lack of joy in her life. She felt mounting pressure in the way she was defining success, and would find herself getting sucked into social media for hours at a time. "I felt like I needed to find joy and chill with it as long as I could," Min said.
That's one of the reasons that she embarked on a year-long journey to seek out wonderment in the world around her. Starting with the question, "Where does joy go when it's not around here?" Min used her camera to capture the tiny moments of beauty that we often miss when we are going about our days in a rush.
Research indicates that the use of photography can be a useful tool for improving one's mental health. One study conducted in 2017 found that for women diagnosed with HIV/AIDS, the use of photography improved the participants' sense of empowerment and helped them express their emotions. Another study conducted a few years earlier found that taking photographs of everyday life adds to a person's sense of self-enlightenment.
For Min, the biggest mental health benefit that she gained from the project was an increase in mindfulness. By forcing herself to look deeply at the beauty around her, she found herself experiencing a sense of calm.
A large portion of the photographs in Min's "Joy" series take a microscopic view of nature's beauty. With two microscopes, she was able to photograph bubbles, water, and miniature objects in incredible detail.
"I find there's a lot of wonder in looking at things that are right under your nose and comparing that to things that are in the greater universe," Min says. "I've always been a huge fan of physics and biology and chemistry, so I feel like these things do go together. It's a way of appreciating what's right here."
The project also helped Min discover things about herself along the way. "It is hard to stay still, especially when you are taking photos at such a scale where you can basically breathe and you are going to get a blurry photo," Min says.  "I found it meditative. If you were thinking of anything else, it would sort of show in the scale that I'm working at."
Because she was often not working with a tripod, Min would need to calm her breath and put all of her energy into the image. "Oftentimes you can't even see the clear photo from the lens, you have to see it after you've taken the photo," Min says.
"I'm hoping that when people see these images that are incredibly common or frequently missed… that people will relax and have a sense of calm, and maybe even contemplation in the moment," Min says.
The photos are currently on view at the University of Minnesota's Urban Research and Outreach-Engagement Center, a place that partners with nonprofits, service-oriented groups and community members in North Minneapolis. Amidst a whirl of activity, the photos act as a soothing presence.
The main lobby area boasts Min's microscopic images, and a separate hallway holds photographs printed on canvas that have all been taken at night. "That wall was a lot of me spending time in still and darkness," Min says. "To see the stars, to catch a meteor— you have to be sitting, and oftentimes in the dark." She adds that because our society is so used to artificial light, we have forgotten how to use the guidance that nature provides us. "If you think about what navigators had to do before we invented certain seafaring tools— we had to wait until the night sky came into view, to orient ourselves and figure out where we might be going," she says.
While Min is an accomplished photographer with professional equipment, there's a lot to learn from her "Joy" project, even for the average person that's equipped only with a cell phone camera.
"It recharges what you have for life batteries," Min says. Min looks through her lens and sheds the constant barrage of messages she gets bombarded with on social media. Anybody can do that— even without a camera. It's a matter of really looking and appreciating the beauty around you.
"Joy in Translation" is on view through January 31 at the University of Minnesota Research and Outreach-Engagement Center (UROC), 2001 Plymouth Ave. N., Minneapolis.