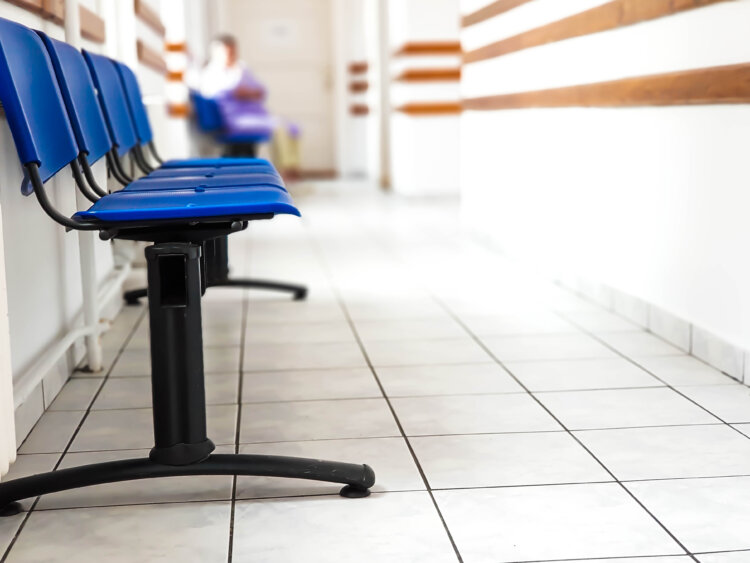 With Justice Kennedy retiring from the U.S. Supreme Court, Republicans could cement a conservative majority, which could easily overturn Roe v. Wade and uphold laws on the State level that restrict or eliminate women's access to abortions. We've seen the photo of a roomful of men making decisions on women's health. But one Los Angeles woman decided to protest any restrictions of women's health choices by launching FrontRowtoMyGyno. In this limited scope initiative, longtime social activist and mom Naama Haviv invited all Republican members of Congress to attend her annual gynecological checkup in Pasadena, California. Her logic: since they were legislating her choices, shouldn't they care enough to show up and witness the examination itself?
We know what you're thinking: Congresspeople are too busy governing to attend random women's OBGYN appointments. But Haviv thought of this as well. She scheduled the appointment for Monday, August 20, during the session break.
"I 100 percent would want them to come and have an honest conversation about why they have a right to dictate my reproductive choices," Haviv told Grok Nation.
Two senators and eight representatives actually accepted the invite. Although, Haviv thinks it was by accident or through a calendar auto-accept option. In the week previous to the appointment, Haviv sent reminders to those who accepted, asking if they needed help with hotels, etc. But no one showed up.
I've invited every single Republican member of the House/Senate to have a #FrontRowToMyGyno. If they want to make my reproductive choices for me/my doc, they should come to my next gyno appt so they can make informed decisions. Ladies, join me? https://t.co/qlyJqvc8Kx pic.twitter.com/BdYJ5WEWPV

— Naama Haviv (@NaamaHaviv) July 10, 2018
Haviv prepared an action documen, urging people to invite congresspeople to their gyno appointments. She included a mission statement, sample language for the invites, sample tweets about the project, and email addresses for all Republican House/Senate schedulers.
"If Republican lawmakers are so keen to make our reproductive health choices for us, let's make sure their decisions are fully informed by our specific, individualized medical needs—by inviting them to our gynecology appointments," she wrote in the document.
About 20 friends followed her lead. One got a decline message with just the word "stop." Haviv heard from the scheduler for Rep. Roger Marshall (a Kansas Republican) that Marshall was declining because he was unavailable, and that since he was an obstetrician for 30 years, he's "very familiar with women's health and reproductive issues."
Haviv responded: "I appreciate Representative Marshall's experience with women's health, and imagine he must understand how complex and fraught many of our reproductive choices are. I hope that he will realize that every woman's choice is her own to make—and to bolster the healthcare support available to women so that they can feel free to make those choices in an informed, responsible way. At the moment, I do not believe Representative Marshall's voting record and public statements reflect a commitment to women's health on their own terms." Marshall has called himself "unapologetically pro-life" and has voted on a number of bills addressing what his website describes as "family values bills."
On Monday, before and after the appointment, Haviv shared some thoughts on Facebook Live. (Her doctor declined the chance to Facebook Live broadcast the actual appointment.)  Haviv's post-appointment video contained an update on what she and her doctor discussed "so Congress could do a better job making my medical choices." She talked about the hormone surge she has experienced since turning 40, her migraines worsening during her period, and her plan to get a mammogram for the first time. And yes, she is planning to invite Congress to that too.  She closed her video with a plea to Republicans to "take a closer look at [Trump's pick for the open Supreme Court Seat Brett] Kavanaugh and anyone else you want to roll through to serve on the Supreme Court who might take my reproductive choices away."