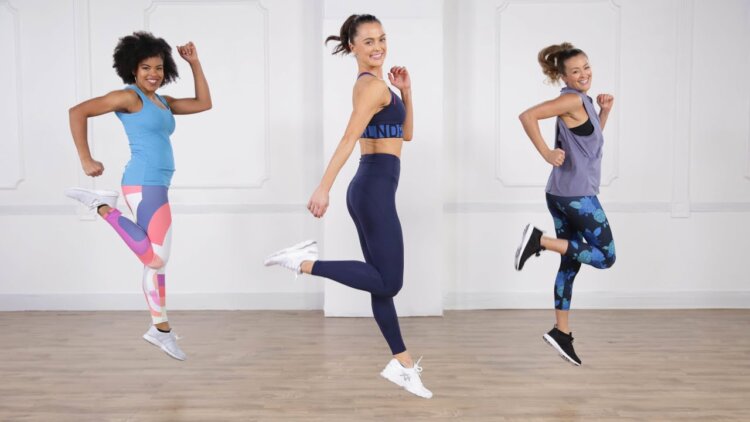 Week after sedentary week, I debated joining a nearby gym, but made no real effort until a friend recommended YouTube workout videos. I found everything from yoga to dance to walking. In the first month of discovery, I tried dozens of workout videos, sometimes enlisting my boyfriend as a workout companion. There are a number of reasons to turn your living room into your very own gym, including cost and convenience, all thanks to YouTube.
My online workout spree taught me the beauty of the sometimes-solo workout. Throughout my sweat sessions, I unselfconsciously groaned out loud, hit pause for a water break, and didn't have to worry about accidentally sideswiping a classmate with my extended-arm-spinal-twist or roundhouse kicking a neighbor's water bottle. At-home workouts are as enjoyable as they are practical, especially in these chilly months, so you have no excuse for not going to the gym because of wet, cold, or crummy weather. And, working out at home can also mean avoiding costly gym memberships. So, get into your workout gear, or don't, and try these online workouts.
No Equipment, No Worries Workout
If you're looking to warm up sans all the bells and whistles, there are plenty of online options. For you speedwalkers out there, there's a channel full of walking exercises that you can do… at home! Leslie Sansone's, Walk at Home, allows you to strut your stuff, in your house, while incorporating upper body movements, power kicks and more. It's great for those who like to take brisk walks, but may be faced with inclement weather or a time constraint.
If you're looking to amp up the intensity, without equipment, Heather Robertson's intense full body workout is an ideal place to begin. This video comes equipped with a countdown clock and a bell that dings when each workout has finished. It's about show, don't tell, so be sure to keep this video at eye-level. KymNonStop gets creative with household items, in this seated-workout video, suitable for those with a disability or injury. I tried this workout—using two similarly sized books for weights—while taking a brief respite from hunching over my computer, and I must admit that it felt glorious on my spine.
If you're in a situation in which you have limited time, no equipment, and just realized you haven't moved all day, Amy Dot's easy standing stretch may be what you need before that big dinner or important phone-call.
Dance Party of One Workout
Sometimes we just want to let our freak flag fly when no one's watching. That's where YouTube dance workouts come in. PopSugar Fitness has a wide array of dance workout videos such as Latin dance, hip-hop and Bollywood. These videos have a countdown clock in the corner, boast easy-to-follow moves and don't judge you for your spastic gyrations. Warning: Some of these videos do involve twerking. Not only do they feature different music and styles, they work different areas of the body. Bollywood dance, for example, focuses more on arms, whereas hip-hop is more about the hips and thighs.
If Zumba and reggaeton is what gets you in the zone, then Carolina Brearley's videos, like this dance warm-up are a blast. This straightforward routine to a Zumba cover of Meghan Trainor's "No," is less polished than the PopSugar videos, but it's fun nonetheless and sort of feels like the dance equivalent of the "power stance"… the"power dance" if you will.
Finally, if you're looking to work your mouth muscles, this retro jazzercise video will put a smile on your face.
Zen Workout
Find your happy place with mind-calming yoga and pilates workout videos. Whether you're a flexibility guru or a novice, there are an abundance of videos that can help you unwind from a long day at the office or get your morning jump-started with the right energy. Jessica Valant's Pilates for Beginners class holds a special place in my heart, and core, because it was my very first online workout video. Her sessions are uncomplicated and no-frills.
Other simple zen workout video channels I recommend are Yoga by Candace and SarahBethYoga. Candace brings the right amount of calm (try her six-minute meditation) and there are lots of great videos that work the neck and spine for those working on their posture. Sara Beth Yoga has some serene morning yoga videos. A helpful extra: position modifications are displayed in the corner of the screen. Boho Beautiful videos are high production quality with incredible views of white-sand beaches and snow-capped mountains. The intense core workouts via pilates in this video can be equally as breathtaking, literally.
Rage-Release Workout
There are many things best executed in a state of calm, like driving, or say, talking to your boss. Working out isn't one of those things. In fact, a workout could be the ideal time to release all that bottled up rage and tension. The PopSugar Fitness channel has some angst quelling at-home body combat and cardio kickboxing workouts that will increase your strength as well as balancing abilities. Though do make sure to leave enough space between yourself and all the walls, shelves and plants in your home. When you're really looking to knock the frustration, this Krav Maga fitness workout by Krav Maga Girl, Lior Bitran, should do the trick. Her routines are easy to follow, strengthening, and empowering.
Classic Cardio Workout
Sometimes what we need is simply to get the heart pumping and the blood flowing. Introducing, the classic cardio workout. Once again, PopSugar proves its workout worth with this relatively light 15-minute beginner's at-home cardio workout that you could even pair with a walk-at-home or yoga workout. On the other side of the workout intensity spectrum, you have Les Mills and this high-intensity 30-minute cardio workout video. It's a good one to try, as long as you have a few sweat-wicking towels on hand.