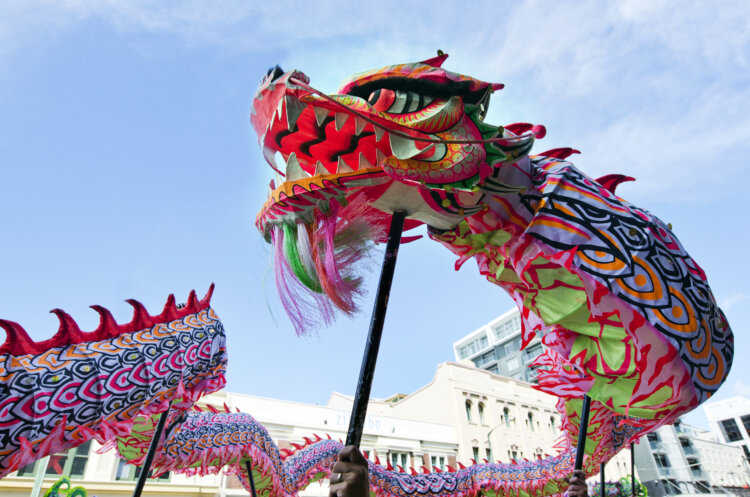 I woke up this morning, the first day of The Year of the Pig, with a lot of the same hopes I have every Lunar New Year: health, prosperity, global peace. As a first-generation half-Vietnamese, half-white American living in New York City, I want to partake in the cultural traditions within our city's vibrant Asian-American communities. I want to go to Chinatown and eat dumplings and drink tea, observe loud, crowded parades following meandering dragons, pop streamers in the street, wear red and wish strangers Happy New Year.
My children have the day off school for Lunar New Year—known as Tet, to Vietnamese. And my Vietnamese mother is in town. Perfect opportunity to gather extended family for special Year of the Pig festivities!
What actually is planned for today: my mother taking the children to see Spider-Man: Into the Spider-verse, followed by her treating the family to dinner at a French brasserie in the neighborhood. I suggested my daughter, who loves baking, make some Lunar New Year treat this morning. She did a quick search of her favorite food videos on Tasty and suggested, "Homemade macarons? We just need almond flour!"
One quarter Vietnamese and easily passing as white, my children don't have a strong connection to their Vietnamese heritage. And that's partly my fault. They visit the Vietnamese side of the family twice a year, sometimes being offered Vietnamese food, usually also with a choice of cheese and baguette and some other European option. At each of my grandparents' funerals, my children wore the appropriate-colored headband to signify their generation in relation to my grandparents, and they witnessed a Vietnamese funeral prayer ceremony, but that may be the extent of their Viet-ucation.
My mother, their grandmother, emigrated from Vietnam to the United States in 1966. She married my white, Texan father in the late '60s, and shortly thereafter, had me, and then divorced. She married again, a man from Denmark. I grew up in a mixed-culture household—Vietnamese, European, Texan (emphasis on Texan, perhaps the strongest cultural influence, to my memory). My mother, a chemistry major in college, worked in a research lab when I was very young, and worked her way up the corporate ladder, eventually to executive, at a few biotech startups across the country in California. She drove a Honda Accord and wore power suits from Nordstrom, and served as the only woman and person of color at most of her exec meetings. We didn't speak Vietnamese at home, and, unlike my cousins born into full Vietnamese families, I didn't learn the language. I learned Texas history, how to eat white flour and refined sugar, and the language of '80s sitcoms like Three's Company and Laverne and Shirley. Both my mother and I assimilated. We two pursued our American dreams: She wanted success in the US business world; I tried out for cheerleading (failed, miserably—I couldn't do a cartwheel!) and the school newspaper (did better there, and became the editor). I loved the chia gio (Vietnamese spring rolls) that my grandmother would prepare when we would visit, but, during summer camp with my cousins, I eschewed their traditional lunches of steamed rice and sausage in favor of dry peanut butter on white bread, to fit in with the white kids.
My mother and I both eventually married white Americans, something I don't give a lot of thought to until we are all reintegrated into my Vietnamese family during holidays, and my wife and my stepfather are the other. And on Tet, when I somehow feel I'm betraying my heritage by making rice krispie treats with my children instead of rice balls, and celebrating with French food instead of pho. I feel a fierce cultural FOMO when I see other Asian parents taking their kids on the subway to Chinatown, slurping up noodles, and going to Asian Saturday school—even though that truly isn't how I was raised. Tet, in my memories, was about the older generation distributing red envelopes, and our large, loud, eccentric family being together, in the homes we have built together over three decades, celebrating how our families have grown and evolved across oceans and wars.
And for my mother, French culture is integral to her heritage, as France colonized Vietnam in the late 1800s, imposing their language, religion, and education—my mother and her siblings were educated in French Vietnamese schools. To this day my mother retains many friends from high school still living in France, visits France at least once a year, and cooks many of her meals in the French tradition (by way of California).
So when she suggested over text message, "How about we celebrate the New Year by seeing Into the Spider-verse? And going to that French place for dinner, for NY Restaurant Week!" I decided not to push back. I know that being together is Mom's highest priority. But I'm breaking out a red dress—symbolizing good fortune and joy—for dinner. And going to a noodle bar with a friend tomorrow.