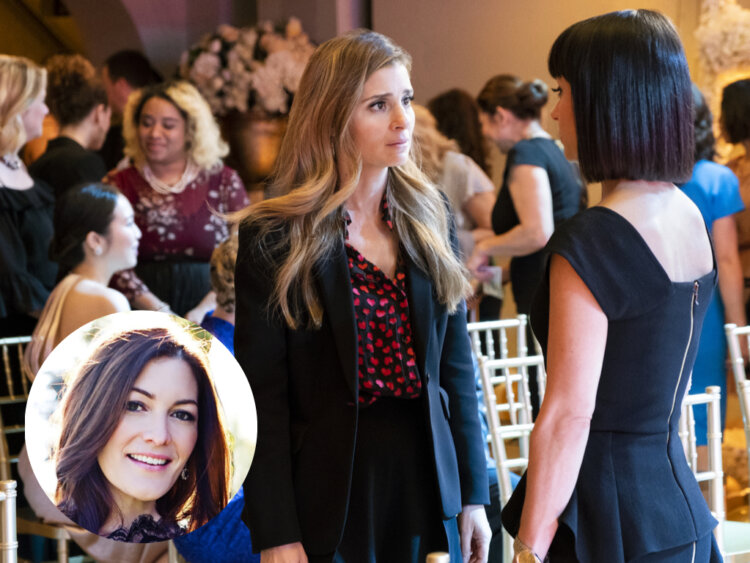 Fans of UnREAL, a drama that goes behind the scenes of fictional dating show Everlasting, got a surprise gift this week: The entire series is available for streaming on Hulu, including a brand new season 4. The show's final season was moved to the streaming service and released on Monday, July 16, less than three months after the third season wrapped on Lifetime.
UnREAL is known for boundary-pushing storylines and its two strong female leads, Rachel Goldberg (Shiri Appleby) and Quinn King (Constance Zimmer), who helm the show and emotionally manipulate the contestants to achieve higher ratings. The audience has come to expect shocks and surprises, so it seems right that the show's final season would be its own twist. Season 4 is an "All Stars" season for Everlasting, which brings back contestants from previous seasons (think Bachelor in Paradise).
Since the beginning, Stacy Rukeyser (a former EP of Freeform show's Greek and The Lying Game) has been a senior writer; and in season 3, she took the reigns as showrunner. Here she speaks with Grok Nation about how they take on The Bachelor's real life drama, what to expect in UnREAL's final season, and the show's lasting legacy.
GROK NATION: At the end of season 3, Rachel had retreated from everyone she knew and gone to a cabin in the woods where she seemed to find peace. Then the trailer for season 4 shows her dolled up like an Everlasting contestant and back to her morally bankrupt producer ways. What's going on?
STACY RUKEYSER: Rachel goes through a transition off-camera. It's uncomfortable for her to be alone with her thoughts and what she's done. All the things people said to her are still ringing in her head. Quinn is the only person who's said, "You're wonderful," so Rachel stays at Everlasting and decides to go all in, pushing aside the inner conflict she's had since the beginning, and becomes an unapologetic TV reality producer. This season was always a Frankenstein story: Quinn has created a monster in Rachel and even she is kind of horrified as to what Rachel has become.
GN: Was that always the plan for UnREAL season 4?
SR: Season 3's ending was also written as a potential series finale: Rachel gets that peace for herself. We were editing season 3 and thought we would have more of a break, but the show was picked up right away. [Lifetime's parent company A+E struck a deal with Hulu to air the final season.] We said, "OK, we're not taking those vacations," and were able to keep the sets up in Vancouver in the studio space.
GN: One of the story lines from this season focuses on the impact of a date rape in a previous season of Everlasting. Where did this story line come from?
SR: We always start in the hearts and minds of Rachel and Quinn. If Rachel has cast aside her feminist guilt or any guilt about what she does on the show and decides to do an All Stars season, of course she'd bring back Maya (Natasha Wilson), the woman who was date raped, and Roger (Tom Brittney) the man who assaulted her. That's going to be good drama.
GN: And how does this affect Rachel?
SR: It's fueled by Rachel's own sexual trauma, which is really unresolved for her. Beyond what her parents knew or didn't know about her assault, it became a family story: She cut ties with her mother but never handled the underlying sexual trauma. She's playing subconsciously, in a way that she feels Maya could be her avatar. If Maya could confront her attacker and get revenge, that would mean something for Rachel as well.
GN: In light of the #metoo movement and our current political climate, how do you want the audience to see these types of stories this season?
SR: It's very hard to watch what we have done. These are very challenging story lines we didn't take lightly and wanted to handle with a great degree of care. But it should be awful to watch that. It provided us an opportunity to talk about what happens to women after something like this. Like Noelle (Meagan Holder) is convinced to stay quiet. There's a bullshit Malibu rehab for men, but women are branded with it for the rest of their lives. At the end, there's redemption for Maya and Noelle and real realization of the monster Rachel has become and a desire to set things right. It's what felt right from the history of UnREAL and all of the things in the Trump era and #metoo.
GN: This season also seems to punish men for being these caricatures of dating contestants. Their lecherous, hedonistic and sexist behavior leads to bodily injury and emotional violation. Is this a revenge fantasy against piggish behavior?
SR: We do always say that people are ripped up and put through the sausage grinder on these shows. Many people think they can game the system and use it for their own and play the game for themselves and they underestimate the machinery of these shows. The game is bigger and more powerful than them.
GN: Speaking of "these shows," over the course of the show, UnREAL has shown the behind-the-scenes manipulation that can happen on dating reality shows like The Bachelor and The Bachelorette. What has been the reaction from individuals involved in those shows? And does it inform your plotlines?
SR: People come up to us at panels or events who work in reality and say it's so real. That's so terrifying to me because we do the most terrible things on this show! To be saying, "This is how it is" is horrifying. [One of this season's plotlines is] partially based on what happened in Bachelor in Paradise–production got shut down because a producer complained to the studio, something sexual between two contestants and potentially a sexual assault. One contestant was too drunk to consent and no one stopped it. It sounds like storyline on UnREAL.
GN: How does it play out in Everlasting?
SR: Jay making a complaint and Rachel leaking it to the press and using it for ratings. What we're trying to say is that the more of a monster she becomes and the lower she sinks, the higher the ratings are. The show from the beginning has always been about pulling back the curtain on reality TV and how destructive it is for this culture.
GN: What's it been like going from being a writer on UnREAL from the beginning and now a showrunner?
SR: When writing season 1, we never thought it would be the buzzy hit that it became. The two female protagonists are complicated and flawed and "unlikable" from a traditional network sense. But we just thought these were women that we recognized, we were women at work writing about women at work, it feels very normal and it exploded. It was a real wakeup call to realize that these things haven't been on TV before. To get to write these kinds of women who are complicated and flawed and layered but feel really human, get into their hearts, minds and souls and write from that place [is incredible]. The show is really saying something about reality television and women and Hollywood.
GN: And how is it working with all the women of UnREAL?
SR: I'm proud of our family that makes UnREAL. Constance and Shiri both directed this season. Jessika Borsiczky is an executive producer and directed episode 7, and has been on set as producing director through the whole season. Sarah [Gertrude Rose Schapiro, series co-creator] directed a couple of episodes previously. It's very exciting in a time when people are talking about female directors.
GN: Any final thoughts?
SR: I've been a TV writer since 2002. I've seen good and bad showrunners and imagined what kind I would be. For me it's about creating a good experience for the people who are on the show: We start controversial conversations but also make people feel real ownership of the show. If I'm doing my job right, there are 200 people who believe they're responsible for the show and they're right. It was exciting to get to guide the show in a way that feels truthful to me and is best for these characters, to have this on my shoulders, for better or worse.
All four seasons of UnREAL are streaming on Hulu now. Sign up for an account here.