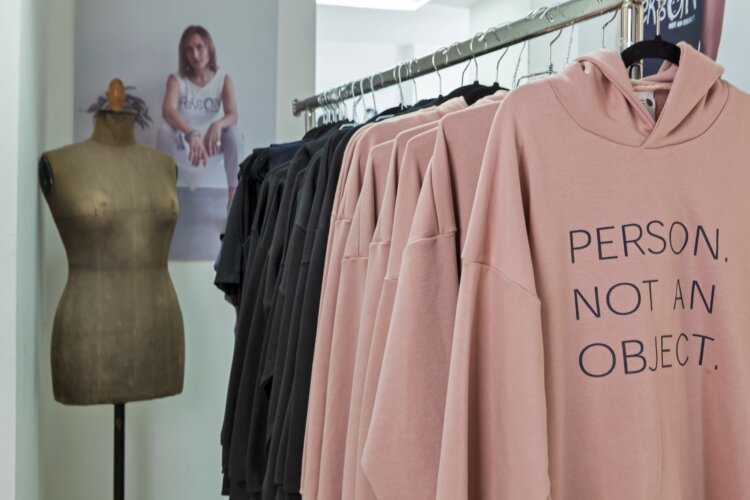 On a rainy January day, I climb a set of stairs in a building straddling the line between grubby and cool in south Tel Aviv. With the help of a guy smoking a cigarette in the courtyard, I've translated the name of the organization I am looking for. In English it's "Turning the Tables." In Hebrew: Yotsrot. I open the door to a long hallway. I hear the buzz of sewing machines, the snipping of scissors on fabric, and a few quiet voices. I am led to a large kitchen where Lilach Tzur Ben-Moshe is waiting to meet me.
In 2010, Ben-Moshe was a lifestyle editor at the Israeli newspaper Ma'ariv. She covered design, fashion and food. "All this enjoyable stuff," she says with a dry smile. The newspaper's office was in a rough Tel Aviv neighborhood, near the central bus station. Walking or biking to work, she saw countless sex trade workers standing in front of doorways. Prostitution is legal in Israel but organized prostitution, brothels and pimping,  for example, is not. At first she tried to avoid looking. But soon she was drawn to the women. "It started to boil inside of me," she says. "The vulnerability of these woman. It's like a supermarket. They are there in a row. A product."
Ben-Moshe decided to help them. In 2011 she created Turning the Tables. The NGO gives women exiting the sex trade multiple lifelines. Foremost, it provides vocational training and economic empowerment.
Ben-Moshe's contacts in the fashion industry proved fruitful when she set out organizing the NGO. Women in her program learn to sew, cut patterns, design clothes, and market them, with top industry professionals volunteering their expertise. The fashions they create are sold through events the group holds, or other outlets (some women who've advanced their skill set freelance for design houses in the city).
The idea is to master a skill until they can make a living out of it. The NGO steers 50 women through their year-long program. The program offers, besides classes in fashion, courses in computer, entrepreneurship, and digital marketing.
"We produce items. And also therapy and also  financial guidance. And also lunch," Ben-Moshe says with a laugh.
At the far end of the kitchen, about a half dozen women, members of the program and staff, are preparing shakshuka. There's a real sense of home to the place, a real sense of family.
New legislation that passed in the Knesset (the legislative branch of the Israeli government) at the end of last year and is slated to come into law in May 2020 could change things. The law, based on the  "Nordic Model," criminalizes the client rather than the sex workers.
But critics of the law say that if it's passed, prostitution will go back underground into the hands of violent sex ringleaders. Some prostitutes in Israel, it should be noted, have written to lawmakers protesting the law. Other critics say that the state should not tell women what they can do with their bodies.
Ben-Moshe, and other women in Israel advocating for women in prostitution, though, such as Nitzan Kahana, of the Task Force on Human Trafficking and Prostitution, have a much more intransigent view of the profession.
"The story of prostitution is the story of abuse, awful abuse with a lot of violence," Kahana told i24 news. "90% of them were abused as a child." Ben-Moshe agrees: "The woman who goes into it saying to herself: ' I had a big debt and needed a lot of money. It seemed like an easy way' finds that eventually they are broken by it."
If Ben-Moshe's stance is unbending, it is very likely due to the stories she's heard from the women in the program, and from a statistic that Kahana also repeats: Most women enter the trade in Israel very young, at 13 or 14. "We can meet someone who is 23 and she already has ten years of prostitution behind her. She doesn't know anything else. All she knows is this is what she has to give to the world. This is how she's appreciated. This is what she's worth. This is her ability. Her talent. Sometimes it's the only way they feel power or control over there life if they get money for this," Ben Moshe says.
Leemor Segal, a trained social worker and psychotherapist who joined Turning the Tables as a Resource Development Manager, agrees, noting that the trauma is ongoing. "This is a safe haven but the world is a difficult place to live," Segal says. "Even just walking down the street, or taking the bus, or smelling can trigger."
Besides providing therapy and overseeing a team of volunteer therapists, Segal advocates on behalf of the women at government agencies and in the public arena. Indeed one of the other mandates of Turning the Tables is to raise awareness of the trauma that  they say is a necessary side effect of the sex worker trade. Another of Turning the Table's mandates is to actively contribute to policy changes and laws concerning prostitution.
Segal had spent the morning battling a bureaucrat at the Social Security agency trying to get post-trauma benefits for one program member, based on sexual abuse in prostitution. Turning The Tables' program also emphasizes financial planning, and psychological care, when they are ready. "We are not drilling into their heads, you need therapy," says Ben-Moshe. "The most important thing first is they get strong. When that happens they are usually ready for the next step which most often includes therapy."
Ben Moshe introduces me to some members of the program who are working at pattern tables or sewing machines. I am also shown clothes they did design and these I find beautiful. Sophisticated tops, dresses and skirts in neutral and beautiful, rich fabrics. Every year the NGO holds a fashion show with these creations. Last year it was held during Tel Aviv Fashion Week. Local celebrities wore the clothes that the women from Turning the Tables had designed, specifically for each personality.
Jenny Kim is one of the women who has benefited from the program. Kim, a trans woman who is now a successful designer, came to Turning the Tables when she was 23 and working in prostitution. Now she has her own line of gorgeous swimwear and shorts for men and women, and collaborates with a well known national brand, as well.
Segal says she has heard stories that are impossible to comprehend. "The most extreme things, and these women fight for their lives. And then when they begin to feel better, you see talented, smart, funny, creative and  interesting human beings emerge."