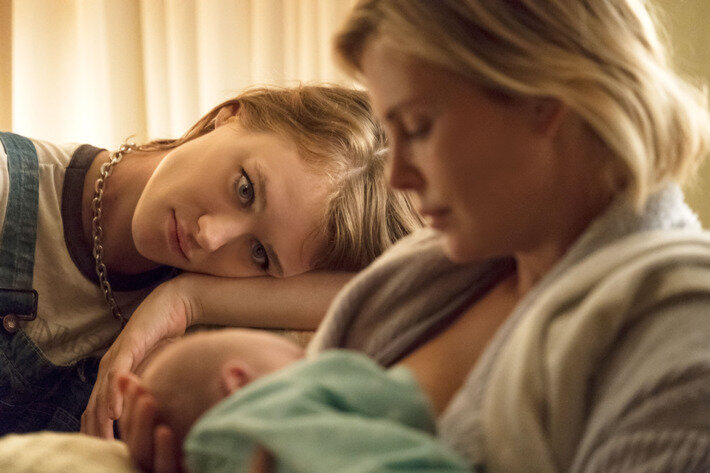 Watch Marlo (Charlize Theron) soldiering through the everyday tasks of parenthood in Jason Reitman's Tully, and you'll hear a resounding hum of understanding amongst the parental movie goers. There's the we've-all-been-there laughter when a woman gives some side-eye to a pregnant Marlo for drinking decaffeinated coffee. You know there are trace amounts of caffeine in decaf coffee, right? Just so you know. Other snapshots generate a nearly audible collective cringe (pan to Marlo hunched forward on a toilet and attempting her first post-birth pee).
But in the midst of the normal parenting stressors, there are clues, ones that suggest there's more to this story. (Spoilers to follow!) They appear at first when a still-pregnant Marlo visits her brother Craig (Mark Duplass) and he offers her the gift of a night nanny. When she refuses, he asks her to consider it because of "what happened last time." After she gives birth, more red flags come in quick succession: Marlo's vacant expression in the delivery room, and the detached request she issues to the nurses to put her baby in the bassinet. Then, there's a scene where the camera follows her walking by her sleeping husband Drew (Ron Livingston) and stepping over her children playing on the hospital floor that made me pause and think, "she's already all alone."
I know because that was once me. I had a similar moment captured in a photograph where I'm sitting atop a bale of hay, a grin splayed across my face and my three-month-old baby girl in my arms. I remember looking around at the other smiling families in the pumpkin patch and thinking, "Why can't anyone see that I'm sinking?" I felt like I was screaming and no one could hear me. It was like I was hovering above myself and watching some other woman showing up to motherhood.
Three days later I was in the emergency room as a result of a panic attack related to my not-yet-diagnosed postpartum depression and anxiety.
It was like I was hovering above myself and watching some other woman showing up to motherhood.
It's that fine line that Oscar-winning screenwriter Diablo Cody (who previously collaborated with Reitman on Young Adult and Juno) walks with Tully. Drawn from her own experience with postpartum depression after the birth of her third child, Cody expertly works through the various mental health stigmas that exist, challenging the way they are perceived. For Marlo and many women in the midst of postpartum depression, it's easy for onlookers to chalk up their anxieties or sad moments to normal components of motherhood or the "baby blues." And at first glance, it is exactly what one might assume about the worn-out character Theron delivers to the screen. But spend a few more minutes at her side, and it's easily apparent that it runs deeper.
Which is why it's so easy to feel relief when Tully (Mackenzie Davis) shows up at the front door and offers her services as a night nanny. In that moment, she becomes the lifeline whose youth—and almost ethereal personality–is exactly the salvation that night after night buoys Marlo, keeping her head above water.
There were few things that could ground me when I was trudging through the worst of PPD and anxiety. Like Marlo–and I would imagine most mothers dealing with postpartum depression–my brain had the upper hand in dictating most (if not all) of my early mom psyche. I had help. My husband would hear me sobbing in the shower and climb in to hold me. My mother would take my daughter Claire so I could go on a solo walk around the neighborhood. On one particularly awful night, my baby girl's tiny body pressed against my chest kept me present as the walls of my second panic attack closed in around me.
It is, perhaps, isolation that Tully nails most expertly. Throughout the film, we get a strong sense that it's Marlo versus the world, a theme that is not unlike the feelings I experienced in the midst of my own battle with PPD. In some instances, she is up against something tangible, like when she tells an entire school administration to fuck off after they approach her about her son Jonah, who is struggling in the classroom. And at other times, her actions seem to be the result of her operating in survival mode. The relief, of course, comes each night with Tully, who awakens a Marlo that looks unlike her day-to-day persona. They laugh at bad reality television, chat while cooking, and sit outside drinking sangria and talking about sex. Tully ushers a sleepy Marlo to bed and says things like, "I'm here to take care of you."
But even those scenes feel detached from her ordinary life. No one else interacts with Tully and it makes the singular nature of Marlo's battle feel even more distant. It isn't until the end of the film, that the desperation Marlo has attached to her relationship with Tully becomes stark, highlighting, for me, what was perhaps the most important aspect of the movie: There is a deep want for a struggling mother to cling to someone or something. It's not a far-fetched idea she might search for an anchor in unlikely places, even if it is within the confines of her own mind.
Which is why when the final moments of the movie reveal that Tully is a vision of her younger self that Marlo has crafted as a result of her PPD, I find myself nodding. "I thought I was doing great. Wasn't I great?" she says to Drew from a hospital bed and what I hear is what I and so many women have felt during their darkest days–that the battle is entirely in your hands.
I understand why people are divided over the ending, though. The twist didn't bother me, but I wanted to see Marlo's doctors ask something more than "does she have a history with mental illness?" What I hoped to witness was the desperate and immediate action required to help someone in Marlo's position. And what it triggered for me was the one thing I always think about when I read about stories like Marlo's: Could it have been me? What if I had been a little more tired, spiraled a little farther down, not found the help I needed? The answer, I fear, lies on the other side of a very thin divide.
Tully doesn't wrap up Marlo's story with a bow. There is, after all, no quick fix. But the final message is one that includes a support team at Marlo's side, which is truly something I can hope for anyone who suffers from PPD.
If you or someone you know is suffering symptoms of postpartum depression, please seek help from your healthcare provider or online resources like Postpartum Support International who can help you find the treatment you need. Call 1-800-944-4773 (4PPD) to speak to a trained volunteer 24 hours a day. If you're experiencing intrusive thoughts related to suicide, call the National Suicide Prevention Lifeline at 1-800-273-8255. Help is available. You are not alone.