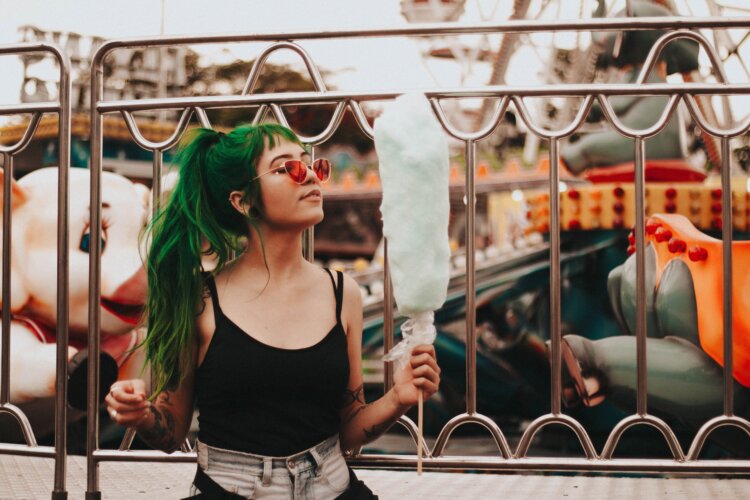 When people think of Vegas, Disney, or New Orleans, they likely think of rambunctious bachelorette parties or families with children in mouse ears. They're great for groups, but there's also a lot of fun that a solo traveler can have in these locations. I've been fortunate to travel to each of these destinations for professional conferences, and they were exciting to explore on my own.
The best thing about going to a destination like Disney or Vegas alone—whether you end up there for work or are specifically seeking out a solo trip—is that it's all about your wants and needs. No compromises with other people. You can wander for hours in shops or spend your entire time going on the Haunted Mansion ride over and over at Disney. You do whatever you want to your heart's content. Or you can stay in your room and binge TV or lounge by the pool and sip cocktails. It's all up to YOU.
You also can take advantage of deals at restaurants and entertainment venues. It's easier to get dinner or bar reservations as a party of one, and there are often solo seats at shows or amusement rides that venues want to fill. 
And traveling alone, to any destination, provides a great way to meet people. While sitting at a bar, you can strike up conversations with folks around you or the bartender. You can get the inside scoop on local hotspots or maybe even make new travel friends. Or if you prefer to keep your own company, it's great having a date with your new book.
Traveling alone also provides time for self-reflection and self-care. Since you control your schedule, you can use the time to think about what is best for you and your needs.
Here are some tips about traveling solo to Las Vegas, Disney and New Orleans, specifically.
Las Vegas
Why go?
Las Vegas is a wild, glittering place that exists for pleasure. It's got the biggest, baddest whatever you want. The spectacles that it holds are unlike anything you'll see anywhere else. As a solo traveler, you can find entry to places more easily.
Shows
Vegas is a mecca for circus and other performing arts. Theaters are keen to fill every seat and have to deal with those pesky odd seats. Check out the half-price ticket booths around the strip.
Gambling
Obviously, opportunities to gamble are everywhere in Vegas. If you decide to indulge in the dice, cards or one-armed bandits, you want to take some precautions. Make sure to watch your purse while you gamble. If you win a fair amount of money, you can ask security to walk you to your room. A tip isn't required, but it would be nice!
Wandering
Since every hotel is trying to outdo the next, visiting the hotels is well-worth your time. Every hotel has some attraction of note, whether it's just the weird décor (Excalibur) or a fire show (the Mirage) or opera singers and gondoliers (The Venetian). 
When I was in Vegas, I spent every waking moment going to every hotel I could and doing all the things I had always wanted to do but had never been able to convince my travel companions to do: I rode the New York New York roller coaster, went to the Shark Reef Aquarium at Mandalay Bay, saw the indoor rainstorm at the Planet Hollywood mall and a Volcano fire show at the Mirage.
Disneyland
Why go?
Anaheim's Disneyland is the original Disney theme park, full of fun rides, thrilling spectacles, and special magic. Some of these suggestions are applicable at other parks. As a single traveler, you can take advantage of lower priced tickets and shorter ride waits.
Reduced Price Tickets
Look into 1 p.m. and Twilight Park Tickets. These tickets are cheaper than full-day tickets, but there are restrictions on when you can get into the park. But if you happen to be nearby for work and want to squeeze in a Disney trip after meetings, these tickets are perfect for you. Most hotels affiliated with the parks sell them.
Single Rider
Some rides have special, shorter lines for single riders. It's a line that bypasses everyone else and makes your wait time shorter. However, you'll have to ride with a stranger—but look at it as an opportunity to make a new friend! Tell the Cast Member at the entrance of the line, and they usually will send you in the right direction. Not all rides offer single rides and those benefits end later in the evening, but the park is often less empty then anyway.
During my trip in Anaheim Disneyland, I made friends with a fellow solo traveler, an Australian woman, who was there visiting an old friend, while we were both waiting in line for Disney's Pirates of the Caribbean. Her friend was several months pregnant and couldn't enjoy the rides. We chatted pleasantly; I reassured her that the Haunted Mansion ride wasn't too scary. We ended up hanging out for a few more rides before parting ways.
Bus service to the parks
If you are staying at a hotel that is part of the Disney system, Anaheim Resort Transportation bus (ART) will pick you up and drop you off directly at your hotel from the Disney parks. Prices vary, but it's around $5.
I took advantage of the bus service on my Disney trip. I made sure to squeeze every moment possible on the rides (even forgetting to eat dinner)! I enjoyed the rides up until they stopped at midnight, grabbed myself some ice cream and made sure to get to the very last shuttle of the night. Bus services start an hour before the parks open and end 30 minutes after the parks close. While you may not need it to get to the park, it's a safe and low cost way to return to your hotel.
New Orleans
Why go?
Yes, the Big Easy is known for Bourbon Street and Mardi Gras, but there's more to the city: There's great jazz, delicious food, and lots of history and culture. When visiting by yourself, you can take get into crowded clubs and concert halls more easily than with a group.
Walking Tours
If you want to get to know the history of the city and learn some of the great stories (true or otherwise), check out the daily and nightly tours in or nearby the French quarter. There are ghost and voodoo tours, cemetery tours, and even swamp tours (you'll have to leave downtown for that one). It's also a great way to meet people; you'll have tons to talk about!
I decided to take a tour of the St. Louis No. 1 Cemetery since I love seeing the burial practices and history found in cemeteries throughout the world. St. Louis No. 1 didn't disappoint; it was filled with incredible funerary monuments including Nicholas Cage's Pyramid. 
I learned the hard way that cemeteries in New Orleans are basically ovens and got a touch of heat exhaustion despite the tour owner's best attempts to warn us! So while you're doing tours, make sure to also listen to your body.
Music
New Orleans is hopping with music venues. On your own, it's easier to slip into the crowded places (though there may be a cover charge). You can check out the bars on the infamous Bourbon Street or walk to Frenchman's Street, which is slightly less hectic. You can find every type of music: country, hip-hop, electronica, and more. If you are keen for jazz, check out Fritzel's European Jazz Pub or The Spotted Cat Music Club.
No matter where you go, make sure to keep yourself safe. Watch your drinks and food. Be aware of your surroundings in general. Also, sometimes it can be so exhilarating exploring that you may forget to eat, drink or take bathroom breaks. 
But remember most of all, you too can travel solo and experience that dreams can come true.