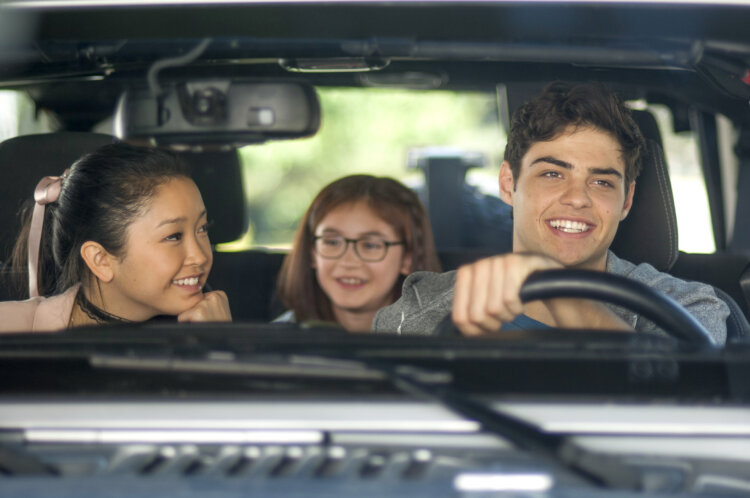 For all that Netflix has done to change the way we watch TV and movies, there's one unassailable truth about the streaming service: their Netflix Original movies are almost all complete garbage. With only a few exceptions, including the fantastic Mudbound, Netflix's collection of originals are largely defined by the fact that they're tossed off scripts resulting in hastily-made movies that serve to simply boost the sheer quantity of content available on the platform.
That might explain, in part, why Netflix's To All The Boys I've Loved Before has received a substantial amount of praise over the past few days. On the surface it looks like so many other offerings from Netflix. Lana Condor plays Lara Jean, a teenager being raised by her OB-GYN father (John Corbett) since her mother passed away. On top of all the family drama that comes with being the middle child, her high school experience gets a lot more uncomfortable when her sister Kitty (Anna Cathcart) finds a number of love letters she's written to crushes past. Kitty mails them all out in the hopes of pushing her sister out of her comfort zone and getting her a boyfriend. That bit of deception from Lara's younger sister leads to a fake relationship with Peter (Noah Centineo)—he wants to make his ex jealous so that she'll come running back to him—and a complicated mess of emotions with Josh (Israel Broussard), her childhood best friend, crush and, much more awkwardly, her older sister's ex-boyfriend. Of course, as Peter and Lara Jean execute their plan, their fake feelings start to morph into something real, and numerous mixups and misunderstandings ensue.
Based on the first novel of a popular YA trilogy by Jenny Han, the story seems primed for the simplistic Netflix treatment, a breezy watch for teens and adults who like to use their phones while watching a movie. That's simply not the case with To All The Boys I've Loved Before though. It's a film with an incredibly charming and diverse cast—Condor in particular finds a remarkable balance between conveying the awkwardness of growing up without ever losing her confident edge; she's so far from the stereotype of an unappreciated nerd who discovers herself. Plus, the script has a fair amount of emotional nuance. It's not a perfect film, as Josh's limited role never allows the tension in the love triangle between him, Lara Jean, and Peter to really reach a boiling point, but it is a confident, delightful, sweet film that's definitely worth your time.
More than that though, To All The Boys I've Loved Before deserves your attention, and all the praise that's been heaped on it, because it's the rare bit of media geared toward a YA audience that avoids the rather manipulative "dark and gritty" nature of so many shows, films and books. In 2018, it seems that YA-specific art isn't "realistic" if it isn't deep or violent or tackling big issues. From The Hunger Games and Riverdale to The 100 and 13 Reasons Why, YA fiction, no matter the medium, is obsessed with doom and gloom.
The thing is, YA fiction certainly needs to tackle issues relevant to teens. The teen experience in this day and age is one of heightened anxiety. Cyberbullying, sexual assault, and school shootings are undeniably part of their reality, and there's nothing wrong with shining a light on the issues and crafting stories around them. The problem, though, is that so many shows, films, and books have tunnel vision when it comes to what it means to be a teenager.
Consider 13 Reasons Why. Across two seasons, the show has proved to be a punishing experience. Darkly lit and heavy on themes of sexual assault and bullying—TV shorthand for this is important—the show offers no reprieve from its oppressive vision of high school. It's completely devoid of nuance, and any moments of joy or connection are almost immediately undercut by some horrific action. In the world of 13 Reasons Why, and so many other shows and films made for a teen audience, there's nothing but violence or the threat of violence. These kinds of self-important, largely vacuous creative visions do a disservice to teens, treating their lives as an endless void of darkness.
Look, nobody is denying that for a lot of people, high school and being a teenager is a messy time. It can be dark and scary, but there's so much more, and shows and films simply don't reflect that anymore. That kind of narrow thematic vision is a problem with prestige TV too, as gritty, dark material gets conflated with quality; but it's particularly prevalent in teen fiction.
That's why To All The Boys I've Loved Before is so refreshing. It's a film that understands that realism doesn't always come in the form of something violent or angry or depressing. Sometimes realism means crushing on your sister's ex, or realizing you're falling for the boy you never thought you would, or taking a leap of faith when it comes to your emotions even though it's terrifying. We could use more movies like this; diverse, emotionally nuanced, and with a female lead that's sure of who she is, even if she's not sure what her future looks like.