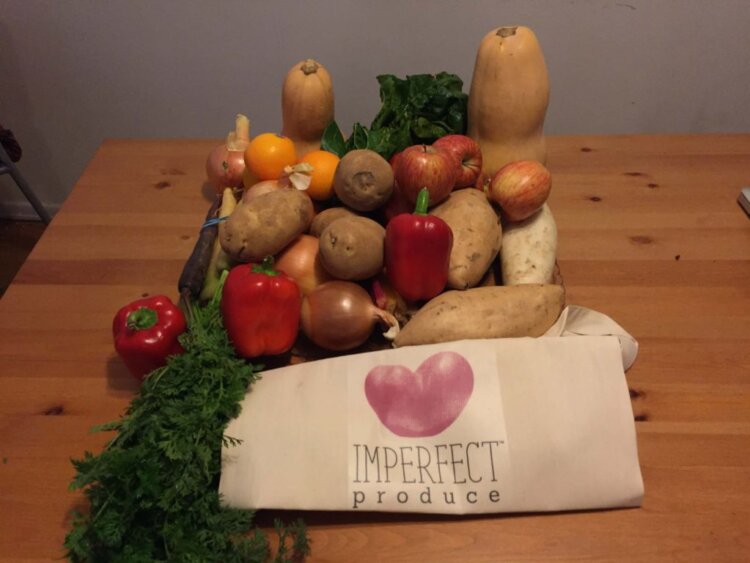 I always loved getting packages. When I was growing up, packages were rare and meant a birthday or something special and unknown; in camp, we lived for packages and their inner mysteries, wondering if what they contained would be Pringles and Twizzlers or sunblock and socks. Now, online ordering is so easy that half the time, I forget what I've ordered;  when the boxes arrive, I often find myself wondering, "ooh, what is this?" even when it's from myself. Days when I get packages are better than days when I don't; luckily, there are increasingly more ways for me to find little mood-boosters on my doorstep: and sometimes, those packages also represent some higher purpose as well. (I received no promotional products or incentives for these reviews.)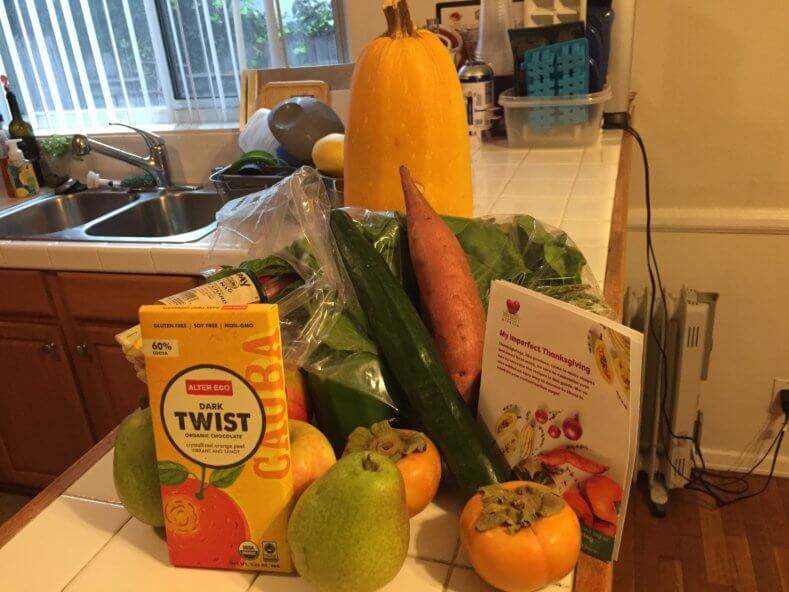 Imperfect Produce
I was in love from the minute I heard about Imperfect Produce—a company that takes misshapen or bruised or otherwise "undesirable" organic and conventional produce and sells it in weekly boxes that are delivered straight to your door.
My subscription is for a medium-sized organic mixed fruits and vegetables box delivered weekly. Each week I get an email that my box is ready to customize: The account is pre-loaded with whatever amounts of fruits and vegetables they anticipate they'll have fresh and available when the box ships on Thursday, and I adjust it up or down: delete the fennel, double the broccoli, add red onions or whatever. Since it's charged by weight for each item, my box runs from $15-25 (with a grimace-inducing $5.95 delivery charge). You can also skip weeks or indicate a suspend-and-resume date if you're going to be away or won't need the produce for a while. And the company also provides low-income families with boxes of produce at lower cost, which makes me feel good: Not only is my consumption not contributing to food waste, but my subscription defrays the cost of boxes for those who need it most.
Imperfect works hard to make sure their customers feel connected to the company and its mission: including glossy recipe cards and short bios of company workers, and statistics on how Imperfect helps reduce food waste and provides fresh produce at 30-50 percent less than grocery prices. They are also committed to happy customers: On the few occasions that I've had complaints, they were resolved via social media and customer service immediately and to my satisfaction.
Verdict: Yes. Good for me. Good for other people. Yes, until I can't afford it anymore. (Imperfect Produce is available in many areas throughout the U.S. Use this link for a $10 credit toward a box.)
Brandless
If you've ever wondered why peanut butter seems to be differently priced depending on its brand, Brandless online grocery shopping may satisfy the part of yourself that refuses to pay for branding. Pricing across the site is $3 per item (or in some cases, $3 for 2), which simplifies your calculations of how much you're spending. For certain products it feels like a bargain, for others, you feel  like maybe you're paying a bit more than you ordinarily would.   They also have a lot of soap and personal care products, all of which bear the Brandless branding, which is branding nonetheless, but not the kind that costs you more. They're committed to acts of do-goodery, as well: They've partnered with Feeding America to donate a meal with every order received, and for two days this month, increased the commitment to 10 meals donated with every order, to aid victims of the California wildfires. They also have some cool bundles: a kitchen essentials set of seven items for $21, a mini-pampering bundle of 3 items for $9, or for big spenders, the Brilliant Brunch Bundle, with 14 items for $42, ideal for gifts or if you're starting from scratch in a new home and need a bundle of 4 mugs for $12. You can also sort by organic, non-GMO, vegan, gluten-free or certified kosher products (but not for organic and kosher, or vegan and gluten-free, you get the picture). Also with a $5 shipping charge (for FedEx ground shipping in 2-4 days), so ordering one or two products at a time isn't the most economical way to go here. I've ordered from them once, and writing this article made me order from them again – each of my orders was about $20-25 including shipping.
Verdict: Yes, I'll check in from time to time but Brandless doesn't present a wide enough variety to replace my regular grocery shopping.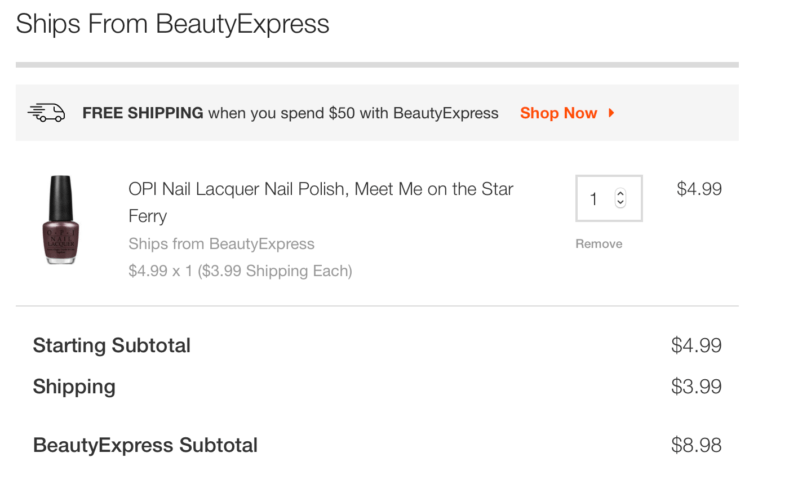 Hollar
Hollar drew me in with a promise of cheap stuff: Essie and OPI nail polishes in a limited array of colors for $3-5 each, party paper goods at $1-2 a package, and pasta for $1. I ordered from them twice: so the pasta package came opened, a lip gloss was gunky inside, and a tube of moisturizer was a lot smaller than I thought it would be. But what did I expect for such a cheap price? In browsing the site this month, I selected about eight items ranging from $1-3 dollars each: and the estimated total at checkout was over $40. How did that happen? On closer look, I saw that – in addition to adding a $5.95 charge for shipping under $25, Hollar had expanded their offerings by partnering with other sites (like Beauty Express in the image above), each of which also charged their own shipping rates. The result of this is that the $4.99 nail polish gets a $3.99 shipping charge; it's still less than you'd pay at a salon, but is it enough less? Hollar is kind of like the online version of the 99-cent Store, except you can't hold the products in your hand to assess whether you'd like to gamble a dollar on it or not. Also, the website is pretty overwhelming visually, with its endless scroll of products in varying categories and colors. 
Verdict: A "meh." I'd use Hollar again if I saw a beauty product that I really wanted for a good price, or to replenish my party paper goods supplies. But overall, I should just make the time to go the two miles to the 99-cents store and play dollar roulette in person, saving the shipping costs.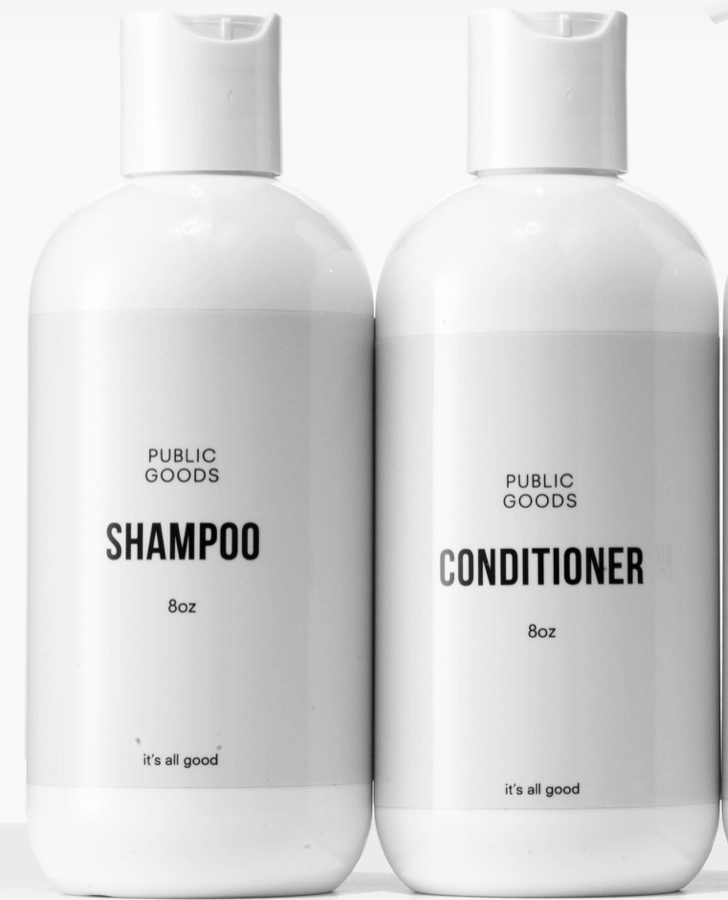 Public Goods
I found out about Public Goods through a Kickstarter crowdfunding campaign and became "an investor" for a flat membership fee of $59 a year. Public Goods promises to "make healthy products affordable to all," sparing customers the markup that additional branding and packaging would have added. Instead their packaging is clean and simple and their products made from healthy ingredients. Members get significant savings – members can buy a $12 bottle of shampoo for $3.75 – and the number of products available is limited – they currently have 16 products available. In my first order, I selected shampoo, conditioner, body wash, hand soap, shaving cream and toilet paper. While the body wash and hand soap were fine, the other products weren't great (and I was glad I hadn't paid full-price for them).
Verdict: Because I have a lifetime membership (through the original crowdfunding campaign), I'll probably purchase some other products in the future because I love the ideology of Public Goods. But I really wish the products had worked as good as they smell (and they do smell good). Sign up for a membership trial here.
Now if you'll excuse me, I've got some misshapen squash to prepare for dinner.