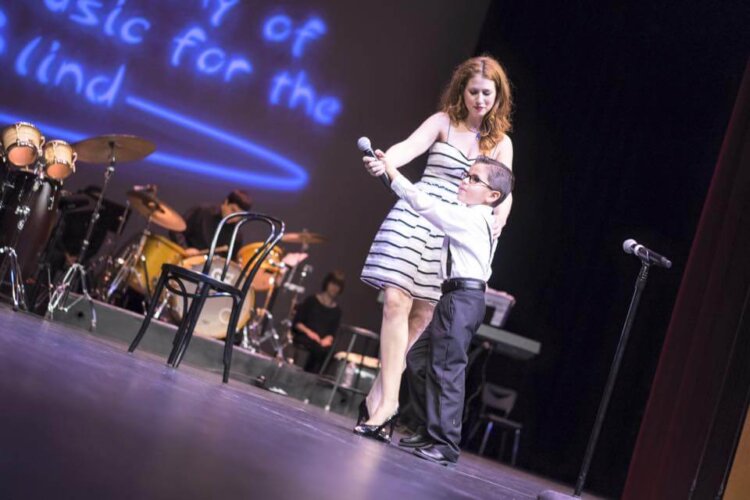 You know that first moment when you discover hot sauce or add a belt to that weird dress you bought at a street fair? Or in some cases finally figure out how to get your WAZE to talk like Morgan Freeman? That 'aha' moment? Or as I like to call it my "What the hell took so long for me to figure that out?" moment.
Two years ago, I had the biggest aha moment of my life. As a professional singer I'm often asked to go to schools to sing or talk to students about my career. But when I was asked to visit the Academy of Music for the Blind and sing duets with some of the students there, I was surprised. A music school for blind kids? I'd never heard of such a thing." Within a week I had my visit planned: the kids had requested a few specific songs, and I was prepared to perform and teach them: 
A tiny five-year-old wanted to sing "Time To Say Goodbye" and a seven-year-old wanted to sing "A Whole New World." Andrea Bocelli AND Alan Menken in one morning? Sign me up!
I walked into the first classroom where the five-year-old boy sat next to his walking cane. The teacher said, "Gavin, this is Rena and she's going to sing "Time to Say Goodbye" with you. The music began, I started my verse in my best fake Italian and my light soprano voice. Gavin's face lit up with a huge smile and although his eyes had been darkened by blindness, they expressed something that lit up my heart. Gavin's mother sat behind me and I could hear her audibly gasp. Then he began his verse in a childlike, fun Italian but hit every note perfectly. We sang together and finished the song each holding out our high notes till we ran out of breath and broke into uncontrollable laughter. I laughed because if I didn't I'd break down and cry from this sweet boy's voice that just penetrated my heart and a smile that healed any pain I'd ever been hit with. I turned to his mother. "I think I just saw my son fall in love for the first time," she said to me quietly with tears in her eyes. The feeling was mutual.
The rest of the day I sang with these incredible students and even popped into the drama class where students were reading the "vessel with the pestle" scene from The Court Jester all in Braille! 
I went home and did what any normal person would do after a day like that…I cried. How had I never known the depth to which music could reach into a person's soul?  I cried because I felt like I had been leading such a self-involved life up till now. I cried because I wasn't appreciating my own sight every single day. I cried because..well…because…I had just met a group of kids who showed me the true power of music.
Two months later the Academy asked me if I wanted to become a regular voice teacher. "The students have really taken to you," the director told me.
"But I don't know how to teach voice to blind children? What do I do? I can't do that?" My response was fearful. But despite my insecurities and doubts I said YES! I knew that I needed these kids in my life. I finally felt like I had found deep purpose to living in LA and fighting the fight to be a professional actor.
Why do we sing? Why do we use music to heal? To teach? To communicate? Every week through my work with the Academy, I feel like my life is enriched and the lives of my students are changed. I challenge them to sing though their fears and connect to what they're saying.
My first week teaching at AMB I had a student, Jenny, who was 14 years old and had gradually lost her sight due to glaucoma over the past year. She walked in as shy as could be, her eyes facing the floor and her hands often covering her mouth as she spoke. 
"What would you like to sing?" I asked her after doing a soft and easy vocal warmup. "I don't know, I guess 'Part of Your World' from 'The Little Mermaid.' That's what I'm singing in school." And so she began. Her voice was tiny, quiet and disconnected. "Look at this stuff, isn't it neat?" she sang.
I stopped her. "How do you feel?"
"Ok, I guess. I don't know. Fine."
"Do you like singing this song?" Do you feel the same way Ariel feels in the movie?"
"Not really," she softly answered.
"I'd like you to go home and listen to someone named Alanis Morrisette tonight. She was really pissed off in the 90s and I have a feeling you might like her. Because I am giving you full permission to be pissed off in class, OK?" A tiny smile came across her face but her hands were quick to cover it.
The next day I received an email from her. "Wow! This girl is amazing! She says some bad words but I really like her. Can we sing 'Ironic' next week in our lesson?'
The following week she walked into my room and I swear she had a smile on her face, like she had a secret. 'Are you ready to sing?" I asked. Her eyes faced towards me and she started.
"An old man turned 98, he won the lottery and died the next day…" Her voice was steady, strong and had a power that I didn't know she possessed.
Then came the chorus: "It's like rain on your wedding day…" Her voice soared over the keyboard and her head was raised high. Her fists clenched as she got out her own frustrations though this song. She was singing from her heart and I was brought to tears.  Her grandmother ran into the room with tears in her eyes "Was that Jenny? Oh my god! We haven't heard that voice in years!" 
Jenny needed to be pissed, to scream at the top of her lungs that losing her sight as a teenager wasn't fair. Once she did that, she found her voice. We have since sung "Isn't She Lovely," "What's Up" and yes, we've even gone back to "Part of Your World."
Music is a powerful tool. Music is also a strong form of medicine. It can numb pain, it can cause pain, it can heal a broken heart, release us of anger, guilt and fears. Music says what we're not able to and informs our deepest emotions what we need to live.
The best part of all of this is that I never have to stop being a singer in order to teach. Not only am I singing in my classes with the students, but I've opened up AMB to the world of public performances in order to raise awareness of blind youth music programs. I also love exposing the kids to being on stage and hearing the sound of applause.
At least once a month I take the stage with Gavin and we hold hands and sing "All I Ask of You" or sometimes revive our now-classic rendition of "Time to Say Goodbye." Other performances I share one of the truest moments when I sing "For Good" from Wicked with my beautiful student Danielle, who asked me to sing that song with her because of the changes she's experienced in her life since we began working together. I've even passed on my favorite song "Don't Rain on My Parade" to 12-year-old Dorothy who once told me "Ya know Rena, so many people at school say I can't do things because I'm blind, but I tell them that's not true, I can do anything!"
My stories of these kids could fill a novel, but there's a word limit so I'll leave you with this. They have made me very proud. And I'm honored to be part of their world.  

You can see so many of these performances on my youtube page and on the school's website www.ouramb.org, under Media. (And check out this duet with Gavin!)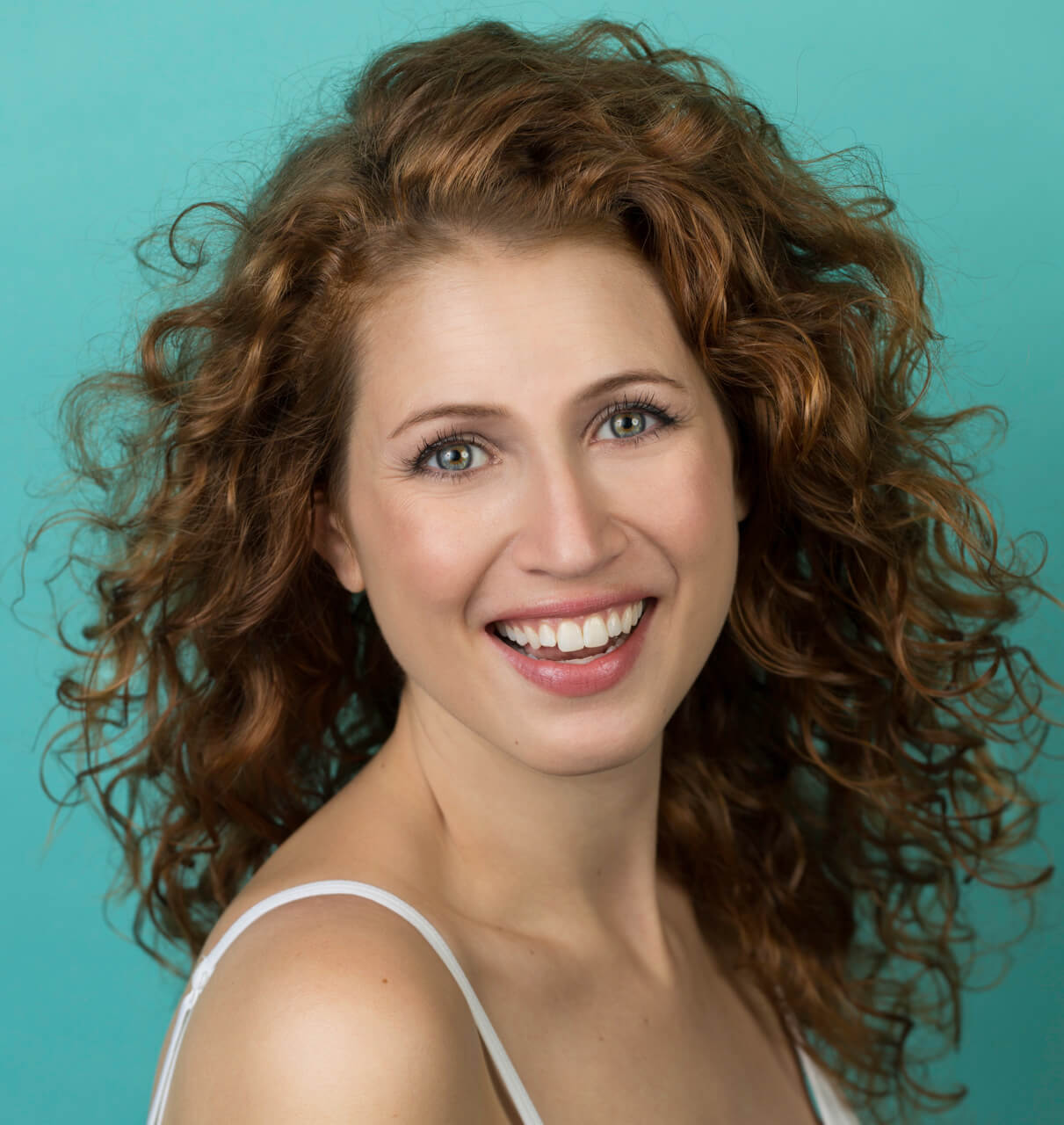 Rena Strober is a native New Yorker currently living and working in Los Angeles. She made her Broadway debut in Les Miserables and went on to perform on and Off-Broadway for a decade. Some shows included Fiddler on the Roof, Beauty & The Beast, Reefer Madness, Bat Boy and more. She is currently recurring on Disney's "Liv & Maddie" and has guest starred on "Shameless," "The Big Bang Theory" and "Adult Swim." Rena is also well known for her voice work on Disney's "Penn Zero," "Ever After High," "Sailor Moon" and dozens of video games including Fire Emblem Fates, Republique and Zero Escape. When she's not working as an actor, Rena teaches voice at the Academy of Music for the Blind and is their director of Outreach. Learn more about Rena at:  www.renastrober.com