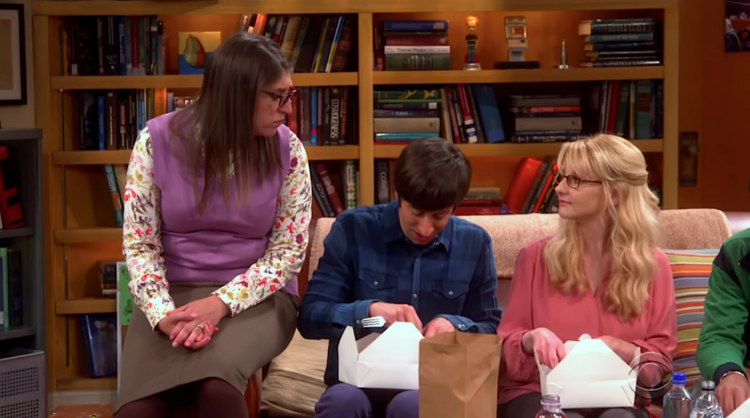 Last night's episode, "The Tam Turbulence" was one of my favorites this season so far! (And, yes, I know we're only four episodes in at this point!) The episode centered around Tam (played by Robert Wu), a character name you might recognize if you watch Young Sheldon. If you don't watch Young Sheldon, I'm sure you quickly learned that Tam is Sheldon's childhood best friend, who he hasn't seen in 20 years. It was fun to tap into the spin-off in this way and to have Jerry O'Connell back around as Sheldon's brother, George…if only through video chat.
Also in this episode, Bernadette and Penny take out Raj's new fiancee, Anu. Those scenes, where Penny and Bernadette drink too much and give her all the dirt on Raj, truly made me laugh out loud. I said it last week, and I'll say it again: Rati Gupta (who plays Anu) is so great. I was said to miss out on those scenes, but this episode coincided with the Jewish holiday of Yom Kippur, so I had to pre-tape all of my scenes the day before everyone else.
It was so strange being in synagogue instead of at a tape night! This has happened a few times but not in recent years; while chanting "Kol Nidre" and praying and meditating, I do admit I calculated where my castmates would be at certain moments. "Now it's curtain call time," I thought. "I'm home, but they're still at work finishing up filming!"
It was strange, but it was probably a foreshadowing of what it will be like when this season ends… I predict there will be a lot of "I used to be there now" thoughts in the future. Big sighs.
Yom Kippur is a time for reflection and starting over. It's good to be getting my head into that space now.
RELATED: Read more about Mayim's resolutions for the new year
Anyway, in the scenes I pre-taped, when Sheldon opens up to Amy about his fears when he moved away without his childhood best friend, I found it really touching. One of the neat things about being married on the show is we are exploring more avenues of intimacy as a couple. I look forward to more of that as the season goes on.
Next week, we'll we get to explore a different side of marriage as Sheldon potentially jeopardizes Amy's career in an effort to work with her. Make sure you come back to Grok Nation to read all about it! 
Let me know below what you thought of "The Tam Turbulence"!
P.S. Have you seen my tease about the upcoming Halloween episode?