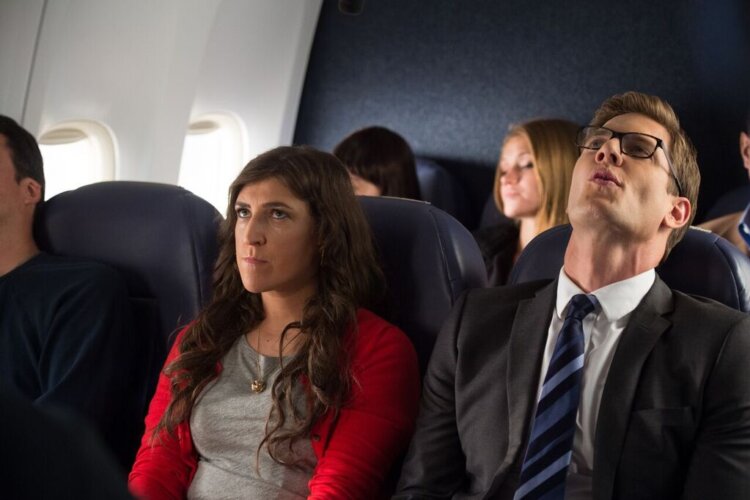 On December 5, I will be appearing in a feel-good Lifetime television movie called The Flight Before Christmas. Since I am known as a Jewish person and typically play Jewish characters, my character Stephanie is indeed half-Jewish. After her plans to get serious with her boyfriend fall apart right before Christmas, she decides to fly home to be with her family instead. On the plane, she meets Michael, a handsome stranger with his own relationship struggles. The plane is grounded because of bad weather, hijinks ensue, and it's just super-sweet.
The movie is totally safe for kids to watch—it will be the very first time I let my kids watch me on TV, if you can believe that. There is no nudity, no cursing, and nothing scary in the movie. Yahoo! (It airs Saturday night, December 5 at 8 p.m.—read more about the film here, and don't miss this Grok Nation article by the film's writer Jennifer Notas Shapiro, aka, "the Jew who writes Christmas TV movies.")
In playing this character, a few things happened that I needed to grok. First of all, it was the first time I got to play a lead character. Lead roles typically go to "classically beautiful" females, unless the part calls for a character actress as part of the plot. This movie did not call for a "character" actress; they simply chose one—me!—as the lead which I am very grateful for. It got me thinking a lot about what it means for my career and for the movie in general to have a character actress play a "non-character" role. I hope it will make "not classically beautiful females" feel represented on the screen! (For the details on what it's like to play a lead for the first time, check out the Kveller post I wrote about it.)
The other grok-worthy thing that happened for me with this movie, which has never happened before, is I got to play opposite Ryan McPartlin, an extremely handsome actor who used to be a model. Ryan is recognizable to many of you from his role on Chuck playing "Captain Awesome" and he also appeared on Fran Drescher's The Nanny and a ton of other things.
Ryan is the kind of guy that you'd turn your head to look at when he walks into a room. (I've actually seen it happen when we've gone out socially; men and women's heads turn. I promise.) He's very tall and he's got a former football player's build (he played football in college) and he has a square jaw and dimples and sparkly dreamy eyes…he's beautiful. What makes him such a neat guy is that he's got those model looks, but he doesn't have a "hot guy" personality. He's very playful and goofy; he's not at all aloof or full of himself. And most importantly since he's an actor, he's a very talented actor in both comedy and drama arenas. (While sometimes looks are all you need to score a role, Ryan's success is a testament to his acting skills, not his looks.)
Typically, movies pair up people of similar societal standards of beauty unless the plot is about them not being from the same community of attractive people. (Think Beauty and the Beast.) Stunning actresses are paired with geeky or nerdy characters, like in Woody Allen movies or any movie where the "shtick" is to take some geeky guy and let him live out the fantasy of being with a model (this also happens on TV a lot). It is completely commonplace in our society for prominent men who are not considered attractive to date and marry gorgeous women, presumably because—the social anthropologists tell us—women are drawn to fame or money or power, whereas the male mammal is typically motivated very strongly by looks. This does have a basis in biology, but of course there are also exceptions.
In this movie, I get to be the actress playing opposite someone society deems generically attractive; very rarely will this happen, where a "non-traditional" or character actress leading lady will be paired with a male who used to be a model.
This isn't designed to provoke you to reassure me: I know I am beautiful in my own way; I know there are people who find me attractive and I appreciate that very much. But I also know that there are people who don't find me attractive. Sure, sometimes the mean things people say about my looks hurt my feelings—how could they not?—but I also know my worth isn't about everyone thinking I am classically beautiful.
I used to want plastic surgery for my nose and for my chin. I look in the mirror as little as possible because I start analyzing what I could do to look more like most women in Los Angeles. Don't even get me started on my body! But I can accept who I am and what I look like, even if most producers or casting directors generally go another way. (Read more about my ideas on women in Hollywood here.)
I wonder why the double standard exists. I wonder if biology is destiny, as Sigmund Freud suggested. I wonder if people will "buy" that this guy would fall for someone who is not a model, too, honestly. I am thrilled that Ryan agreed to do this film, and I love that quirky or unusual females might see this film and feel like we matter too!
Not that it's always been my fantasy to "snag a hot guy." I tend to appreciate ethnic or unusual-looking men, or men who have character in their faces rather than those that society would deem classically attractive. This experience was eye-opening because it opened up possibilities for me in my career and in my head.
Who knows what makes others find us attractive really? I should not be limited in the way I see myself, and I hope that, as you go out and date people and couple up, that you won't let yourself be limited by looks either. I hope that this casting choice isn't the last of its kind, that Hollywood will change the way it views romantic possibilities. But even more importantly, I hope this leads to change in how we see ourselves.