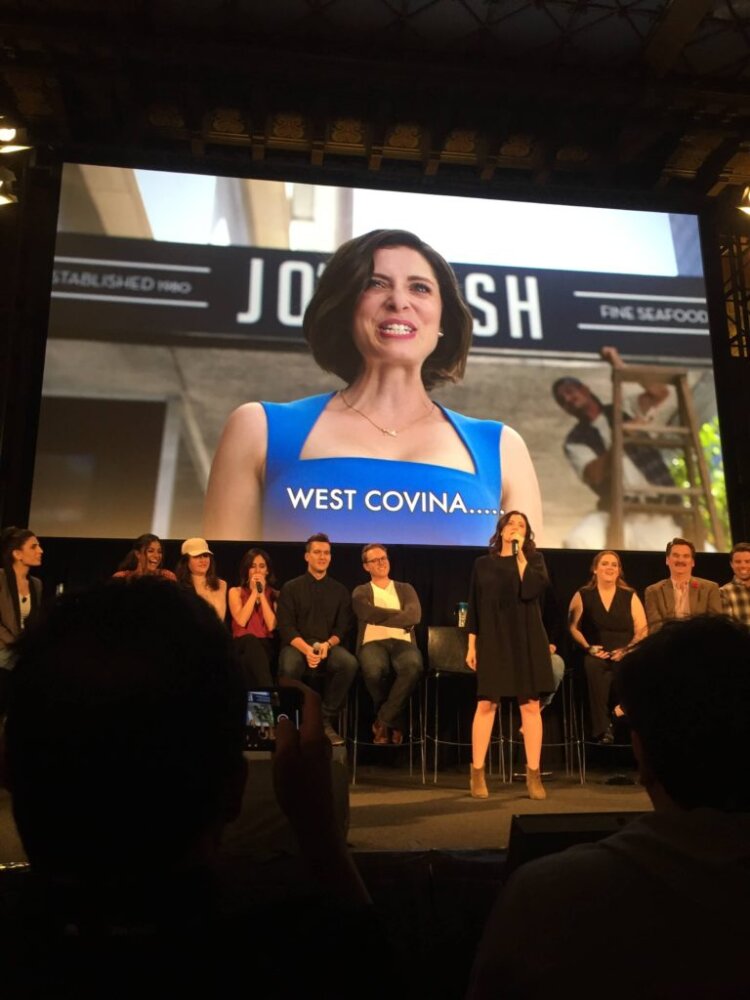 I've done a few cool things this year – visiting Lucasfilm with Mayim, and going on sponsored trips to Kenya and Poland, for example – but when I read online that the cast of "Crazy Ex-Girlfriend" was doing a singalong at the Vulture Festival, I basically did a twirl and began singing "West Coviiiiiinnnaaaaa….CaliFORniaaaaaa…" (Photos and videos below, so read on!)
For the uninitiated: Rebecca Bunch (Rachel Bloom) was working hard at a New York job, making dough, but it made her blue. And one day she was crying a lot and so she decided to move to West Covina, CA, brand new pals and new career. It happens to be where Josh Chan lives….but that's not why she's heeeeeeeere. Oh, fine – I'll let her tell you.
The still-somehow-CW-friendly raunchy comedy musical has very dramatic undertones; the songs are marvels that replicate and lampoon musical genres as they also underscore the characters' actions with both gravitas and ridiculousness. In the show's third season – particularly in the last two or three episodes – we've learned more about Rebecca's mental health, a turn toward a darker tone that's both surprising and a natural progression for her character.
After these episodes, it was beyond wonderful to see Rachel (I call her Rachel) smiling and laughing with her colleagues and with the 400 of us in attendance at the Hollywood Roosevelt, where the Vulture Festival took over with more than 30 pop cultural talks and panels.
And now! Photos! And soon after that, videos! And after that, fresh new facts you never knew before!!!
Video Excerpts! (Since you asked so nicely, here's a playlist!)
Fun Facts That I Wrote Down in Between Songs
David Hull (White Josh) came in to audition and they weren't sure he was a fit for the show, but someone noticed he looked like a White Josh. Months went by and Hull assumed he hadn't been cast. Then one day, Rachel called him to say that they had written a new part just for him!
Aline Brosh McKenna referred to herself as the "comedy song doula," who doesn't write the songs herself, but contributes by explaining to other crew members that it's a creative process that can't be rushed… (Most songs are written by Bloom, Jack Dolgen and Adam Schlesinger.)
The actors are all double and triple threats, acting, singing and dancing, although  Rachel Bloom self-identified as a "two and a quarter threat," in a self-dig to her dancing ability. (We do not believe her.) Pete Gardner (Darryl) also admitted to being nervous about the dancing, and Donna Lynne said, "If you say one more time that you're not a good singer or dancer, I'll punch you in the face." (So will we, because he's awesome.)
Gardner said there are many different sides to Darryl, but that he supports his friends unconditionally. He said that it was an "amazing honor" to be associated with "Getting Bi" (a song about coming out as bisexual) and that it means a lot to a lot of people.
Want to see audition tapes? How about karaoke tracks for songs? Rachel told us that she hears the fan demand and is hoping to have both online soon.
At varying points, I found myself dropping both camera and notebook to be in the moment with the 400 other people in attendance, clapping along and singing. I wish all of you had been there with me, but hope you enjoyed this as the next best thing…