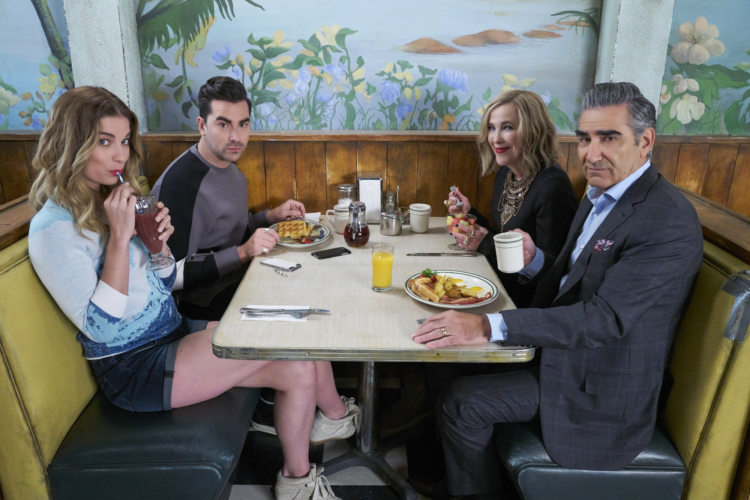 Let me start by apologizing for what I'm about to do, which is to implore you to start watching one of the best offerings on TV today: Schitt's Creek. We have all been on the receiving end of well-meaning yet pushy friends who tell us about a show we need to see. In fact, I only came to this Pop TV show after countless requests from a very good friend who would not give up until I gave in (thank you, Catherine!) and I could not be more grateful for her efforts. I hate to be "that guy" who insists you are missing out on something great by not watching Schitt's Creek, but I need to be because it's that good.
Initially the show's fish-out-of-water premise seemed gimmicky to me. The decadent, mega-rich Rose family lose everything and are left with no choice but to relocate to the podunk town with the unfortunate moniker that they purchased as a joke years earlier. They quickly pack whatever haute couture can be jammed into their designer luggage and land in the very, very off the map locale.
The first few episodes shine a light on how out of touch with reality the Roses are. Think Kardashians in the wild. Patriarch Johnny (Eugene Levy) has lost the corporate empire he built, and he and his melodramatic former soap star wife, Moira (Catherine O'Hara), face a frightening new world robbed of every possession they ever allowed to define their success. Also along for the downward spiral is their spoiled, sullen son David (Daniel Levy) and Paris Hilton-esque daughter Alexis (Annie Murphy) who are forced to share a hotel room adjoined with their parents' at Schitt's Creek's only motel.
I figured the jokes would be one-note as the Roses adjust to poverty while uncomfortably rubbing elbows with the odd townsfolk. I suspected most plotlines would follow attempts to escape their overly humble new surroundings, much like those of the shipwrecked S.S. Minnow passengers on Gilligan's Island. However, that's not at all what happened. Instead, our narcissistic protagonists began to stumble through their circumstances in imperfect, surprising and hilarious ways.
Here's the thing about Schitt's Creek that I need to make very clear: It is smart, funny and heartwarming. At a time when kindness and hopefulness seem to be in such short supply, Schitt's Creek serves up heaping portions of both. Dan Levy and his famous comedian father Eugene both created and star in this series, which made its U.S. debut on cable's Pop network in 2015. The show was picked up by Netflix in 2017 and began its fifth season on Pop on Jan. 8, 2019. To say I came to this party late is an understatement, but the good news is that this comedy has consistently gotten better with each new season.
At a time when kindness and hopefulness seem to be in such short supply, Schitt's Creek serves up heaping portions of both.
What makes this show so watchable, I think, is the genuine affection the Rose family members have for one another. Their foibles are many, but they are meandering toward becoming better people in the face of their financial ruin. Seeing the Roses tentatively navigating their situation and then jumping full-steam ahead into their new lives is kind of as good as TV gets. It's Curb Your Enthusiasm meets It's a Wonderful Life with a hint of Keeping Up With the Kardashians. (Please do not hold the latter against this show.)
The first season focuses on the Roses adjusting to their circumstances, which includes all the Schitt's Creek residents. Along the way we are introduced to the creepily endearing mayor, Roland Schitt (Chris Elliott), and his hokey wife, Jocelyn (Jennifer Robertson) as well as an expanding cast of engaging, quirky and yes, loveable locals. By the season 2 finale, titled "Happy Anniversary," it's obvious that the Roses are all-in. That episode ends with the family together under a simple string of lights strewn low inside a dilapidated barn at a town party. As they dance alongside many of their neighbors, there's a feeling that they have never been happier than they are in that moment. Make no mistake, they wouldn't turn down a windfall of cash anytime soon, but hey, who would?
It's no small feat to help viewers realize that the place you never wanted to go could be exactly where you most need to be. Bear with me on this existential point because it is what I absolutely love most about Schitt's Creek and why I often find myself teary-eyed at the conclusion of many of its surprisingly poignant episodes. At any given moment one of the characters can offer an accidental pearl of wisdom you never saw coming, be it a one-liner, a heartfelt little monologue or even an impromptu and soulful rendition of Tina Turner's Simply the Best that drives home what a gem it really is.
The series is a gentle, always entertaining reminder of what's important and the laughs never come as the result of anything mean-spirited. It's about getting knocked down (personally or professionally) and getting back up in your own way, trying new things, approaching hurdles differently as you go, breaking outside your comfort zone and embracing the ever-changing trials and tribulations we are all handed. I urge you to start at the beginning and savor each episode. I promise you will not be disappointed.