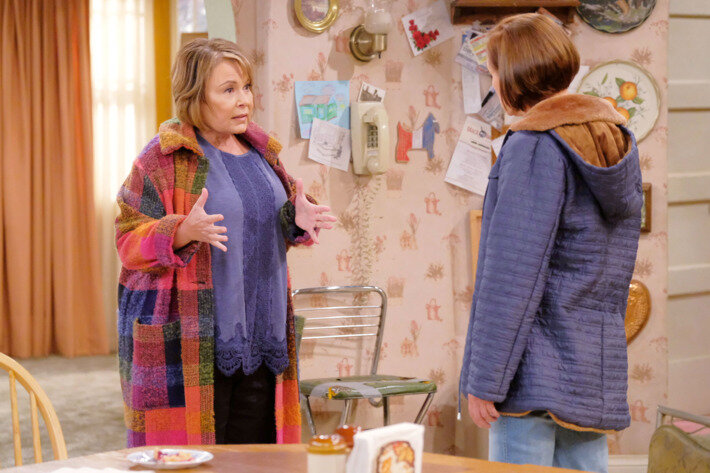 I grew up as an only child in the 1970s/1980s, so TV and movies occupied a very big part of my life. To say pop culture takes up a large portion of my brain is an understatement. I can tell you the prime time network TV schedules for just about any night of the week from my adolescence and share details of sitcom episodes I've seen hundreds of times, but often have moments when I cannot remember my own phone number or zip code. TV was everything to me growing up, and the people I saw there taught me more than even I probably realize. This brings me to Roseanne.
I was in high school when the original Roseanne debuted on ABC in 1988. I was a 16-year-old Catholic school student who already knew he was gay, but wanted desperately not to be, and was firmly entrenched in the proverbial closet. Roseanne was your typical family-oriented situation comedy—only as opposed to most TV families, the Connors were working class, living check to check in their Midwestern suburb. In the beginning, the show focused mostly on the titular character and her husband Dan raising their three kids, dealing with in-laws and earning enough money to keep food on the table. As time passed the themes got bigger. Midway through the show's ten season run there was an episode about the youngest Connor, DJ, not wanting to kiss a "black girl" in a school play. Roseanne railed at him, explaining that almost any other reason for not wanting to kiss someone would be tolerated ("Does she pick her nose? Is she gross or something?") but racism was not and could never be an option. It was a great episode that dealt with this issue in a very smart and thoughtful way with zero ambiguity — RACISM IS BAD was the takeaway.

Then there were the plots that hit closer to home for me personally. There was the episode where Roseanne's friend Nancy (as played by Sandra Bernhard) shocked everyone by announcing that she was a lesbian. She kept this secret from her friends and Lanford, IL neighbors for fear of their rejecting her, however, they did not. Roseanne Connor immediately embraced the news and made it a non-issue. As I watched that episode in the early 1990s, I remember thinking how incredible it was to see that story unfolding on a TV sitcom. In later episodes, the show expanded its gay characters and treated them exactly the same as the straight characters. That was mind-blowing for me in the pre-Will & Grace universe, and I truly believe it helped to move the needle culturally for people to start seeing gays in a different light. To be fair, it was a small piece of a much larger puzzle, but still an important one. The series even featured a gay wedding, and had Roseanne Connor's own mom (Estelle Parsons) come out late in life during the show's final season. It wasn't just the pro-gay stories that hooked me though. The show had heart and a social conscience for its time, and I am sad to see that legacy now get erased as the original Roseanne series gets pulled from syndication following the star's most recent racist outburst, this time about Valerie Jarrett, a former senior adviser to President Obama.
Let me be perfectly clear: I make NO APOLOGIES for the Roseanne Barr who has emerged in recent years. I do not like this woman, I do not share any of her political beliefs, conspiracy theories or her penchant for lashing out in the most vile and disgustingly racist ways possible. I had not been paying active attention to her twitter tirades until ABC decided to bring her classic series back for a second go-round last fall. I actually watched the rebooted series and enjoyed spending time with the Connors again. Roseanne the actress torpedoed the wildly successful 2017 relaunch of the show's eleventh season through her hate speech, when ABC quickly took action by canceling the ratings-winning hit. So now, the entire cast and crew are all out of work thanks to her.
Moreover, the genius that was the original Roseanne series is about to vanish into thin air as it gets yanked from most syndication markets. Separating an artist from the art is not easy, and I'm not even sure how necessary it is for us to try. I had no problem dropping Woody Allen from my movie going experiences, nor did I lament the loss of The Cosby Show from syndication after the many sexual assault allegations against Bill Cosby. Roseanne cannot be any different in this moment. She has repeatedly shown me who she really is, and I need to stop and believe her. I don't know what has happened to her or how it took me this long to see her for who she is, but she is no longer worth my time. Perhaps she will right her wrongs, get the help she seems desperately to need and make amends somewhere down the road. Maybe, if that happens, her TV legacy will be restored, or not. However, for this Roseanne fan the time has come to fully cut the cord. So instead of mourning the loss of a once great series I will be grateful to TV Land, Paramount Network, CMT, LAFF and Hulu for taking a stand to pull Roseanne from their airwaves. It will make it much easier for me to not give in to the warm hug of nostalgia that Roseanne once offered to a great many of us.