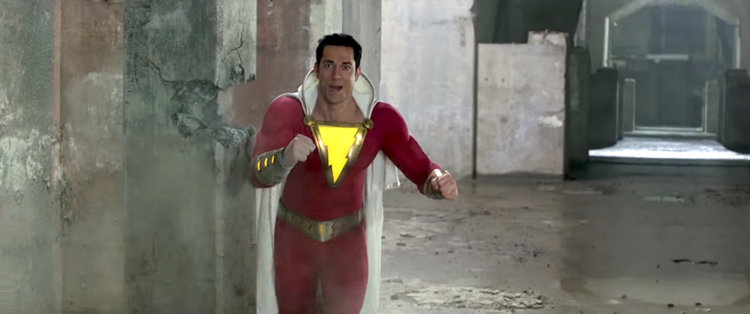 After four straight days of San Diego Comic-Con news—including trailers, casting announcements, and more from the likes of Marvel, DC, Joss Whedon, Doctor Who, The Walking Dead—there's a plethora of content to sort through. It's difficult to know where to start when you want to catch up on all the news. Luckily, Grok Nation has you covered.
Below is your guide to everything you need to know now that SDCC 2018 has wrapped up, handily organized to keep you posted about what's new in the world of TV, movies, and everything else.
Television
A darker turn for the Teen Titans
Oh man, where do we begin? How about with the first trailer for DC's latest television effort, a live-action version of Teen Titans simply titled Titans. The first trailer elicited mixed reactions online due to the adult nature of the show; Robin quickly drops an f-bomb about his crime-fighting partner Batman, letting you know this show is going for something darker and edgier than anything we've seen from the Teen Titans before.
DC's streaming service gets a price point
Speaking of Titans, the show has to air somewhere, and DC hopes it's the first big hit for its new streaming service. DC Universe is an all-encompassing platform for the brand's comics and shows, and over the weekend we learned that subscriptions will be $74.99 for a year and $7.99 a month. There will certainly be plenty of content to access, but the question is, will fans with subscriptions elsewhere fork over another $7.99 a month? In other words, DC certainly hopes Titans takes off.
The new Doctor is in
It felt like it would never come, but finally it's arrived: the very first trailer for the new season of Doctor Who. It's our first real look at Jodie Whittaker in the role, and we have to say, we couldn't be more excited. "Right, this is going to be fun" she says after a trailer filled with "new worlds and new faces." It sure looks like it will be. (Read fan reactions to the panel and the 13th Doctor here.)
Is this the Clone Wars you've been looking for?
The beloved Star Wars animated series Clone Wars is coming back for one final adventure, and SDCC gave us our first look at what that story might entail. What was originally planned as the sixth season before Disney purchased Lucasfilm, the new and final season takes place directly after the events of the fifth season and before Revenge of the Sith, reuniting Anakin Skywalker and Ahsoka Tano to take on Darth Maul.
Andrew Lincoln's time on The Walking Dead ends
A lot has changed on the AMC drama since it first premiered; after eight seasons, the bodies have piled up, and the band of survivors have fought their fair share of foes. SDCC brought about perhaps the biggest change to the show though, as Andrew Lincoln officially announced that this would be his final season playing Rick Grimes. There's no doubt that The Walking Dead will look very different without its rugged sheriff zombie killer. Check out the lengthy Comic-Con trailer below to get your first look at the final form of Rick Grimes.
Casting announcement for Umbrella Academy
The intrigue for this one has been brewing for some time, as Netflix announced its adaptation of Gerard Way and Gabriel Bá's Dark Horse comic last year. SDCC gave us a sneak peak at the cast for the show that follows a group of super-powered teens looking to save the world in a version of 1977 where JFK was never assassinated. Tom Hooper, David Castañeda, Emmy Raver-Lampman, Robert Sheehan and Aidan Gallagher have been cast as the five members of the team, and the show is set to hit Netflix some time later this year.
More Star Trek: Discovery
The first season of CBS All Access' Star Trek: Discovery received mixed reviews, as some found it too far removed from the spirit of previous Star Trek shows. Perhaps that reaction has caused the creators to change course, because the first trailer for the second season contains more wonder and a lot more jokes. There's still plenty of tension and dialogue about impending attacks, but it's all delivered with a little more humor. "This is the power of math, people!"
Change is coming to Steven Universe
Not only did we learn that the long-teased appearance of White Diamond is happening, we learned that Steven Universe: The Movie is on the way. There really isn't much to the teaser, but it's enough to get us excited about what's to come.
The return of The Gifted
The first look at the second season of Fox's The Gifted makes one thing perfectly clear: Polaris isn't coming back from the dark side any time soon. The first season did a good job of establishing its own vision in a media landscape endlessly populated with superhero stories, so hopefully the second season continues that streak.
Movies
M. Night Shyamalan's creations collide
M. Night Shyamalan may not be the big name he used to be, but there's something undeniably intriguing about the trailer for his latest, Glass, which brings together two previous films. Seeing Bruce Willis and Samuel L. Jackson in their Unbreakable roles again filled us with a fair amount of nostalgia—and we can't wait to see how James McAvoy's Split character factors in. Fingers crossed that this cinematic collision is as fun as it looks.
There's no hiding from The Predator
SDCC-goers got their first look at the new R-rated Predator film from Shane Black, and while the footage hasn't been released online, all accounts suggest that Black isn't messing around. He even goes so far as to say that these new Predators are looking to "punch back" when it comes to the humans of Earth, and "they might not be above 'roiding, so to speak." Sounds like Trevante Rhodes, Olivia Munn, Keegan-Michael Key and the rest of the cast will have their hands full.
The first trailer for DC's Aquaman
Well, this may not be one of the "best" things we saw because this looks…pretty bad, right? Like, not the topless Jason Momoa part, but the rest of it. Maybe James Wan's vision will come across better in theaters, but for now, our first look at Aquaman has us searching for a late-night cable airing of Waterworld.
A surprise from Shazam!
If the Aquaman trailer is disappointing, then the flip side of the coin is how shockingly good DC's Shazam! looks. The first trailer is everything we could want it to be, a lighthearted, playful bit of superhero business in a landscape dominated by darkness. Zachary Levi seems to be having a lot of fun in the role of the titular superhero, which bodes well for the film when it drops in April 2019.
Everything else
The Eisners
In the world of comics, SDCC was once again home to the industry's biggest awards show, The Eisners. Image's Monstress stole the show, with Marjorie Liu becoming the first woman to win the Best Writer award, but there was a lot of love to go around, including awards for the Black Panther: World of Wakanda series from Roxane Gay, Ta-Nehisi Coates and Alitha E. Martinez and Marvel's new series Black Bolt. You can find a full list of the winners here.
Ezra Miller Cosplay
Ezra Miller dressed as Toadette at SDCC. Need we say more?
More from the upcoming Spider-Man video game
It's not easy to capture the feeling of being Spider-Man in a video game, but what we've seen from the upcoming game from Insomniac has us itching to give it a spin. There's plenty of footage out there already, but SDCC gave us our first look at Miles Morales working alongside Mary-Jane Watson and Peter Parker.
Baby Breaking Bad
Look, sometimes it's really weird to dress up your kids in costumes because they're kids who have no clue what you're doing to them, and it's even weirder when you dress them up in a hazmat suit that's worn by TV's most notorious meth cook. But we can certainly all agree that Aaron Paul sharing the stage at SDCC with his 6-month-old daughter, Story Annabelle, dressed in the same suit his character Jesse Pinkman wore in Breaking Bad is all sorts of adorable. And hey, maybe this trend can continue at other reunion panels, and we'll be looking at pictures of cute little Joffrey Baratheons and Negans in the future?
What were your favorite Comic-Con moments? Let us know in the comments!