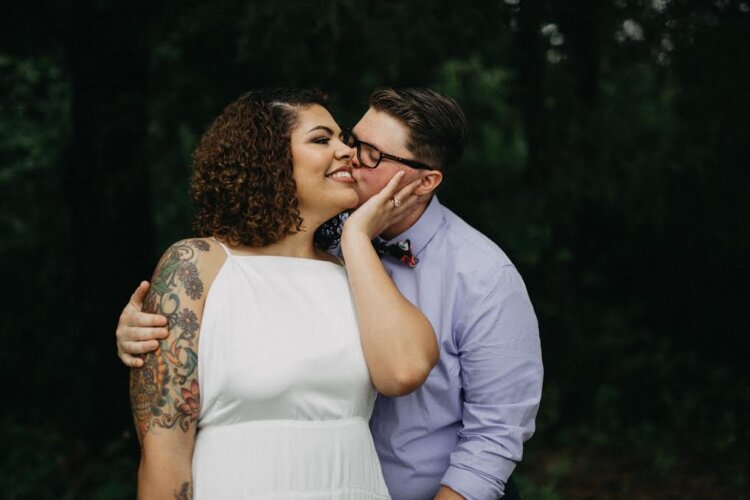 I'm a Black queer femme and Mo is a gender non-conforming queer, and we're married. We met in a coffee shop. This line seems like something in a Ben Folds song; it probably is. Except if the song were written about us, it would be, "we met in a coffee shop …in a notoriously racist town in the South." The beginning of my love story with Mo is as much about Mo confronting the shame of their sexuality as it is about our connection. In some parts, it is about Mo having an awakening to what it means to be a white ally to a Black person. It is about creating space for both of our identities.
I had been working as an intern for a psychiatrist. One day he came into my office and said, "I have a gay person I want you to have coffee with. They (Mo's pronoun is "they") came in for meds, but they don't need meds. They just need community." I texted the number on the crumbled up note, and two weeks later found myself sitting across from them. I still remember our orders: they had an americano and I went with a mocha. This is still our same order when we go out for coffee.
We sat in a booth made of handcrafted, lacquered wood in this coffee shop that tried, and failed, to be a throwback hipster situation. "So tell me your story," I gently nudged them. Despite not having met before, we had both graduated from the same Christian college in Siloam Springs, a small white, conservative Evangelical town bloated with rampant racism. We had both settled there after college, at a former sundown town in northwest Arkansas, that was a catch-all of white flight with a less than 1% Black population. The sign that read, "No niggers after sundown" may have been removed, but the white supremacy culture remained. This wasn't a safe community for Black folks, let alone queer folks. But, it was where we lived, and relocating wasn't in the cards for either of us at the time.   
"I don't know any gay people," Mo said, rambling slightly. "And I think I might be bisexual because I was in love with a boy last year who broke my heart. But to be honest, I'm really into girls. I just need someone to talk to because I feel so alone."
Mo wasn't actually bisexual. That was just a stop on their path to gay self-acceptance. In that moment, Mo struggled to make eye contact with me. If it were their story to tell, they might say it was because they thought I was so beautiful. At the time, I was sure I was probably making them too nervous. Mo then shared an account of their coming out story. It was so different from my own, which I had always felt was anti-climatic. When I told her, my mom shrugged and snorted, "Okay, girl, I know you are gay… Now go take out the trash." My family had always accepted my queerness, and whether I had a boyfriend or girlfriend, I was still Jasmine to them.
After finishing their coming out story, Mo sat across from me looking ready to jump out of their skin. So, of course I invited them to attend a dinner at my home. I called in all of my queer friends and our allies, explaining that someone in the community was in need of  a safe space. It was like an underground railroad dinner—save for very few Black people in attendance.
This motley crew of queer, trans, and gender non-conforming folks who'd learned to stay hidden in dangerous Siloam Springs took turns telling their individual stories. It had the effect I had been hoping for, as far as creating a safe, welcoming space. Mo once wrote about their experience at that dinner: "…I found love and acceptance and the warm embrace of a mother who was not my own. Food was eaten, drinks were consumed, cigars were smoked, and a piece of my heart fell in love with Jasmine right then and there. In that moment I didn't know that eight months later I would be sitting across from her on our first date. I didn't know that she would be the one I would fall deeply, deeply in love with—the one I wanted to spend the rest of my life with. But I did know in that moment that she was one of the first people to give me hope. Hope that things would get better. That I would be able to find love and acceptance. That being gay didn't mean the end of the world, but instead was a beautiful thing to be celebrated. She smiled when I winked at her from across the room and mouthed 'Thank you' with the deepest sincerity possible."
We did fall in love. But before that, we fell out of touch.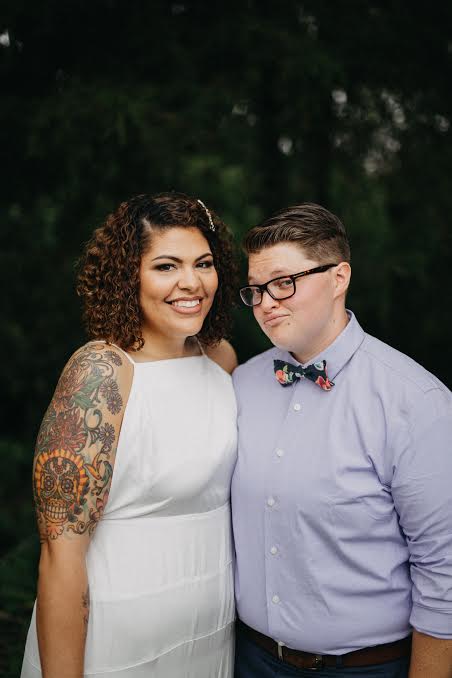 Eight months later I ran into Mo on the street in our tiny town. I was drunk, walking home from a church function (don't ask) and might have let it slip that I thought Mo was adorable. Before falling out of touch the short exchanges we'd had still lingered in my mind. Mo's perfect huge smile and freckles were hard to forget. I still had their number, so later that night when I was back home, I drunk texted them until I passed out. The next morning I cringed while scrolling through my way too suggestive texts.
Two weeks later, Mo ran into me again when I walked into the restaurant where they were working as a server. Mo approached me at the bar and asked me if I'd like to go on a date. I was embarrassed and stunned and had been pretty sure they already had a girlfriend. Mo informed me that it had been a new relationship — one that had ended just after the night I ran into them. "I broke up with her just for a shot to ask you out on a date," Mo explained, and then proceeded to ask me out.
I said yes, and the rest is, as they say, a U-haul and history. We eventually moved away from that racist town, got married, and we are expecting a baby in July. Our friendship blossomed into romance built on an unshakeable trust that we still call up in moments of marital conflict. What I love about Mo is the same thing I loved about them from the beginning. Mo has a gentle undercurrent to their personality. Mo's playful sense of wonder and steady kindness drew me in from the moment I shook their hand.
It also doesn't hurt that Mo is a great kisser.  The constant compassion and space we made for each other in those first months of our friendship remains a continual thread in our marriage. Beautiful love unfolds in the most curious of places, even in faux-hipster coffee shops in former sundown towns.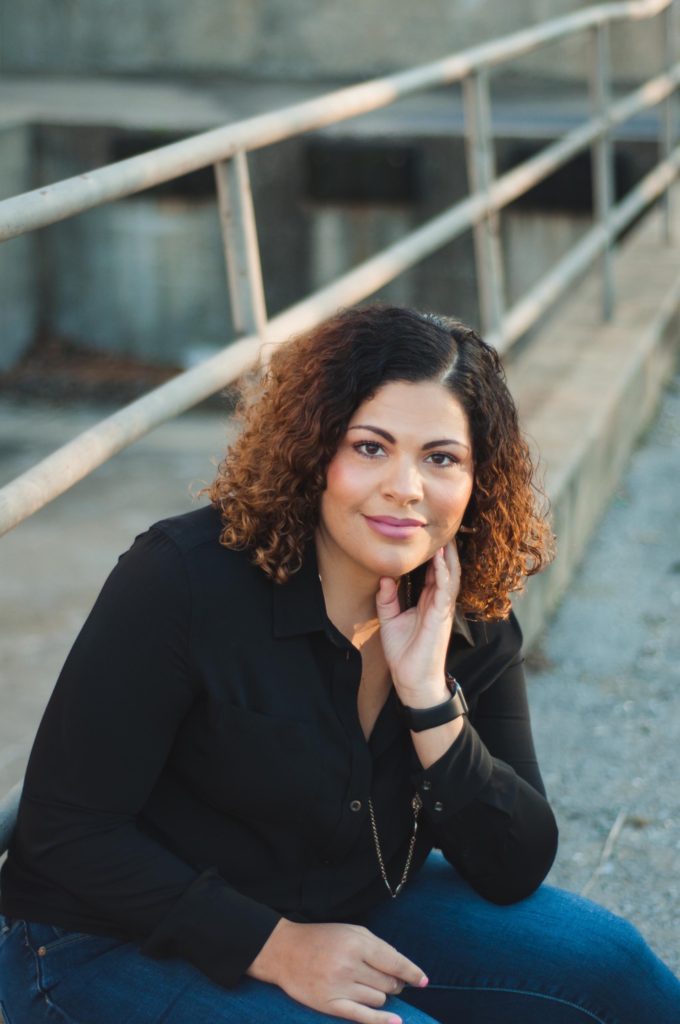 Jasmine Banks is a Black queer femme-inist who believes in cookies, cuss words, and the power of Black folks who fight for their freedom.