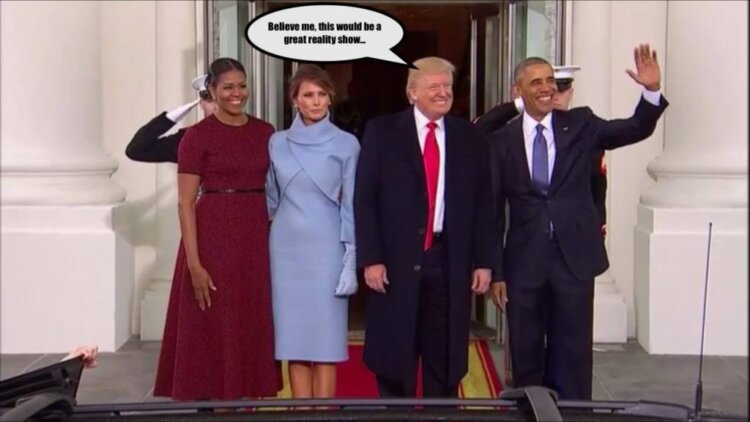 Trump is made for – and has been made by – the TV age. Without the success of "The Apprentice," there's no way that less than half of America would have considered the idea of him as the Commander-in-Chief. So whether he runs through all four years of his term or "calls it a presidency" at the one-year-mark, it's time to start strategizing about Trump's post-presidency return to what he undoubtedly still calls the "boob-tube," and to his first media love, reality TV.
"Are You Smarter than a U.S. President?" Trump famously challenged Tillerson to an I.Q. test. As far as we know, that test never happened. But why not settle the score for good? And televise it. Trump guarantees us, there's no problem. But how will we know something is true unless we see it on TV? He owes it to his fans to prove his prediction right, not just with Tillerson. Starting lineup after Rex includes Bannon, Jared, and whoever wins the runoff between Spicer and Huckabee-Sanders. Challenge: As soon as any guest beats his I.Q. test score, he'll say it's all fake news and that I.Q. tests aren't an accurate measure of intellect anyway. Which experts have already posited. But Trump won't believe that until the tests don't go his way.
"Wife Swap: Former President Edition" Trump claims his approval rating is higher than Obama's, that he's better than Obama at fighting ISIS and consoling families of slain U.S. soldiers. But is he better than Obama at marriage? Specifically, at marriage to Michelle Obama? Let him prove it by surviving one night under the same roof as Michelle, who withholds FOX News until he's spent an hour on the elliptical and eaten non-fried vegetables. Meanwhile, Melania cries when she learns the swap isn't permanent; Barack offers her tissues, camomile tea and a supportive platonic hand on her upper back. Challenge: Likelihood of anti-Michelle tweetstorm 100 percent. Also, real Melania may decide to move into Malia Obama's room while she's at college, forcing Trump to attend public events with Fake Melania.
"The Former-POTUS Bachelor" – After "Wife Swap" leaves Trump single again, there's no better place for him than a mansion with a whole line of limousines dropping off women of varying – but fairly young – ages wearing cocktail dresses with only one goal in mind: "finding true love," combined with a second goal: "being cutthroat competitive and doing whatever it takes to win."   Challenge: Minimal participation from New York and California. Also, high chance that some women get out of the limo, see him standing there and run back into the limo, shouting, "DRIVE, DRIVE!"
"Flip This 'Dump': White House Renovation" If one is used to palatial, gold-covered buildings bearing one's name and golf resorts where one can have chocolate cake with two scoops of ice cream because one is the boss, we can understand how the White House might have seemed "like a dump." So why not put all those years of real estate development to work and turn the White House into a palace fit for an ostentatious world leader with no political experience or diplomatic skills? The building could also include a special "Mike Pence Bistro," to ensure the innocence of dinner meetings between men and women who are not married to each other. Challenge: After renovations are complete, Trump will likely want to put his name on the front of the building. I doubt that anyone would allow that. But this year has been an exercise in the unpredictable, so who knows?