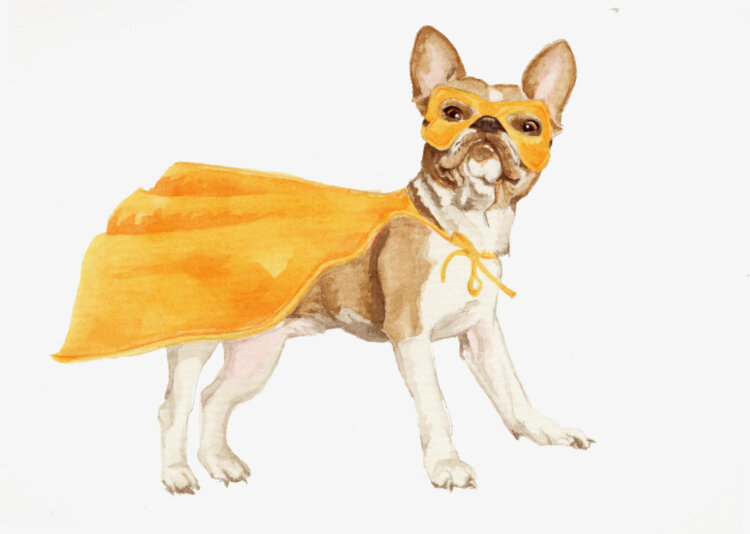 Halloween can be a lot of fun, but it also brings challenges and safety concerns when  sharing the holiday with your pets. Here are a few of my tips for having a spooky, safe and festive Halloween!
Halloween Do's and Don't's for Pet Parents:
Do have a safety plan for your dog during Halloween. With trick-or-treaters roaming the neighborhood, it can be a stressful night filled with unusual sounds, chaos and costumes that can spook dogs. I recommend taking dogs out on leash even if you have a fenced backyard. It's also a good idea to make a chill space in your home away from the door where your pets can relax. This may include crating your dog with a stuffed toy, or delegating a bedroom or bathroom in your home as the pet's quiet, safe room with treats, toys and familiar beds.
Don't share your treats. Candy, and especially chocolate, is very dangerous for your pets. Xylitol is a sugar substitute that is used in a variety of manufactured treats from cakes to candy and is also very toxic to pets. If your pet gets into the trick or treater snacks, it's a good idea to check in with your local emergency vet clinic (if it's after your vet's regular office hours) or the ASPCA Poison Control Center available by phone 24/7.
Do treat your pet to pet-safe festive treats and toys. They deserve it! There are a lot of pumpkin flavored commercially available treats for dogs (I'm very familiar with this because I'm pretty sure I've bought all of them already this year!). You can also make your own pumpkin treats at home! Plain canned pumpkin is a healthy treat for dogs. You can mix it into your dog's Halloween dinner, or stuff it into a Kong or other hollow toy to distract and help your dogs relax on the spooky night.
Don't put your dog into spooky situations. Halloween dog parades and other dog-friendly Halloween events are becoming more common. They are cute, but not always a good fit for certain dogs. Unless your dog is very comfortable in crowds and with loud noises, they'll thank you for letting them sit this one out. Similarly avoid having your dog greet trick-or-treaters unless you have a dog who is very comfortable with children, as well as loud and unpredictable noises, which most dogs aren't.
Do make sure your pets have ID. Ensure their microchips have your updated contact information. Check to see if your dogs and/or cats are wearing well-fitted collars with identification tags in case an accident happens, or they get spooked and end up lost.
Don't allow your pets outside unsupervised. In general, it's not a safe idea to leave pets unsupervised outside, but in particular on Halloween you want to make sure to keep your pets safely in the house, and away from any doors that might be opening frequently for trick-or-treaters.
Do plan early if you want your dog (or cat) to wear a costume. Halloween is one of those human things that makes a lot of sense to us, but doesn't really translate to our four-legged friends. Introduce the costume to your pets slowly. Keep training sessions short and use lots of treats to keep things fun.
Don't pick a costume that is based on someone else's culture. Like with your own costume, you want to avoid racist and culturally appropriative outfits for your pets. Just because it's on a cat doesn't make it cute or okay. There are plenty of ways to dress your pets up for Halloween that aren't offensive!
Do pick a costume that will be comfortable for your pet. Buy or make a costume that doesn't cover your dog's face or restricts range of motion or ability to comfortably move around. Again, introduce the costume to your pet slowly, making it a positive and fun experience.
Don't force your dog into a costume. If your dog is uncomfortable or nervous about costumes, a great and (often) less stressful option is a festive bandanna. Bandannas don't restrict movement, and many dogs find them less irritating or stressful than Halloween costumes. Some dogs (like my oldest) love to dress up, and other dogs will happily tolerate costumes, while others are very uncomfortable with them.
Wishing you and our fur kids a safe and happy Halloween! Are you dressing your pets up for Halloween? Share pictures in the comments! Also please leave any pet-related questions or topic suggestions for future columns in the comments.