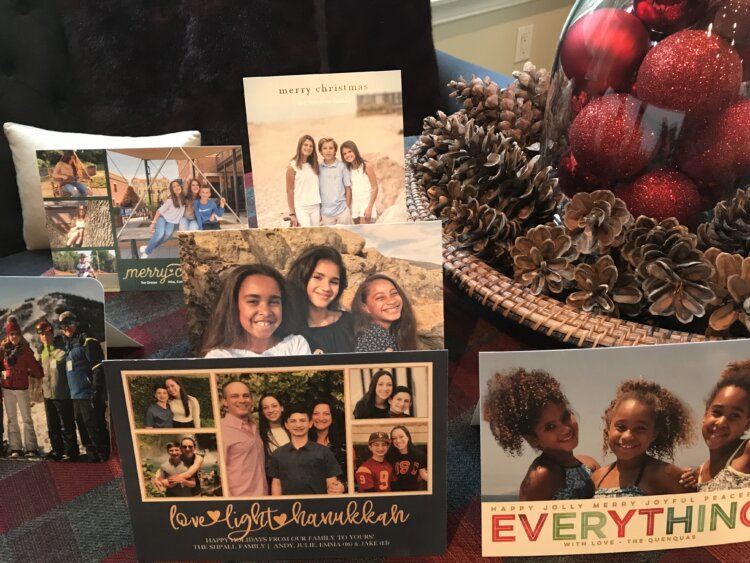 As the year draws to a close, there's the inevitable glance back at the past 12 months—where we've been, what we've done, etc. More often than not, that annual summation is best represented in the pictures we choose to highlight on our holiday cards. Each year, I look forward to the steady stream of cards with special family photos that arrives from Thanksgiving to New Year's.
Exactly when the seasonal postal correspondence began is virtually anyone's guess. Some say it started in Leith, Scotland around the middle of the 19th century, when a man named Thomas Shorrock sent out Christmas greeting cards for the first time. Others credit Londoner John Calcott Horsely with creating the first Christmas Card circa 1843 for Henry Cole, after Cole decided he was too darn busy to write individual Yuletide-themed letters to his family, friends and co-workers. Regardless of its inception, the practice has since gone global, evolving to encompass Hanukkah, Kwanza and even just general well-wishing for the coming new year.
For decades, people shopped for mass-produced cards with images ranging from Madonna and Child to menorahs or wintery snow-covered landscapes. These paper mementos were displayed on mantles, around doorways or strewn over ribbons in the most festive manner possible. Then one day, I'm not sure exactly when, the cards changed. They took a turn for the personal by including actual photos of their proud, gussied-up senders! These photo cards have swept the entire tradition into a new and, in my opinion, glorious era.
Entire books have been published based on the best-intentioned card photo fails—filled with awkwardly posed siblings, excruciatingly pained smiles, and disastrously dressed parents. However, all guffaws and cynicism aside, I truly love getting and sending holiday cards. It's something I often have in the back of my mind as I take photos of my kids throughout the year. I find myself casually on the lookout for a stellar photo worthy of representing us. It's not to brag about where we have gone or how dressed up we can get, it's a chance to showcase that time-capsule snapshot that encapsulates our family. And I believe our holiday cards have actually benefited greatly from the advent of social media.
In the age of Facebook and Instagram, many of us share so much of our lives. Our vacations, our family get togethers, our milestones, our black-tie and casual outings are almost all largely documented. This takes the pressure off of our holiday cards. They no longer have to carry the weight of being the only time we get to share a family pic with loved ones–many of whom we haven't seen in the past year or longer. Instead, we find ourselves with the luxury of just choosing a pic we love not because it portrays us with perfect smiles, hair or wardrobes–but because it stirs a genuine feeling in us that we want to share with our friends. The ones I love the most show family members caught in action genuinely laughing or obviously enjoying a moment with one another. The pics of toddlers napping together always gets me as well, even better if the family pet is curled up with them and equally unconscious. There's a plethora of setups I enjoy and very few that I don't. In our house we tend to set the incoming cards aside from the daily mail to be opened when we are all together. Not to mention the fact that these missives are actual, physical things that arrive in our mailboxes! They aren't emails, or virtual cards or videos, they come hidden between bills, catalogs and fliers and often hand-addressed with personally written notes as simple as "Miss you!" scribbled inside in handwriting we recognize.
We are all so busy and life seems like it moves faster and faster every day, but opening those individual envelopes allows us to remember the ones we care about. It's an opportunity to ooh and ahh at how big kids are growing, catch up on where people may have moved and a reminder of how many wonderful people we hold dear. This tradition is one I am always grateful for and find myself appreciating more with each passing year. So please, keep the cards coming!