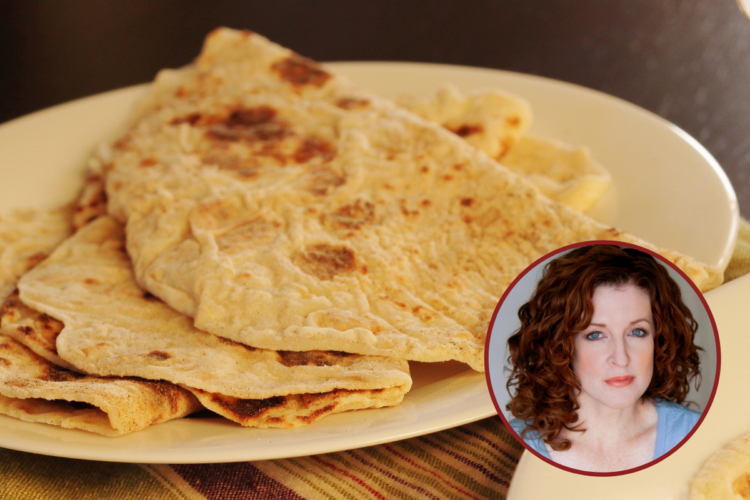 Combine a little bit of seriousness, a Scottish accent and a few piercing looks toward Henry Higgins and you'll have Linda Mugleston's portrayal of Mrs. Pearce in Broadway's My Fair Lady. Currently appearing alongside Laura Benanti as Eliza Doolittle and Norbert Leo Butz as Alfred Doolittle, Linda has served in the role as Henry Higgins' housekeeper since the Lincoln Center Theater production opened, in April 2018.
Linda has starred in dozens of Broadway shows including Hello, Dolly! (with Bette Midler, no less), Beautiful and On the Twentieth Century. She's also done countless Off-Broadway and regional productions.
The stage star has agreed to kick off a new recurring feature on Grok Nation: My Favorite Recipe. Here, she shares with us a Norwegian holiday treat that is particularly meaningful and why…
"Ever since I was a little kid I remember being so excited about having Lefse on Christmas. What is Lefse you ask? Well, let me tell ya. Lefse is a delicious combination of potatoes, butter, and cream, all mixed together to create a dough. The dough is then rolled out super-duper thin and cooked on a Lefse griddle. Lefse is wonderful with a little bit of butter and jam or as a vehicle for Swedish meatballs!
"A day or so before Christmas, my Dad would get his mother's recipe out and get to work. Making Lefse takes quite a few hours especially if you are making the amount needed for my family, not only just for the meal but to have a bunch for everyone to take home.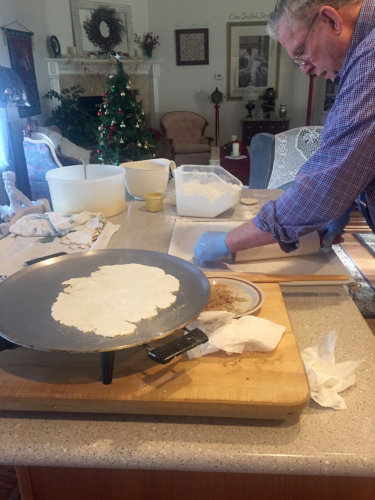 "This past Christmas, I helped make the Lefse with my Dad…where I learned all the secrets …what the consistency should be, how thin to roll it out, when to flip it over. Dad and I had a great time cooking and chatting! Christmas wouldn't be Christmas without it!"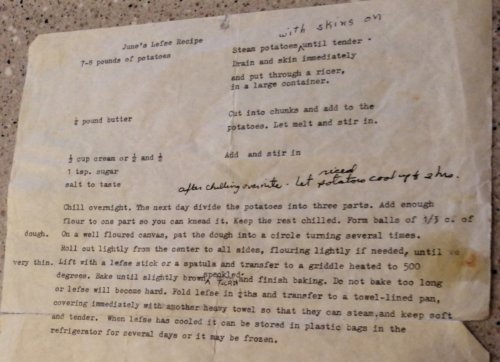 June's Lefse Recipe
Ingredients:
7-8 pounds of potatoes
1/4 pound butter
1/2 cup cream or half and half
1 teaspoon sugar
Flour
Instructions:
Steam potatoes with skins on until tender. Drain and skin immediately and put through a ricer, in a large container. Cut butter into chunks and add to the potatoes. Let melt and then stir in. Add cream (or half and half) and sugar. Mix all together.
Chill mixture overnight. The next day, divide the potatoes into three parts. Add enough flour to one part so you can knead it. Keep the rest chilled and work in batches. Form balls of 1/3 cup of dough. On a well-floured canvas, pat the dough into a circle while turning several times. Roll out lightly from the center to all sides, flouring lightly if needed, until very thin. Lift with a lefse stick or spatula and transfer to a griddle heated to 500°F.
Bake until slightly brown speckled, turn, and finish baking. Do not bake too long or lefse will become hard. Fold lefse in quarters and transfer to a towel-lined pan, covering immediately with another heavy towel so that they can steam and keep soft and tender.
When lefse has cooled, it can be stored in plastic bags in the refrigerator for several days or it may be frozen.