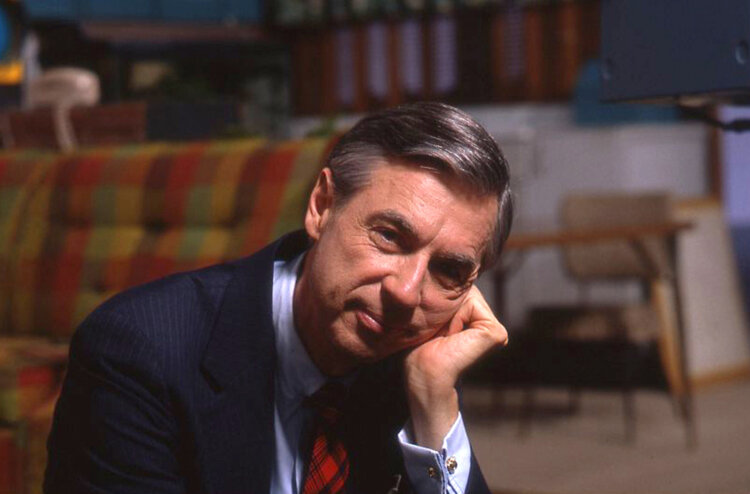 Love is at the root of everything. Love or the lack of it." Fred Rogers
If you see just one movie this year, let it be Won't You Be My Neighbor?, the documentary by director Morgan Neville about Fred Rogers, the creator and star of Mister Rogers' Neighborhood. It was released June 8 by Focus Features. But bring tissues. Lots of them!
I grew up watching Mister Rogers' Neighborhood, which first aired in 1968 on WQED, a Pittsburgh television station. The show was a comforting series of rituals; Mr. Rogers singing his welcome song, changing out of his sport coat and shoes into his cardigan and sneakers, greeting his neighbors, many of whom were puppets in the Neighborhood of Make-Believe. The pace of the show was leisurely, to say the least. The trolley running through the castle presided over by the cranky King Friday XIII. Feeding the fish in the aquarium. Just an ordinary day.
"I like you just the way you are," Mr. Rogers told the children who watched the show. I think it was the only time I ever heard anyone say that. It just wasn't part of the culture of my family, my Catholic school and maybe even the world at large, to say such a thing. Mr. Rogers made generations of children feel like they had value; a much younger friend of mine who grew up fatherless told me she always imagined that Mr. Rogers must be her father.
He was also a quiet educator. Mr. Rogers taught children about assassination after the death of Senator Robert Kennedy, and divorce when the skyrocketing rates made him worry that children would blame themselves for their parents' splitting up.
I learned from this film that Fred Rogers was an ordained minister. He viewed his television show as a ministry to children. He taught love of neighbor, and he personified kindness. The filmmakers demonstrate this through interviews with his co-workers and family, as well as liberal use of clips from the show, often shown in full. The pace of the movie is as unhurried as the show on which it is based, and Fred Rogers himself.
François Clemmons, an African-American singer and actor who played Officer Clemmons, provides insight into the type of person that Mr. Rogers was. We see a clip from the show in which Officer Clemmons stops by while Mr. Rogers is taking a footbath in the backyard on a hot day. He invites Officer Clemmons to join him, at a time when segregation of pools was a serious issue in the country. And then they sing a song about their love for each other. In an interview, Clemmons remembers a conversation with Rogers in which he realizes that Mr. Rogers loved him, something he never felt from his father.
In the most moving clip of all, Mr. Rogers meets a young boy in a wheelchair named Jeff Erlanger. Mr. Rogers asks him a series of sensitive, direct questions about the events that led him to need the chair (a tumor that damaged his nerves). Jeff answers them with a huge smile on his face, and then they sing a song together. The emotion is so genuine; you see Mr. Rogers truly respects Jeff and makes him feel special. At this point, most people sitting near me at the screening at the Montclair Film Festival were audibly sobbing.
Another affecting moment is one in which Mr. Rogers meets Koko, a Gorilla who uses sign language and tells Mr. Rogers that she loves him. Mr. Rogers is obviously moved. (Sidenote: He was a vegetarian, because, he said he didn't want to eat anything that had a mother.)
A highlight is a clip from 1969 of Mr. Rogers appearing before a Senate subcommittee that wanted to cut funding to PBS. The crabby senator, who has no time for any of the other speakers, is completely won over by Mr. Rogers' heartfelt testimony about the importance of teaching children how to manage their anger. "I think that's wonderful," he says. And just like that, Mr. Rogers saved public television.
In an interview, Joanne Rogers, his wife, talks about the years after Mr. Rogers' retirement. She recounts noting that he seemed down. "Well," he told her. "I miss my playmates."
Mr. Rogers, we miss you. There will never be another one like you.
Purchase tickets to Won't You Be My Neighbor? on Fandango. Or if you live near an Alamo Drafthouse, see it there.  To honor the work of Fred Rogers, Alamo Drafthouse theaters will donate $1 from each Won't You Be My Neighbor? ticket sold to their local PBS stations.